Description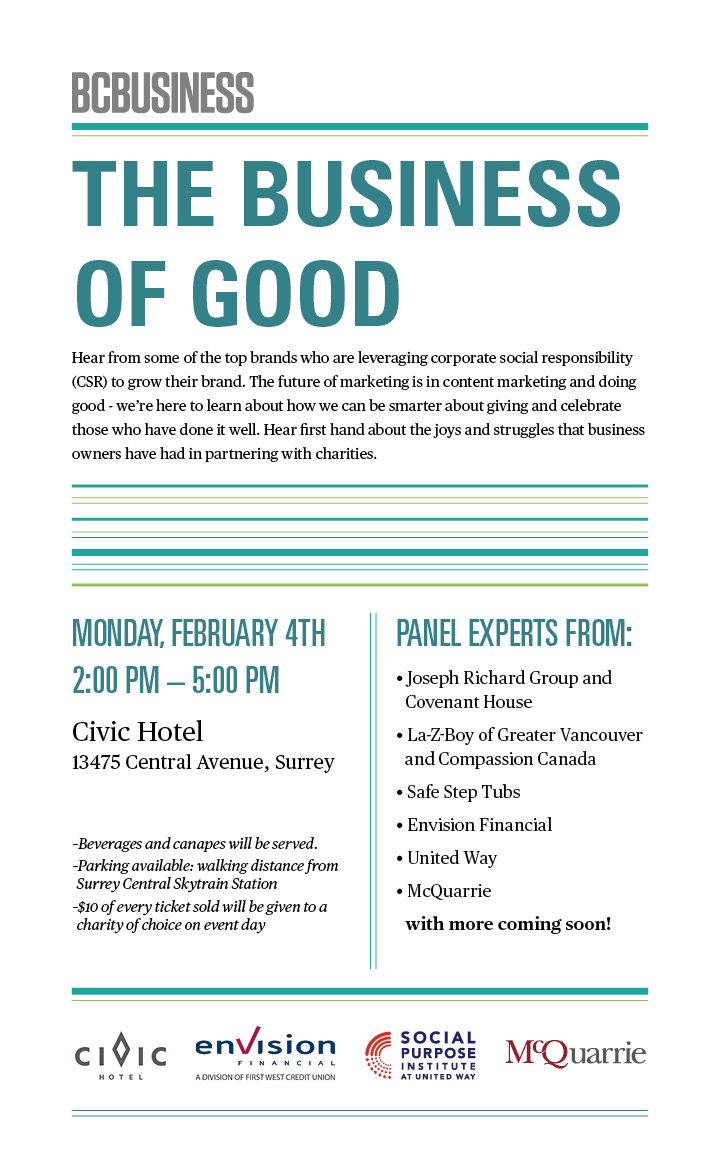 THE BUSINESS OF GOOD
Hear from some of the top brands who are leveraging corporate social responsibility (CSR) to grow their brand. The future of marketing is in content marketing and doing good - we're here to learn about how we can be smarter about giving and celebrate those who have done it well. Hear first hand about the joys and struggles that business owners have had in partnering with charities.

---
Panel Experts From:
La-Z-Boy of Greater Vancouver - Gerald Miller
Gerald's 30-year journey in the furniture and business world began when his older brother, Tim, felt sorry for him and offered him a job working in the warehouse of his furniture business. Little did either of them know that that chance would spark a lifelong passion for both furniture and business. That passion lead the brothers, along with Gerald's wife Carla, to open their first La-Z-Boy Home Furnishings and Decor store at the start of the Millennium. Gerald spends his days overseeing the strategic direction and vision for La-Z-Boy Metro Vancouver's staff of over 80 and lives with his wife and four children in Abbotsford. Gerald is also passionate about giving both his time and resources to aid projects in Haiti, Guatemala, Columbia, Ecuador and right here in Vancouver.
Compassion Canada - Nicole Ray
Nicole Ray currently serves with Compassion Canada as Relationship Manager for Western Canada. Compassion Canada is a child development organization that works in 25 countries to help release children from poverty. Nicole has been a part of the organization for two years, and in the nonprofit sector for over 9 years. She is a storyteller whose passion is to inspire individuals, foundations and businesses to become part of something larger than themselves. She is a life-long learner and currently working towards a Master's Degree in Leadership and Management at Briercrest Seminary.

Safe Step Tubs - Renato

Cavaliere
Renato is a dynamic business leader and change agent with over 30 years experience as an entrepreneur and executive. Under his Venture Fusion investment umbrella, he is the CEO of Canadian Safe-Step Walk-in Tubs., Broadside Media Group, AquaPur and his latest vision, Senior Care Network. From his first taste of entrepreneurship when he purchased a gas station at 19 years of age, his dynamic management style has propelling him forward. His leadership has resulted in one of his companies, Canadian Safe-Step Walk-in Tubs, being awarded the Business of the Year by the Burnaby Board of Trade. He was also a member of the invitation-only QuantumShift for the Top Entrepreneurs in Canada. His educational background includes a CPA and advanced education from Sauder School of Business and Quantum Shift. When he's not building businesses, he enjoys spending quality time with his wife and two children.
Social Purpose at United Way - Mary Ellen Schaafsma
Mary Ellen is the Director of Social Innovation and Research at United Way of the Lower Mainland. United Way serves the needs of our local community and ignites the desire in everyone to improve this community we call home. Mary Ellen is the leading expert steering the Social Purpose Institute at United Way. She is dedicated to fostering Social Purpose in businesses – across the Lower Mainland and Fraser Valley – to help companies benefit from the act of instilling Social Purpose at their core, creating tangible and meaningful business benefits and social impact. Mary Ellen has a Master in Health Administration from the University of Ottawa and a Certificate in Social Innovation from SFU.
Beverages and canapes will be served.
Parking available: walking distance from Surrey Central Skytrain Station
$10 of every ticket sold will be given to a charity of choice on event day