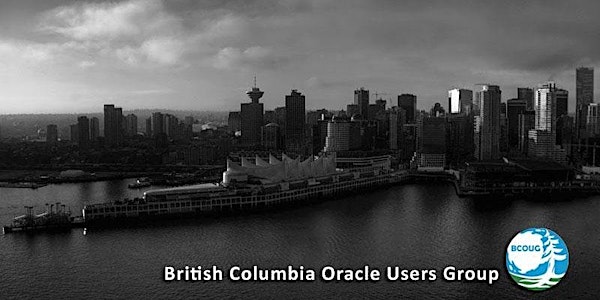 BCOUG Virtual Meetup March 2022
BCOUG is proud to present our next virtual meetup to be held in the comfort of your own room.
About this event
You are cordially invited to join the BCOUG at our next online event on March 31, 2022.
Session
Topic: Accelerating Oracle Workloads with VMware Performance Accelerators and Best Practices
Speakers: Arvind Jagannath, Sudhir Balasubramanian
Abstract
Enabling, Sustaining and Ensuring the highest possible performance along with continued application availability is a major goal for all mission critical applications to meet the demanding business SLA's., all the way from on-premises to VMware Hybrid Clouds.
Please join this session to learn how key features like Persistent memory (Micron NVDIMM and Intel Optane DC PMM) , Para-virtualized RDMA, 1GB Huge Pages, Virtual Volumes (vVols), NVMe/FCP, NVMe/TCP , Refactored vMotion etc can be leveraged along with best practices to achieve those stringent business goals and enhance performance and high availability
About the Speakers
Arvind Jagannath
Arvind Jagannath works in Product Management at VMware. With over 25 years of experience in the industry working on networking, storage, embedded, and kernel development, he currently leads infrastructure and core platform enablement for vSphere, working across the VMware ecosystem of server, IO, and storage partners. Arvind most recently drove platform product management at Cohesity and NetApp. Arvind holds an MBA from the University of Chicago, Booth school of Business and a Bachelors in Computer Science and Engineering.
Sudhir Balasubramanian
Sudhir Balasubramanian is a Senior Staff Solution Architect and Global Oracle Field Practice Lead specializing in Oracle on VMware Hybrid Cloud. In addition , Sudhir also focuses on educating customers and partners on Oracle virtualization on vSphere. He is actively engaged with VMware Partner University and VMware Learning Zone to educate partners and customers on VMware capabilities. Sudhir has over 25+ years of experience as a Principal Oracle Architect / DBA in Oracle Technologies for fortune 100 companies. Sudhir is also experienced in EMC SAN Technologies & Unix/Linux Operating Systems , VMware vBCA Specialist , VMware vExpert, VMware VCA – Cloud certified and an Oracle ACE. Sudhir is a recognized Speaker having presented at Oracle Open World, IOUG, VMworld, VMware Partner Exchange, EMC World, EMC Oracle Summit and various Webinars and is an Industry recognized expert in Oracle Virtualization technologies. Sudhir has also co-authored a book "Virtualizing Oracle Business Critical Databases on VMware SDDC" which is a comprehensive authority for Oracle DBA 's on the subject of Oracle & Linux on vSphere.
Acknowledgements
This Zoom session is kindly provided by Insum.