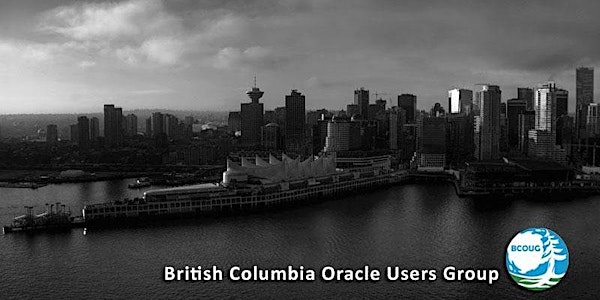 BCOUG Virtual Meetup November 2020
BCOUG is proud to present our next virtual meetup to be held in the comfort of your own room. We have an interesting line-up of speakers.
About this event
You are cordially invited to join the BCOUG at our next online event on November 24, 2020.
Session 1
Topic: It's upgrade time! Key features in 18c, 19c, 20c and beyond
Speaker: Connor McDonald, Oracle
Abstract
The upgrade clock is ticking, and most IT professionals are facing the task of moving to 19c in the near future. And since the major technical changes of multi-tenant, sharding and of course cloud, have grabbed all of the attention, there are still hundreds of other useful new features in the latest versions of the Oracle database. This session will cover as many as possible in the time permitted.
Session 2
Topic: 10 Things You Might Not Know But Really Should About Oracle Indexes
Speaker: Richard Foote
Abstract
An appropriate indexing strategy is crucial in ensuring that both databases and their associated applications perform as efficiently as possible. This presentation will look at 10 Oracle indexing related features and capabilities that might not be very widely known, but can be extremely important for both DBAs and Developers to understand and appreciated when designing and tuning efficient and highly scalable Oracle database-based applications. Topics include how CBO determines index/table costings, the importance of TABLE_CACHED_BLOCKS when collecting index related statistics, the power of the Clustering Attribute, why it's crucial to create extended stats when dropping a concatenated index, index tracking to determine when to drop an index, indexing easily a case in-sensitive database, the safe use of basic index compression, the clever use of zero sized unusable indexes, how to easily determine optimal index size and why multiple indexes on same column list can be so useful.
About the Speakers
Connor McDonald - Oracle
Connor McDonald is a Database Advocate for Oracle Corporation. Ever being frustrated as a child with the limits imposed by the single kilobyte of RAM in his Sinclair ZX80 computer, he has loved the challenges that come with storing data, which ultimately led to a career in database technology. When the infamous Y2K data issue did not end the world as people thought, he started presenting on his database passions, found that he loved doing it, and has spoken at over 150 conferences around the world since then. Due to his partners predilection for rescuing stray cats, he doesn't just speak the phrase "as hard as herding cats", he lives it every day.
Richard Foote
Based in Canberra, Australia, Richard has been working in the local IT industry for over thirty years, twenty plus years with Oracle database technologies. Richard has supported and diagnosed the performance of numerous highly secure, mission-critical, large-scale Oracle database systems. In 2002, he became a member of the world-renowned Oracle OakTable Network and in 2008 an Oracle ACE Director (and again in 2018). Richard is a very popular speaker and regularly presents at universities, Oracle user group events and conferences including Oracle OpenWorld, IOUG Collaborate, Hotsos Symposium, AUSOUG InSync, ODTUG Kscope, UKOUG Tech Conference, E4 Enkitec Extreme Exadata Expo and Trivadis Performance Days. In 2018, Richard was awarded a Lifetime Speaker award by the UKOUG and awarded one of the first four Oracle Masters by AUSOUG. He is especially renowned for his research and knowledge of Oracle indexing structures, hosts an internationally acclaimed blog on Oracle Index Internals and has developed in-depth seminars on Oracle Index Internals which he has presented in over a dozen countries. In 2017, Richard started his own consulting company Richard Foote Consulting in which he globally presents his highly acclaimed Oracle Indexing and performance Tuning seminars and assists customers with diagnosing and resolving Oracle database performance issues.