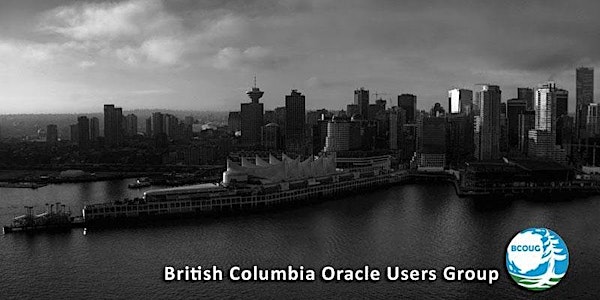 BCOUG Virtual Meetup October 2020
BCOUG is proud to present our next virtual meetup to be held in the comfort of your own room. We have an interesting line-up of speakers.
About this event
You are cordially invited to join the BCOUG at our next online event on October 20, 2020.
Session 1
Topic: Oracle Cloud Infrastructure Hybrid Implementations
Speaker: Luc Demanche, Insum
Abstract
For several years now we've been hearing about the Cloud, pioneered by AWS. There are several key players such as AWS, Azure, Google Cloud, and of course Oracle too. We will begin by recalling what are the advantages of Cloud and why companies should look into it. Then we will quickly explain the differences between deployment types such as Public Cloud, Private Cloud, and Hybrid Cloud, including the multi-cloud strategy. From that point on, we will talk about Hybrid Cloud, about how we work with Oracle Cloud infrastructure to deploy hybrid models, what challenges they pose but most of all what are the advantages of such a model.
Session 2
Topic: Building Castles in the Air, Generation 2
Speaker: Shannon St. Dennis, Oracle Canada ULC
Abstract
With two data centers in Canada, Oracle is well positioned to host government and other public sector workloads in the cloud. We will touch on the recent agreement between the Government of Canada and Oracle and what that means for the public sector in general. We will also discuss the decision points you need to make on the journey to cloud, including licensing and subscription options.
About the Speakers
Luc Demanche - Insum
Luc Demanche is an Oracle DBA with 20 years of experience. A true Oracle Database enthusiast, Luc steered his career path squarely toward becoming an Oracle technology specialist. His high-level expertise recently earned him the distinctions of Oracle Cloud Infrastructure 2019 Certified Professional, Oracle Autonomous Database Cloud 2019 Specialist. His passion for the discipline has also led him to share his knowledge through a book called "Getting Started with Oracle Cloud Free Tier", which he co-authored with his colleague Adrian Png. Luc is currently working for Insum Solutions as Cloud & DBA Practice Director, working on assisting their clients with their journey to Oracle Cloud.
Shannon St. Dennis - Oracle Canada ULC
Shannon has been working with the Oracle Database since v5.1.5c in 1991 with a focus on database administration and Enterprise Monitoring. He has worked for Oracle supporting Public Sector clients in Western Canada since 2008.