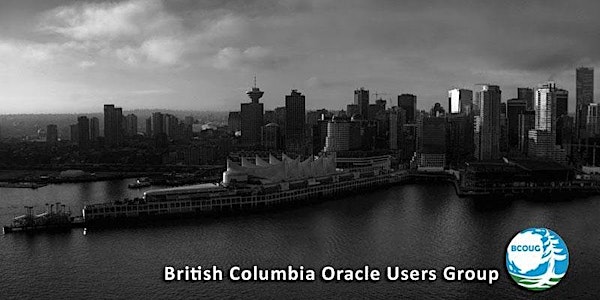 BCOUG Virtual Meetup September 2020
After a great summer, the BCOUG is excited to be meeting with members again in a very different format that we've been used to.
About this event
You are cordially invited to join the BCOUG at our next online event on September 22, 2020.
Session 1
Topic: Oracle APEX 20.x New Features and Roadmap
Speaker: Marc Sewtz, Oracle
Abstract
Oracle APEX has seen tremendous growth over the past few years. Thanks to strategic investments into opening up the platform to external data sources via support for REST APIs, a focus on Low Code development and the availability of APEX on the Autonomous Database, the worldwide number of APEX developers and APEX apps more than doubled over the past 12 months. With APEX 20.1 and APEX 20.2 we are building on this success, introducing a powerful, new Faceted Search feature, modernized form widgets, enhanced data loading capabilities, improved printing and a new generation of packaged and sample apps. In this session, we'll highlight some of these exciting, new capabilities and touch on our plans for the future of APEX.
Session 2
Topic: Oracle Database Features You Are Not Using Now But Will Adopt in the Oracle Cloud
Speaker: Gleb Otochkin, Eclipsys
Abstract
The most on-premises installations of Oracle databases are not using all available Oracle database packs and features. The reasons behind that could be different but one factor is always there and it is the cost. In Oracle cloud depending on service and edition, you may have a different set of features already included in the subscription. In such a case it is worth to verify and consider the new options since you are already paying for them. And, who knows, maybe the availability of all those features will make migration to the cloud way more attractive and be one of the main drivers for your decision to move to the Oracle cloud.
In the presentation we are going to discuss about main drivers behind decision to move to a cloud solution and what kind of options we have for an Oracle database based solution. We will talk about Oracle features and pack and why they might be not used on a typical installation.
We will discuss about Oracle cloud database services and what kind of options we have for different types of subscriptions and stop in details on some most interesting Oracle database packs and features.
In the end we compare with other cloud vendors and how we can use it in a multi cloud environment.
About the Speakers
Marc Sewtz - Oracle
Marc Sewtz is a Senior Software Development Manager in Oracle's Server Technologies division at Oracle America, Inc. He is responsible for managing the development and delivery of Oracle Application Express (APEX), Oracle's premiere low-code development platform. Marc has been at Oracle since 1998. After working for Oracle Consulting in Germany and North America for a number of years, he joined the APEX development team in 2002. Marc and his team have contributed several core components to the product over the years, including the reporting engine, tabular forms, charts, support for mobile user interfaces and extensive work on user interface themes. Marc and his family live in New York City, he holds a master's degree in Computer Science from the University of Applied Sciences in Wedel, Germany.
Gleb Otochkin - Eclipsys
Working with data related technologies for more than 20 years providing expertise in different areas such as public clouds, databases, Big Data replication and integration including products from Oracle, AWS, Cloudera and other vendors. Over number of years has been chosen to be presenter on different conferences in USA, Europe and Japan. In the present time works as a Senior Cloud Architect in Eclipsys Solutions in Ottawa concentrating effort and knowledge on public cloud architecture and security.