Description
The BCSEA Vancouver Chapter Invites You to its Pub Night!
Come join BCSEA Vancouver for an informal evening of drinks and good conversation at Mahony & Sons - Burrard Landing.

No formalities, only a great opportunity to meet and greet others of similar interests! BCSEA Vancouver unites people from all industries and opens the floor to networking opportunities alongside general good conversation. So whether you're a job-seeker or just looking to learn from others and share your thoughts on sustainable industry and green technology, you'll find yourself at home at BCSEA Vancouver's Pub Night!
This month, we are delighted to have Keane Gruending from Renewable Cities as our speaker.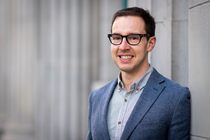 Keane Gruending is the Communications Manager for the Renewable Cities program at the SFU Morris J. Wosk Centre for Dialogue. He is responsible for communications planning, digital and social media, engagement activities, and government and media relations. Keane has a major interest in zero-emissions urban mobility and multimodal transport. He regularly advocates for people-centred urban design, cycling, shared mobility, and transit.
For members and non-members alike, all are welcome and by all means invite your friends and loved ones! If you have any questions, please don't hesitate to email vancouver@bcsea.org for more information. While it's not at all mandatory, registering for the event will let us give the bar a rough estimate of attendees.

We look forward to seeing you there,
Your BCSEA Vancouver Chapter