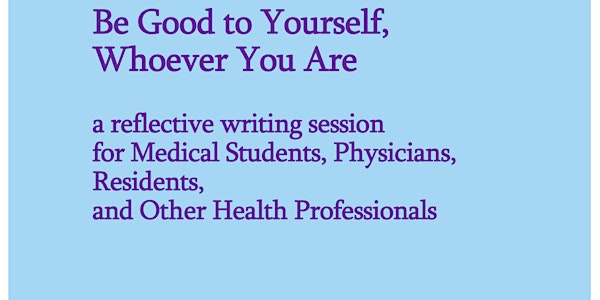 Be Good to Yourself, Whoever You Are
A Writing Workshop for Medical Students, Doctors, Residents, and Other Health Professionals
About this event
Often in work, and in life, energy moves towards projects and people but there's little left for your own restoration, especially for those working in health care. In this workshop, through the use of poems and prompts, you will be nudged into writing and reflecting on what sustains you, what you love and what you need. Take this time for yourself as a flicker of possibility of how you might take time for yourself in general.
No experience necessary. Please have a pen and paper, a notebook or whatever you like to write with on hand.
Goals
-- Learn 5 rules for writing that can be used to reflect on your work, relationships, and life
-- Engage directly with poetry as a tool for expressing challenges and discovering resources
-- Explore poetry and writing as practices of self-care
Ronna Bloom is the author of six books of poetry. Her most recent book, The More, was published by Pedlar Press in 2017 and long listed for the City of Toronto Book Award. Her poems have been recorded by the CNIB and translated into Spanish, Bangla, and Chinese. She has collaborated with health care professionals, filmmakers, academics, students, spiritual leaders, and architects. A frequent guest in the faculties of Nursing, Medicine, Public Health, as well at teaching hospitals, she brings 25 years of psychotherapy practice to her work as a poet and facilitator.
Ronna developed the first Poet in Residence program at Sinai Health which ran from 2012-2019. She is currently Poet in Community to the University of Toronto and Poet in Residence in the Health, Arts and Humanities Programme. Her "Spontaneous Poetry Booth" and "RX for Poetry" have been featured in hospitals, fundraisers and local fairs in Canada and abroad. ronnabloom.com
By requesting to join this ZOOM writing workshop, you confirm that you are a University of Toronto-affiliated health professional, clinician or health professions student. Any personal narratives shared must respect patient confidentiality and their right to complete privacy. If verbally sharing a piece of writing about a clinical encounter during the workshop, you must change a patient's name and omit /alter any other unique or identifying characteristics. Sessions must not be audio or video-recorded.
Online conduct university guidelines can be found at https://utmedhumanities.wordpress.com/blog-moderation-guidelines/ WWW.HEALTH-HUMANITIES.COM