Description
About this Event
We're pleased to announce another Boys Tarbiyyah session with Br. Yasin Ahmed - Learn, Play & Eat event on August 24th, 2019. It's for boys of ages 11 - 17 years.

Brother Yasin Ahmed will discuss the term "Rijal" and explain the difference between being a man and a male in Islam. It is crucial that the boys of our community today mature into pious young and responsible men of tomorrow.
One of Be Inspired's main goals is to educate our youth and shape them into being a better Muslim. What better way to do it than an informative session which includes outdoor soccer and food.
This session is a great opportunity to learn about what it means to be a man in Islam and how it differs from being a male. It is also a learning experience for young boys as they get to interact with fellow Muslim brothers and ask critical questions.
The session will be a fun informal event held out in nature, followed by outdoor soccer, delicious Lazeez On the Rocks (updated aug-22) and plenty of time to ask questions related to this topic.

Registration is required. Please reserve your spot(s) soon.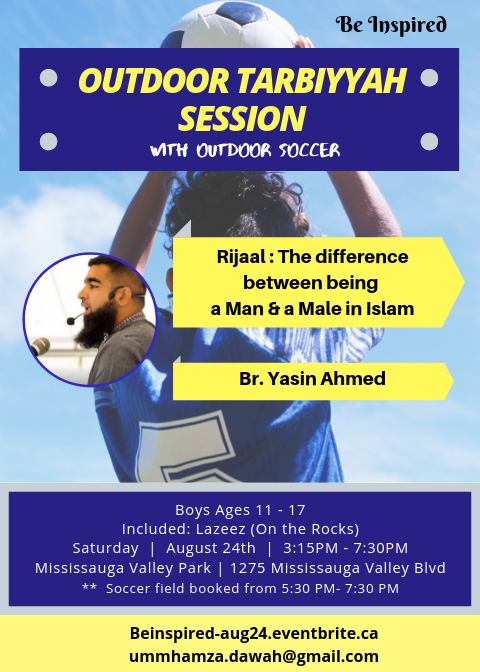 (Updated flyer: Aug22)


About Br. Yasin Ahmed
Yasin Ahmed is a leader in the GTA Muslim community. He is a regular khateeb and teacher at various Masjids and Universities throughout the city. He is a student of the Islamic sciences, having studied with several notable scholars locally and abroad over the last 10 years.
Picnic area and soccer field reserved for the program at Mississauga Valley Park:
Important Notes:
This is a youth-only drop off program.
Live BBQ is planned for registered youths - this may change due to the vendor's minimum attendee requirements.

Any attendee found not cooperating with the Youth Leads/Referee will be given a warning and/or disqualified.

We're not responsible for the loss of any personal belongings and/or injury due to inherent risks of any sports/games
By registering you give us (and our appointed photographer/videographer) consent to take event photos/videos which may be published on our upcoming website, our social media, and other media to promote our programs
Registration fee and program details are subject to change, without any notice.
Be Inspired reserves the right to postpone or cancel due to low enrollment, inclement weather conditions, or any unforeseen circumstances beyond our control. In a rare event when this happens, registrants will have the option to either receive a full refund or transfer the same registration to the same event at the new, future date.