Description
About this Event
Laser Tag, food, games, important life lessons and more. Be Inspired is pleased to bring you this youth eid fun program at LaserQuest. We want our youth to celebrate Eid in style this year and learn something new. They can have fun with peers while also learning about the status of parents in Islam.
Separate boys and girls games will be arranged. They will be further divided into teams by our youth leads. Anyone between the age of 11-17 can attend. We've limited spots available so please register soon.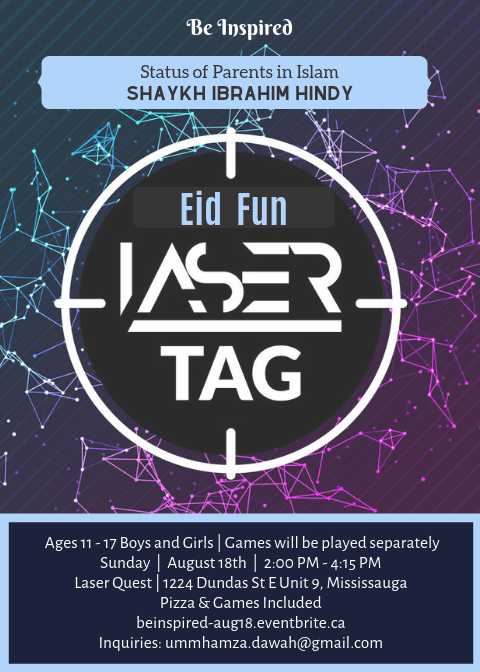 About Imam Ibrahim Hindy
Imam Ibrahim Hindy was born in raised in Mississauga. His thirst for Islamic knowledge began at a young age of 14 and led him to travel the world and attending the study circles of many scholars in Egypt and Saudi Arabia. At the age of 18, he began preaching and lecturing at many Mosques in the Greater Toronto Area.
Imam Ibrahim continued his studies at the University of Toronto where he attained a degree in Religious Studies and later an MA in Usul al-Fiqh from Al-Madinah International University in Malaysia.
Imam Ibrahim has been an active voice against hatred and xenophobia. He has been interviewed and has written opinion pieces that have been featured by national and international media extensively including outlets such as CBC, CTV, BBC, Buzzfeed, The National Post, and The Globe and Mail, among many others.
Imam Ibrahim Hindy is the host of The Hindy Project Podcast, which profiles a variety of imams, shuyukh and Muslim activists and explores spirituality and community building. Imam Ibrahim also serves as a research manager at Yaqeen Institute for Islamic Research.
Important Notes:
This is a youth-only drop off program, adults/parents not allowed in the program room and/or gym.
Pizza will be served in the program room. No food allowed in the play area.

Any attendee found not cooperating with the Youth Leads/Referee will be given a warning and/or disqualified.

We're not responsible for the loss of any personal belongings and/or any injury due to inherent risks of any sports/games
By registering you give us (and our appointed photographer/videographer) consent to take event photos/videos which may be published on our upcoming website, our social media, and other media to promote our programs
Registration fee and program details are subject to change, without any notice.
Be Inspired reserves the right to postpone or cancel due to low enrollment, inclement weather conditions, or any unforeseen circumstances beyond our control. In a rare event when this happens, registrants will have the option to either receive a full refund or transfer the same registration to the same event at the new, future date.