Description
You asked, we responded!
Alhumdulillah, after many parents requesting Girls Hangout program similar to Boys Hangout, we decided to offer Ramadan readiness workshop just for Girls (11 - 16 years), just 1-week before Ramadan on April 27th, 2019. This upcoming Ramadan & Fun Sports session with Sister Marwa Oude & Shaykh Musleh Khan is another fun and learning experience for the youth where they come together, Eat, Learn & Play!
Youth often have the following thoughts...
I feel like I don't see the point of fasting?

I struggle with being productive in Ramadan?
These among other questions will be answered in this session. It's important that we seek knowledge on matters we don't understand from qualified teachers, who not only have authentic Islamic knowledge but can also connect well with our youth.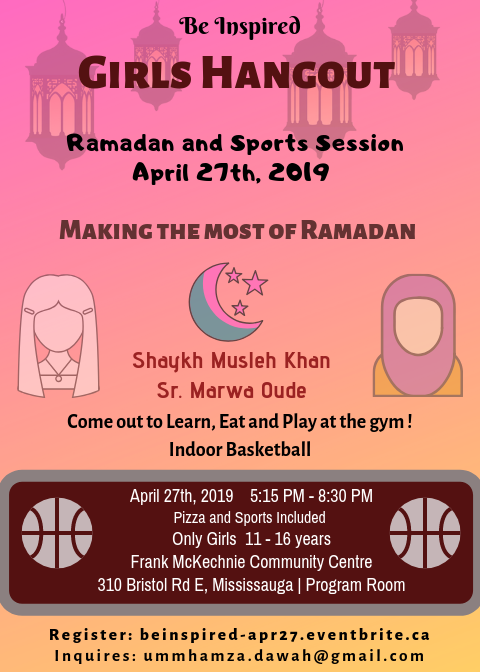 Youth will go home feeling prepared for Ramadan and how to face typical challenges it brings to youth. They can attend this event with friends and learn about how to deal with the obstacles of Ramadan.
Play Basketball, eat pizza and have fun at the Frank McKechnie Community Centre. When it's game time, all attendees will be divided into teams lead by Be Inspired Youth Leads.
About Shaykh Musleh Khan
Shaykh Musleh Khan was born in Madinah, Saudi Arabia. He was raised and is currently residing in Toronto, Canada. At college he studied computer programming and then went to work as a Fraud analyst.
In 2002, Shaykh Musleh was accepted at the Islamic University of Madinah where he completed a diploma in Arabic followed by a BA in Islamic Law from the faculty of Da'wah and Usool al-deen. He memorised the Qur'an with an ijaza and has completed a complete study of Sahih al-Bukhari.
Shaykh Musleh undertook a study of various Islamic books including those on Fiqh, Hadith, Aqidah, Tafsir. Futhermore, he took classes with various prominent scholars in the course of his time in Madinah, including Sheikh Mukhtar Al-Shanqiiti, Sheikh Muhsin Al-Abaad, Sheikh Abd al-Razak, and Sheikh Muhammad Shafi among others.
Upon graduating in 2011 he has returned to Canada and has plans to pursue a Masters at York University, Toronto. He has been very active in the Toronto vicinity for more than 10 years, having conducted khutbahs, classes, lectures and conferences, as well as various Islamic Intensive programs in the United States. Shaykh Musleh enjoys long-distance running and basketball. He loves to read and write in addition to spending time preparing for classes in Toronto where he and his wife reside.
About Sr. Marwa Oude
Sister Marwa Aoude just finished her first year as a Life Sciences student at the University of Toronto. After moving to Canada in 2015 and attending high school here in Mississauga, she decided to be more involved with the youth in the Muslim community. She has been involved with a Sisters Youth Group for high school girls that meet every Friday for halaqas. More recently, she coached a MIST (Muslim Inter-Scholastic Tournament) team for olive grove high school who she helped compete in categories such as Quran, Spoken words, poetry, Improv, and Art amongst others.
Ever since she was little she has explored and enjoyed any sport she had access to including gymnastics, basketball, soccer, volleyball and karate. She also enjoys learning calligraphy and photography in her free time. With these experiences she became very passionate about reaching and educating the youth in the community by personally spending time with them and allowing them to discover their own talents and interests. Marwa finds it important that children are encouraged to ask questions and be curious about the world around them.
NOTE: Boys Hangout is 1 day after on April 28. For more info, click here.
Importnat Notes:
This is girls only drop-off program, adults/parents not allowed in program room and/or gym.
Pizza will be served in program room. No food allowed in gym.
All attendees must bring their own water bottles.
Sports shoes with non-marking soles are required to play in the gym.

Any attendee found not cooperating with the Youth Leads/Referee will be given warning and/or disqualified.

We're not responsible for loss of any personal belongings and/or any injury due to inherent risks of any sports/games
By registering you give us (and our appointed photographer/videographer) consent to take event photos/videos which may be published on our upcoming website, our social media, and other media to promote our programs
Registration fee and program details are subject to change, without any notice.
Be Inspired reserves the right to postpone or cancel due to low enrollment, inclement weather conditions, or any unforeseen circumstances beyond our control. In a rare event when this happens, registrants will have the option to either receive a full refund or transfer same registration to the same event at the new, future date.