Description
Be Inspired is excited to present a new Tarbiyyah session along with Calligraphy for Boys and Girls ages 9 -13.
Taught by Shaykh Hosam Helal, it will focus on topics such as the importance of having good friends and the struggle to choose the right friends. It is a great opportunity for both boys and girls to get a head start towards understanding the true friendship means in Islam.

Additionally, there will be a calligraphy session after the talk conducted by Sr. Rafia Masud. Materials will be provided.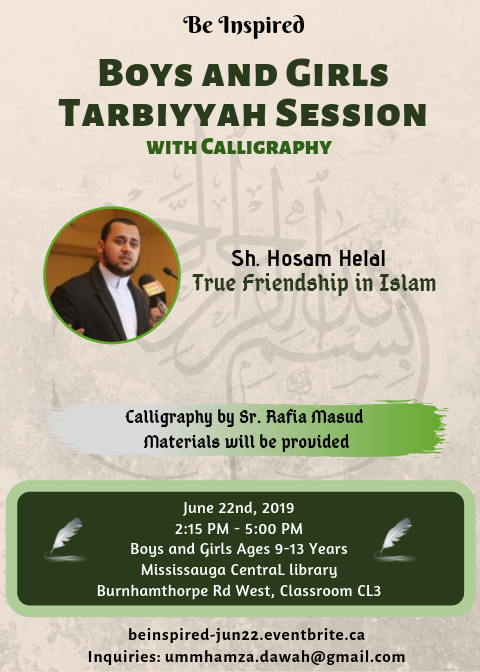 This is another kids drop-off program. Parents must sign-in and sign-out at the check-in desk. As parents are not allowed in classroom, they can either pick-up after or wait in the library. There is free underground parking on weekends (parking entrance off Duke of York Blvd.).
Materials & Pizza are included with registration. Take advantage of early bird registration before it's sold-out.
About Shyakh Hosam Helal
Shyakh Hosam Helal is currently a chaplain at Brock University, student at U of T and Al-Azhar, and a Youth Counsellor and Educator at ISNA Canada. He has served as Imam, Khateeb, and instructor for 10 years at several Masajid and Universities throughout Canada and the United States. He is also the founder and instructor of Quran Journey.

He memorized the Quran at the age of eight and has since received several Ijazahs in its various recitation styles. He completed his Islamic education in Quran exegesis through Al-Azhar University and studied under the guidance of several Shyookh including his father, Shaykh Ibrahim Helal, an instructor at Al-Azhar. He completed his education in Health & Disease, Near & Middle Eastern Civilization, Sociology, and Neuroscience at the University of Toronto.
He currently resides in Hamilton, Ontario, Canada with his wife and family. He loves soccer/football, horseback riding, videography, sushi, swimming, and programming.
About Sr. Rafia Masud
Rafia Masud is currently a Masters student at McMaster University. She recently learnt the thuluth script of Arabic calligraphy by taking a course with the professional calligrapher, Omar Uddin. She has a passion for Arabic calligraphy and enjoys experimenting with different styles and coming up with her own styles.
She plans on launching her own calligraphy business this May to share her work with others, while donating a portion of all orders to charity. She enjoys working with children, and looks forward to this opportunity to lead a fun calligraphy session for kids!
Important Notes:
Be Inspired reserves the right to postpone or cancel due to low enrollment, inclement weather conditions, or any unforeseen circumstances beyond our control. In a rare event when this happens, registrants will have the option to either receive a full refund or transfer same registration to the same event at the new, future date.
By registering you give us (and our appointed photographer/videographer) consent to take event photos/videos which may be published on our upcoming website, our social media, and other media to promote our programs
Registration fee and program details are subject to change, without any notice.