Description
Assalaamu'Alaykum,
Be Inspired is pleased to announce youth program to help with today's social challenges on how to deal with temptations, gender relations/etiquette, peer pressure, social media, drugs and much much more...
In this Youth Social Lunch program for our youth, brothers and sisters of ages 13 - 21, Shaykh Musleh Khan will discuss how to tackle temptations in the 21st century from an Islamic perspective. As you may know, Shaykh Musleh is not only a motivational speaker with authentic Islamic knowledge but also deals with youth issues on regular basis. As with most of our programs, parents are not allowed so the youth can speak their mind and ask questions freely without any reservations.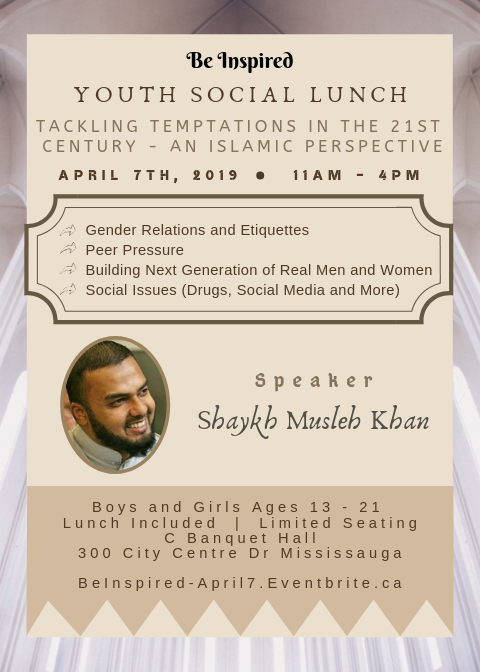 This 4-hour engaging workshop with an additional hour reserved for lunch/salah break, takes place on April 7th, between 11am - 4pm. It will be held at C Banquet, an ideal location situated in the heart of Mississauga (right by the next to Celebration Square near Square One mall). Lunch and Dhuhr salah will be arranged at the venue.
Youth Social Lunch is an excellent opportunity for the youth to get together, learn, eat, pray, ask questions and meet other fellow students (Islamic etiquette will be followed with the seating arrangements).
Kindly note that all Early Bird 1, Early Bird 2 & Early Bird 3 registrations are now completely sold-out, limited seats available with regular registrations.
We would like to thank all our registrants/attendees, friends, local community members, and small businesses who have contributed donations and sponsored this event. With their support, we were able to keep the costs as low as possible.
About Shk. Musleh Khan
Shaykh Musleh Khan was born in Madinah, Saudi Arabia. He was raised and is currently residing in Toronto, Canada. At college he studied computer programming and then went to work as a Fraud analyst.
In 2002, Shaykh Musleh was accepted at the Islamic University of Madinah where he completed a diploma in Arabic followed by a BA in Islamic Law from the faculty of Da'wah and Usool al-deen. He memorised the Qur'an with an ijaza and has completed a complete study of Sahih al-Bukhari.
Shaykh Musleh undertook a study of various Islamic books including those on Fiqh, Hadith, Aqidah, Tafsir. Futhermore, he took classes with various prominent scholars in the course of his time in Madinah, including Sheikh Mukhtar Al-Shanqiiti, Sheikh Muhsin Al-Abaad, Sheikh Abd al-Razak, and Sheikh Muhammad Shafi among others.
Upon graduating in 2011 he has returned to Canada and has plans to pursue a Masters at York University, Toronto. He has been very active in the Toronto vicinity for more than 10 years, having conducted khutbahs, classes, lectures and conferences, as well as various Islamic Intensive programs in the United States. Shaykh Musleh enjoys long-distance running and basketball. He loves to read and write in addition to spending time preparing for classes in Toronto where he and his wife reside.
About
Br. Hassan Wadi - Host (MC) for this event
Br. Hassan Wadi is a fitness expert, speaker and philanthropist. As a Personal Trainer, he has been recognized as one of the Top 10 Fitness Professionals in Canada from Canfitpro. Within Toastmasters (International public speaking organization), he is currently the President of the City of Mississauga club and has been a successful Speech Contest Champion.
As a philanthropist, he is very involved with charitable activities in his local mosques at ISNA and Malton Islamic Centre. Hassan believes in connecting his mind, body, and soul through his passions for speaking, fitness, and religion.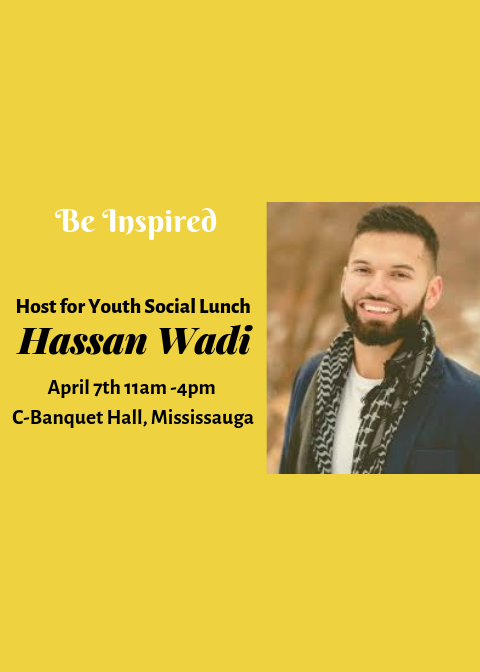 About the Venue
C Banquets is a truly unique venue towering over downtown Mississauga and specializing in hosting elegant weddings and other important events. This event venue boasts incredible panoramic views of the city, including the Toronto skyline. Parking if free on weekends.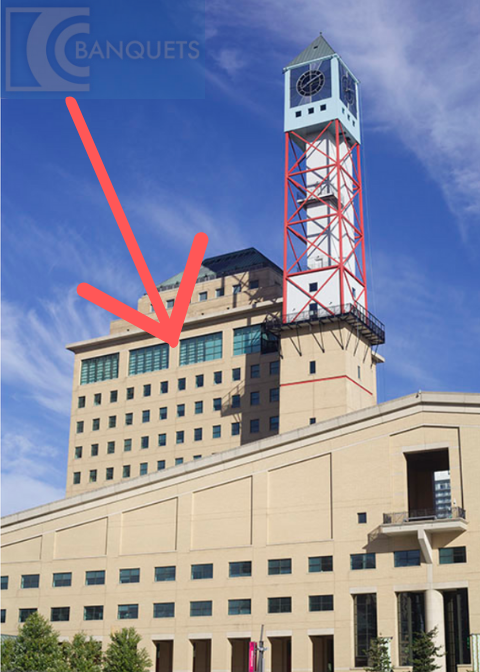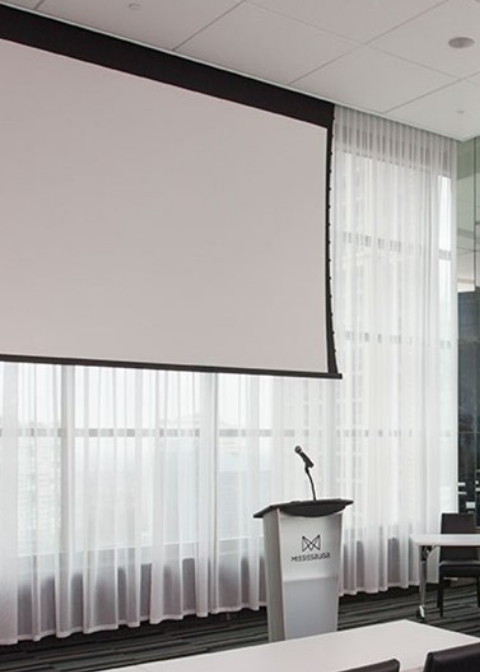 Note:
This is youth only event for ages 13 to 21 years olds, parents not allowed.
Lunch will be served onsite (included with the required registration).
Registration fee and some program details are subject to change, without any notice.
Be Inspired reserves the right to postpone or cancel due to low enrollment, inclement weather conditions, or any unforeseen circumstances beyond our control. In a rare event when this happens, registrants will have the option to either receive a full refund or transfer same registration to the same event at the new, future date.