Be Motivated! Maintaining belief through change
Description
Session Aims:
We have all heard this before… "8 out of 10 entrepreneurs who start businesses fail within the first 18 months"
Well I am a start-up business that has made the leap from taking an idea and belief into a reality. I have a formula that will show you how you can be one of the two.
My formula is not related to business skills, my formula is about understanding your mind that supports drive and motivation. Come and listen to some real life experiences on how you can succeed where others fail.
Biography of presenter: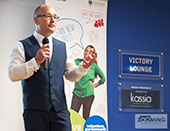 My name is Gethin Jones and I a motivational speaker and a personal/professional development coach.
I am a born survivor and within my life I have had to overcome great personal obstacles. These obstacles dictated a future that said I would never achieve or amount to anything. I was seen as a lost cause and by the age of 34 I had zero belief in myself and I mistrusted both people and the world around me, I truly believed that my life was over.
Today I have an unshakable belief in myself and in the last 10 years I have achieved huge success both personally and professionally. I am here today because of people's belief in me and from the love and care that I have received from strangers colleagues friends and families.
These individuals have enabled me to create an internal belief in both people and the world we live in, my experience has truly led me to understand the power that sits within the human condition and how this power can make any dream come true…
My skills and experience
I am a natural leader that has a track record of both holding teams through organisational change, whilst developing them individually so they can make decisions that support their futures.
I have exceptional communication skills and the ability to motivate people who are resisting or experiencing uncomfortable change. I hold teams and individuals by using my natural positive attitude and transferring my belief in how anything is possible if you have the desire and belief to achieve it.
I reaffirm that fear and change are a part of living and when you confront and embrace change dreams become reality, I am living proof that says "if you challenge fear and change anything is possible".
I live and breathe what I deliver