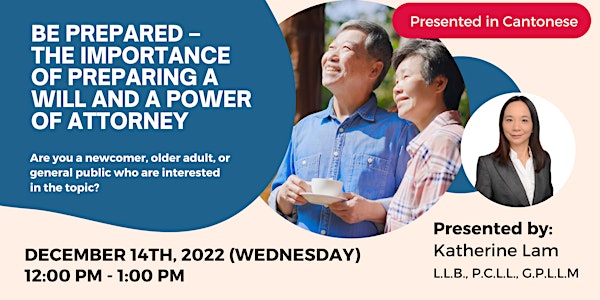 Be prepared – the importance of preparing a Will and a Power of Attorney
Are you a newcomer, older adult, or general public who are interested in the topic?
About this event
The workshop will cover the following content:
Examine the problems when there is no will
Learn about will and estate planning
Understand different types and uses of Powers of Attorney
Consider how to arrange assets in different countries
Katherine Lam has over 20 years of experience practicing law, first as a solicitor and partner in Hong Kong, and since 2019 as a practicing lawyer in Ontario. She has a wealth of legal experience, including will and estate, family law, civil litigation, real estate, employment law, and more. Katherine is a graduate of the University of Hong Kong with a L.L.B., P.C.L.L. and a G.P.L.L.M. graduate of University of Toronto.