About this Event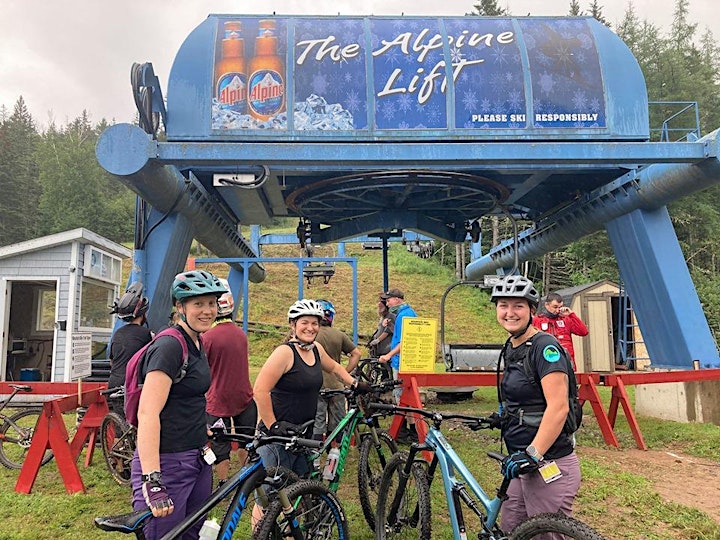 More than mountain biking, this is a mini festival to celebrate all the rad ladies doing rad things outside!
Camping on the hillside, music, food, swag, and all around good times!
Spaces are limited as we respect social distancing recommendations by public health officials. Our top priorities are for this festival to be safe and fun.
INCLUDED in FULL FESTIVAL TICKET
Meals:
Wednesday - Evening snack upon arrival
Thursday - Hot Breakfast, Lunch, and Dinner
Friday - Hot Breakfast and Snack
Camping:
2 Nights hillside Wednesday and Thursday (bring your own tent)
Chairlift Pass:
2 days of riding Thursday 10am to 4pm and Friday 10am to 12pm
!private hill access just for us!
Mountain Biking Skills Workshops:
Various levels of skills workshops with BICP and PMBIA certified MTB Instructors Sam and Emily along with our amazing local Guides MJ, Julie, Lauren, and Lydia!
Topics Include: Operation of Controls, Body Positioning, Terrain Awareness, Direction and Pressure Control
Fitness and Wellness:
Group stretches, and Animal Flow with Julie!
Bike Tech Workshops:
Various workshops with Bike Mechanic Marci!
Topic Include: Setting up your suspension, cleaning your bike, and changing a tire
SCHEDULE
Wednesday, August 26th
6pm - Registration Time! Setup your campsite, sign up for Skills Workshops
7pm - Evening Snack and Meet and Greet your hosts and other participants
8pm - Bonfire Chats
Thursday, August 27th
8am - Breakfast
9am - Group Stretch and Animal Flow
10am to 12pm - Group Rides and Skills Workshops (Chair Lift opens @ 10am)
12pm - Lunch (Chair Lift will close for lunch hour)
1pm to 4pm - Group Rides and Skills Workshops
4pm - Free time (Chair Lift closes @ 4pm), Cool Down with Julie, and Slip 'n Slide Time!
6pm - Supper
7pm - Fun Awards and Giveaways!
7:30 to 11pm - Music! YOU & HER, followed by DJ La Reine to get us dancing on the hillside!
11pm - Quiet Time begins
Friday, August 28th
8am - Breakfast
9am - Group Stretch and Animal Flow
10am to 12pm - Group Rides and Skills Workshops (Char Lift Open 10am to 12pm)
Notes on Safety and Comfort:
Poley will have security patrolling 24 hours during the event, but it is your responsibility to keep your valuables safe.
Bring a lock for your bike - either to lock to your bike-rack on your car or to lock it to a bike rack outside the chalet.
Tent sites will be staked out to allow for 2m distance between sites. Please respect the distances. Sites are first come first serve - don't worry, they are all awesome.
Yes, you can park your RV or Van in the parking lot (special for this event), but there is no power or water hook-up available.
Food service will be provided by Poley Mountain servers cafeteria style.
Community face masks must be worn on the chairlift and on the Slip 'n Slide.
FAQs 🤔
Is this beginner friendly!? You Bet!
Will there be opportunities for progression for more experienced riders?! You Bet!
Can I bring my rad daughter, niece, friend?! Yes, let's encourage the next generation to join us! They need to be accompanied by an adult for the duration of their participation. 10% Discount can be applied for Youth Tickets (18 and under)!
Is this just about mountain biking? No! You can hike and trail run too, and simply surround yourself with amazing ladies doing Rad things outside!
Are showers available?! Yes, 2 of them (new) in the chalet!
Spaces are limited to 50 as we respect social distancing recommendations by public health officials. Our top priorities are for this festival to be safe and fun.
FRANCAIS! 💜
Les dames « RAD » prennent la montagne en entier pour 2 jours! Accès au télésiège juste pour notre groupe!!!
Plus que le vélo de montagne, c'est un mini festival pour célébrer toutes les dames « rad » qui font du plein-air et osent pousser leurs limites! Camping sur la colline, musique, nourriture, danse: en résumé… de bons moments pour tous!
Les places sont limitées à 50 car nous respectons les recommandations de distanciation sociale des dirigeants de la santé publique. Notre priorité est que ce festival soit sécuritaire et amusant.
TICKET :
$255 plus taxes + fees par personne
Ce qui comprend :
Repas:
collation du soir (mercredi); petit déjeuner, déjeuner et dîner (jeudi); petit déjeuner et collation (vendredi)
Camping:
2 Nuits à flanc de colline (mercredi et jeudi). SVP, apportez votre tente.
Laisser-passer pour le télésiège : jeudi 10am to 4pmvendredi 10am to 12pm
A noter l'accès privé de la colline!
Cliniques:
Divers niveaux d'ateliers de compétences avec instructeurs et guides certifiés. Nous aborderons le fonctionnement des contrôles, le positionnement du corps, la sensibilisation au terrain, la direction et le contrôle de la pression du corps sur le vélo.
Cliniques sur entretien du vélo:
Divers ateliers avec une mécanicienne certifiée qui abordera l'ajustement et l'entretien de votre suspension, le nettoyage et l'entretien général de votre « machine », et la technique pour changer un pneu.
Fitness et bien-être :
étirements de groupe et Animal Flow
Musique:
Jeudi soir sera un temps « rad », mes dames! Soyez prêtes!
Nous avons quelques incroyables prix à gagner!
Notes sur la sécurité:
Poley aura du personnel de sécurité pendant tout l'événement, mais il est de votre responsabilité de garder vos objets de valeur en toute sécurité.
Apportez une serrure pour votre vélo - soit pour le verrouiller à votre porte-vélos sur votre voiture ou à un support à vélo situé à l'extérieur du chalet.
Les emplacements de tentes seront prédéterminés pour permettre une distance de 2 m entre les sites. S'il vous plaît respecter les distances.
Le service de restauration (style cafétéria) sera fourni par les serveurs de Poley Mountain.
Les masques communaux doivent être portés sur le télésiège