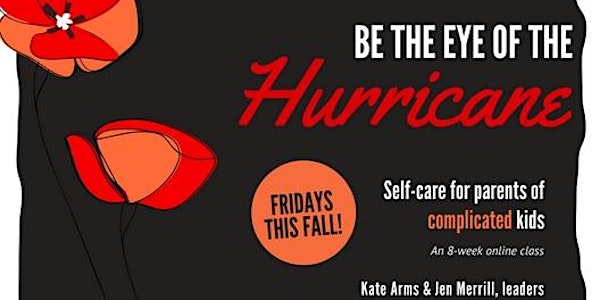 Be the Eye of the Hurricane: Self-Care for Parents of Complicated Kids
Refund Policy
Refunds up to 7 days before event
Description
October 13 - December 8 (No class November 24)
1pm-2pm ET/12am-1pm CT/11am-12am MT/10am-11am PT
$150 USD
Limited to 12 participants
To Register: Click the "Tickets" button in the top right. If you see a "Select Time" button in the top right of this page, click that and select October 13. On the next page, click the "Tickets" button to purchase.
Whether they are twice-exceptional, gifted and quirky, or just odd, you know you have a complicated kid when the teachers, doctors, and other parents in your life don't understand what the problem is and you are losing your mind because none of the standard parenting advice or processes are helping you and your family thrive.
Complicated kids are hard to parent.
Without a foundation of self-care, parents burn out. But all the standard advice on self-care seems to take time and money that are scarce or unpredictable. You need tools that you can use quickly, in the heat of the moment, anywhere. You need custom solutions that fit in your life, with your kid(s) and your personality traits.
Jen Merrill and Kate Arms have been there and they know how hard it is. You may have read Jen's book, If This is a Gift, Can I Send it Back? or her blog Laughing at Chaos, in which case you know that she is the master of finding the funny in the hard times. She is currently working on a book on self care for GHF Press. Kate is a leadership and life coach with a focus on how to have the hard conversations that make family systems and organizations thrive. Between them, they have 6 complicated kids between 10 and 16 and experience with homeschooling, private schooling, and public schools. They will bring their professional and personal experiences to this class to help you figure out how to create a life that works for you despite the challenges.
In this 8-week course, you will:
identify and practice using emergency calming tools

develop manageable proactive self-care habits

cultivate self-empathy

create a personalized, prarenting survival tool kit

learn how to model behaviour for your kids that will eventually make them easier to work with

connect with other parents of similarly challenging children for support
These tools will provide a foundation you can return to over and over again. You will also have experienced a process you can use to make changes over time as your children grow and their needs and abilities change.

We will meet using Zoom software, which is an easy to use video conferencing software package. Instructions on how to use the software and connect will be sent after registration.