About this Event
You may have been inspired by Oprah's speech at the Golden Globes Awards or pumped after checking out a motivating event, podcast or video. Perhaps you fuelled your fire by reading the likes of Eckhart Tolle, Danielle LaPorte, or maybe even found your "why" with Simon Sinek.
A small% of self-help books actually get read, let alone acted upon. It's time to step away from the sidelines and step into the life you want.
The SEEDS Leadership™ Program is for leaders who are serious about self-improvement but are ready to walk the talk and crush 2020 and beyond.
Did you know that 95% of your thoughts today are repeated from yesterday? According to a study by the National Science Foundation, only 20% of it is positive.
So what's playing on repeat for you?
Come and experience this unique whole-brained approach to uncover played-out, unwanted behavioural patterns. How you play games reveals how you show up in life. The good news is, that's not who you are at the core of it all. It's time to debunk limiting beliefs.
How is SEEDS Unique?
The reason why most programs don't create lasting change is that they only work on one aspect, such as our mind or emotion. SEEDS Leadership is designed to create lasting transformation and results in all areas of life by working on all aspects – your mind, body, emotion and spirit.
SEEDS not only supports you in breakthrough while you're in the program, it also has universal principles, tools and support structures that'll keep you in the path of achieving success in every aspect of your life.
Join our international community of like-minded individuals who are as committed to their growth as they are to changing the world – and be UNSTOPPABLE in 2020!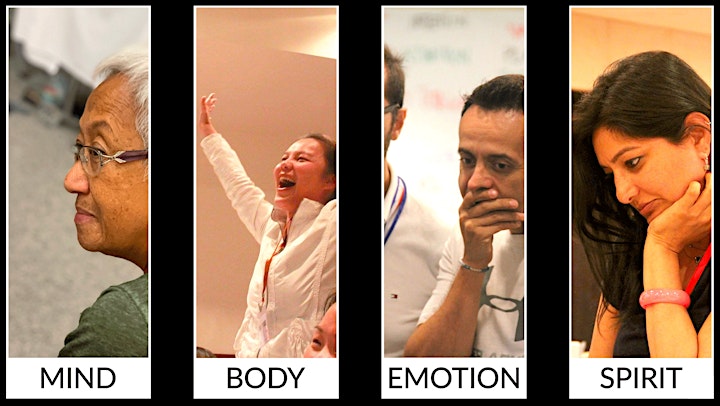 Uproot Limiting Beliefs to Discover Your True Potential
If you're running a self-help marathon but not seeing lasting changes, it's time to get to the root of it all and discover what's holding you back.
Click the video below and find out how SEEDS work?
The secret to having more is revealed in your SEEDS – your belief systems. Join a tribe of change-makers who are as committed to their growth as they are to changing the world – and be unstoppable in 2020!
Your Program Includes:
3 Whole-Day SEEDS Leadership Program
3 Coaching Calls
12 Mastermind Calls
Solid 3 months foundation to give you good start on this journey
FREE SEEDS Graduates Support Structure
FREE Lifetime Access to SEEDS Leadership Program Globally (Walk in anytime FREE to SEEDS at Toronto, Vancouver, Miami, Charlotte, Malaysia, etc.)
ONE MORE! It's a Money Back program. IF you feel that you did not get anything after the 3 days with us, take your money back.
Check out what others are saying about SEEDS, click the video below.
This is a Must-Experience Event for You If…
You feel like you can achieve MORE in your life, but there's something holding you back.
You want to create meaningful and fulfilling connections and relationships that'll support you in achieving your dreams.
You have joined multiple self-development programs only to discover yourself falling back into the same old habits and patterns
You fall into a continuous pattern of success and failure – as if you're subconsciously sabotaging your success.
You can't seem to control your behaviours and emotions sometimes – even though you know what you should be doing.
You feel stagnant, stuck and dissatisfied with your current life situation, and you're looking for your next breakthrough.
You want to play big and embody a higher version of yourself – to live life at a world-class level that'll contribute to humanity.
We welcome people from all walks of life. Past attendees have included a diverse range of professions and backgrounds: entrepreneurs, lawyers, coaches, housewives, retirees, college students, business coaches, consultants, and countless others.
Contact us if you have any questions.
life@seedsleadership.com
From Rev. Rain, creator of the SEEDS programs.
Click the video below.
Program Details
Program Venue
SpringHill Suites by Marriott Charlotte-Ballantyne
12325, Johnston Rd Charlotte, NC 28277
Program Dates / Hours
2020, October 23 (Friday) 9:00 am – 12:00 am or earlier
2020, October 24 (Saturday) 9:00 am – 12:00 am or…
2020, October 25 (Sunday) 9:00 am – 10:00 pm
Graduation dinner starts at 8:00 pm
Breaks & Meals
There will be frequent breaks during the program.
Water will be provided by the hotel, please bring your own water bottle (with closed lid) to refill.
We suggest that you take breakfast before the program.
You are welcome to bring your own snacks, lunch and dinner for the program.
Graduation Dinner is provided on Sunday at about 8:00 pm.
Dress Code
Please dress comfortably!
Wearing jeans, sweatpants, and sneakers would be ideal as we have activities that require lots of movement.
Please bring a sweater or jacket (something that can be taken off and put back on easily). The temperature in the program space is kept cool. It is part of a teaching technique called Super Learning.
Materials
You will be provided with a workbook that includes blank pages for taking notes and writing utensils.
CarPool & Room Sharing
Please leave your comments on our Facebook event page.
THAT'S IT! SEE YOU AT THE PROGRAM!
For more information >> http://www.seedsleadership.com/