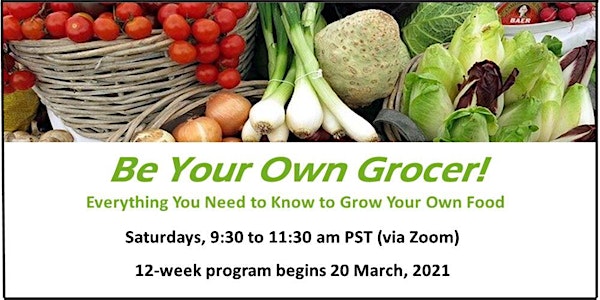 Be Your Own Grocer: Learn to Grow Your Own Food (12-week Zoom course)
Our "Be Your Own Grocer" program will teach you everything you need to know to grow your own food; even if you are new to gardening!
Refund Policy
Contact the organizer to request a refund.
Eventbrite's fee is nonrefundable.
About this event
Would you like to enjoy delicious, fresh, nutritious, organic food all year round - right from your own garden??!! Our complete, easy-to-follow, step-by-step program will show you how to plan for, plant and harvest your own food – even if you have never gardened before and don't know a trowel from a shovel! If you are an experienced gardener, you will learn lots of tips and tricks to make your gardening quicker and easier. The 12-week program is presented in 4 parts as described below. Classes are Saturday mornings – and each class includes a worksheet to help you take what you are learning and apply in your own garden. We also include Q&A sessions during the week to support you as you move through the program. Can't make a class? No problem; all classes are recorded and you can listen to them at your convenience. You can register for any of the classes individually ($20 each) or for the entire 12-week program at a 50% discount (only $120). See the course outline below for links to each individual class.
Be Your Own Grocer is presented by Transition Nanaimo Society and taught by Connie Kuramoto. Connie has been teaching Horticulture for over 30 years, and gardening for even longer. She was a technician and instructor for Vancouver Island University for 20 years, and currently teaches on contract for North Island College and Gaia College, as well as numerous workshops and talks throughout Vancouver Island and beyond. Connie has worked in the Horticulture Industry in Greenhouses, Market Gardens, Florist Shops, Farms, and has managed her own Horticulture Training and Service Business, Gardens on the Go for nearly ten years. She grows the majority of the vegetables and fruits she eats in her half acre garden. She can provide specialized workshops and training in many different aspects of Horticulture, and is available for pruning, one on one pruning classes, and garden consultations.
COURSE OUTLINE:
Part 1 - PLAN!
Class 1: Introduction to Garden Planning (March 20, 2021)
Class 2: Building Healthy Compost (March 27, 2021)
Class 3: Building Healthy Soil (April 3, 2021)
Part 2 - PLANT!
Class 4: Seeding in Containers (April 10, 2021)
Class 5: Direct Seeding, Transplanting, and Weeds (April 17, 2021)
Class 6: Garden Care and Dealing With Problems (April 24, 2021)
Part 3 - ENJOY!
Class 7: Seeds and Seed Saving (May 8, 2021)
Class 8: Harvest Time. Extending Your Harvest. (May 15, 2021)
Class 9: Preserving Your Bounty - Choosing the Best Methods (May 29, 2021)
Part 4 - MORE FUN IN THE GARDEN!
Class 10: Perennial Food Plants and Permaculture (June 5, 2021)
Class 11: Growing Fruit in Small Spaces (June 12, 2021)
Class 12: Propagation of Perennial Food Plants (June 19, 2021)