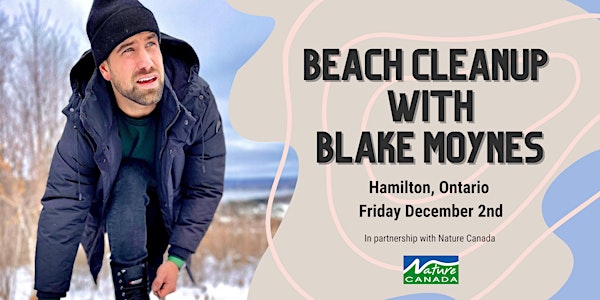 Beach Cleanup with Blake Moynes & Nature Canada
Join Blake Moynes and Nature Canada for a beach cleanup on Friday December 2nd to help spread awareness about the biodiversity crisis!
When and where
Location
180 Van Wagners Beach Rd 180 Van Wagners Beach Road Hamilton, ON L8E 3L8 Canada
About this event
You probably know that nature is in trouble. And sometimes it's hard to know what to do to help make a difference. Don't fret - we've got a solution for you!
Join Blake Moynes from the Bachelorette franchise for a beach cleanup and polar bear dip* in Hamilton, Ontario on Friday December 2nd to help spread awareness about the biodiversity crisis and learn about the opportunity for Canada to deliver a win for the future of the planet at the upcoming NatureCOP!
This December, Montreal will host the United Nations NatureCOP conference, as leaders from around the world gather to discuss nature protection while creating a plan to halt and reverse nature loss by 2030.
Hosted by Nature Canada, the NatureBus is stopping in Hamilton to hang with Blake and do some good for our environment on route to Montreal. Come join us!
Not only will you get a chance to meet Blake, but you'll be supporting nature by cleaning up the shoreline! You will also have the opportunity to write a letter to the Prime Minister about the importance of protecting nature that will be delivered to PM Justin Trudeau at NatureCOP.
So get ready to join us, have some fun working to protect your local nature, and if you're brave enough - jump in the lake with Blake himself! There will be a special presentation by McMaster University too. We can't wait to see you there. If you have any questions, please contact Sam Cava at scava@naturecanada.ca.
*If you are interested in participating in the polar bear dip portion of this event, please ensure to bring a towel, bathing suit, water shoes and warm dry clothes. Waivers will be given out to those wanting to participate in the dip.