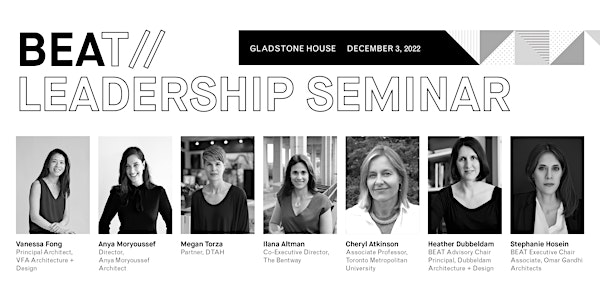 BEAT: Leadership Seminar
Building Equality in Architecture Toronto (BEAT) invites you to the 2022 Leadership Seminar at the Gladstone House.
When and where
Location
Gladstone House 1214 Queen St W Toronto, ON M6J 1J6 Canada
About this event
We are thrilled for the return of BEAT's Leadership Seminar on Saturday December 3rd, after a three-year hiatus due to the pandemic. Previously occurring on an annual basis, this event will now be held biannually.
The Leadership Seminar is dedicated to exposing students and young practitioners to leaders in the architectural profession. From sole practitioners to partners in Toronto's leading design firms, the seminar speakers are architects and academics who have established successful careers. The talks and tours that follow will showcase the breadth of the profession and speak to the numerous ways to navigate a career in the built environment.
Complimentary lunch is provided during the networking hour between the talks and tours.
While the event is geared towards women, all are welcome to attend. It is critical to have inclusive discussions surrounding issues of pay equity, gender bias, and the pressures of balancing work with a family life.
This event qualifies for OAA Structured Learning hours for the lecture portion of the event.
Presenters:
Speakers:
Vanessa Fong Principal Architect, VFA
Anya Moryoussef Director, AMA
Megan Torza Partner, DTAH
Ilana Altman Co-Executive Director, The Bentway
Cheryl Atkinson Associate Professor, Toronto Metropolitan University & Principal, Atkinson Architect
Moderator:
Heather Dubbeldam Principal, Dubbeldam Architecture + Design and Advisory Chair, BEAT
Master of Ceremonies:
Stephanie Hosein Associate, Omar Gandhi Architects and Executive Chair, BEAT
Schedule & Details:
Saturday, December 3rd, 2022
Gladstone House, 1214 Queen Street W, Toronto, ON
Registration | 9:30 am – 10:00 am
Seminar | 10:00 am – 12:00pm
Lunch and Networking | 12:00 pm – 1:00 pm
Tours / Breakout session | 1:00 pm – 3:00 pm
* Tours and breakout sessions are led by seminar speakers. Sign up is on a first-come, first-served basis on the day of the seminar. Note: Tour sites to be announced at a later date.
Tickets
Tickets are free of charge and will be available starting Thursday November 10th at noon.
Getting Here:
By Car:
Limited paid street parking is available in the neighbourhood.
TTC:
Gladstone House can be accessed via the 501 Queen streetcar or the 29 Dufferin bus.