Description
BEAT MIX: Expand Your Professional Contacts

Networking can be one of the most powerful and productive activities an individual can do to launch and manage their career. BEAT MIX is a platform to develop a series of relationships across Toronto's Architecture and Design communities. In the workplace today, it is important that we are known to others, and to ensure that others are aware of our resourcefulness.
BEAT MIX will include five invited Featured Guests who are stationed in five specific Zones. The Featured Guests will comprise of Partners and Principals from local design firms of various sizes, along with leaders in adjacent professions such as construction, accounting, engineering or architecture critiques.
Participants will have the opportunity to interact with the Featured Guests and meet a succession of individuals in small groups throughout the evening.
Drechsel Studio is excited to host the first BEAT MIX event at their King and Jarvis showroom on the evening of December 7, 2017 featuring:
Alice Liang, Montgomery Sisam Architects

Elaine Pantel, Shimmerman Penn LLP

Pina Petricone, Giannone Petricone Associates

Barbora Vokac Taylor, Barbora Vokac Taylor Architects

Betsy Williamson, Williamson Williamson Inc.
BEAT encourages Interns, emerging practitioners and seasoned professional to join this interconnected community to share information, advice and opportunities.
More information on event and Featured Guests is available through www.BEAToronto.com. Tickets to event will be available on Thursday, November 23, 2017 at noon. Please be prepared to submit questions or comments for each Featured Guest to help shape the discussion.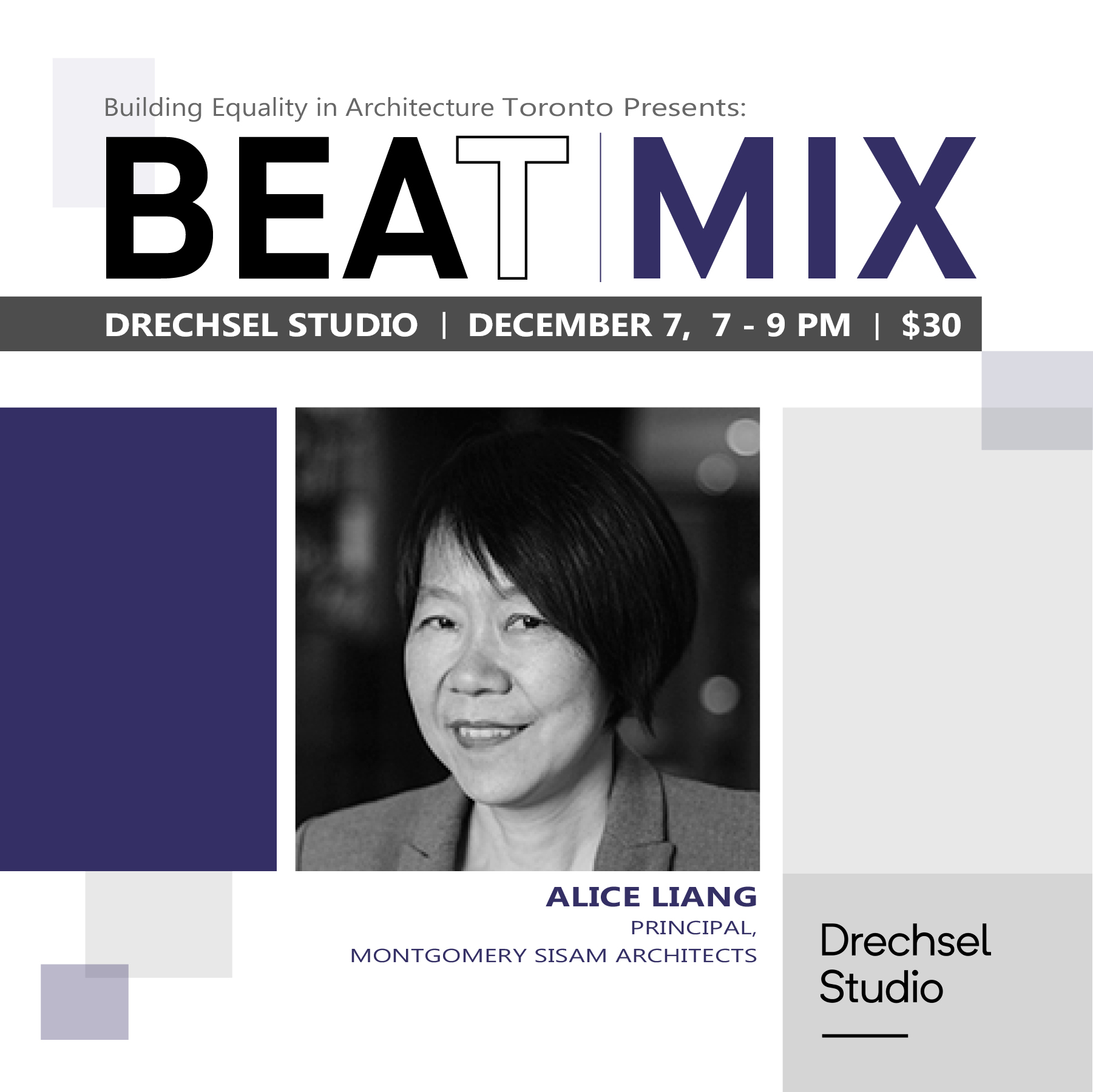 Alice Liang
B.Arch., OAA, Architect AIBC, SAA, FRAIC
Principal
Montgomery Sisam Architects
For over 30 years, Alice has been a leader and innovator in the design of care facilities for children, youth, adults, and seniors with complex needs. She joined Montgomery Sisam in 2001, becoming a Principal in 2006, and has since been instrumental in shaping the firm's philosophy of design for therapeutic spaces to support the recovery of our most vulnerable populations requiring mental health and addictions treatment.
Delivering projects ranging from small private facilities and not-for-profit initiatives to multi-phased campus redevelopments, Alice is immersed in the most current thinking on the impact of design on removing barriers to care. She strives to craft care experiences that make a positive contribution to occupants' physical and mental well-being. Her designs are founded on a desire to create normalized, home-like settings that are comforting and empowering to patients, while also being supportive of staff and visitors. She is a firm believer in promoting the healing power of nature and the outdoors, incorporating therapeutic gardens for the wellness of all building occupants. Distinguished projects such as the Centre for Addiction and Mental Health (CAMH), the Carefirst One Stop Centre for Seniors, the Philips House Redevelopment and the Ontario Shores Centre for Mental Health Sciences, demonstrate Alice's achievement, as Principal-in-Charge, in balancing lean-thinking, operational efficiency and occupant safety within the healing environment. These designs not only satisfy functional requirements, but enhance the activities they house.
With such extensive knowledge and rich body of work, Alice was named a Fellow of the Royal Architectural Institute of Canada. She has been invited to participate in international conversations surrounding best practice, research and innovation in Mental Health care and contributes regularly to research-based publications. She is a member of the International Academy of Design and Health, the "Design in Mental Health Network" and a Post Occupancy Evaluation Round Table/Think Tank. She is also an active member of the academic community, mentoring Master's Thesis students from various universities and leading a Study Group between Psychiatry Residents from University of Toronto and front-line practitioners.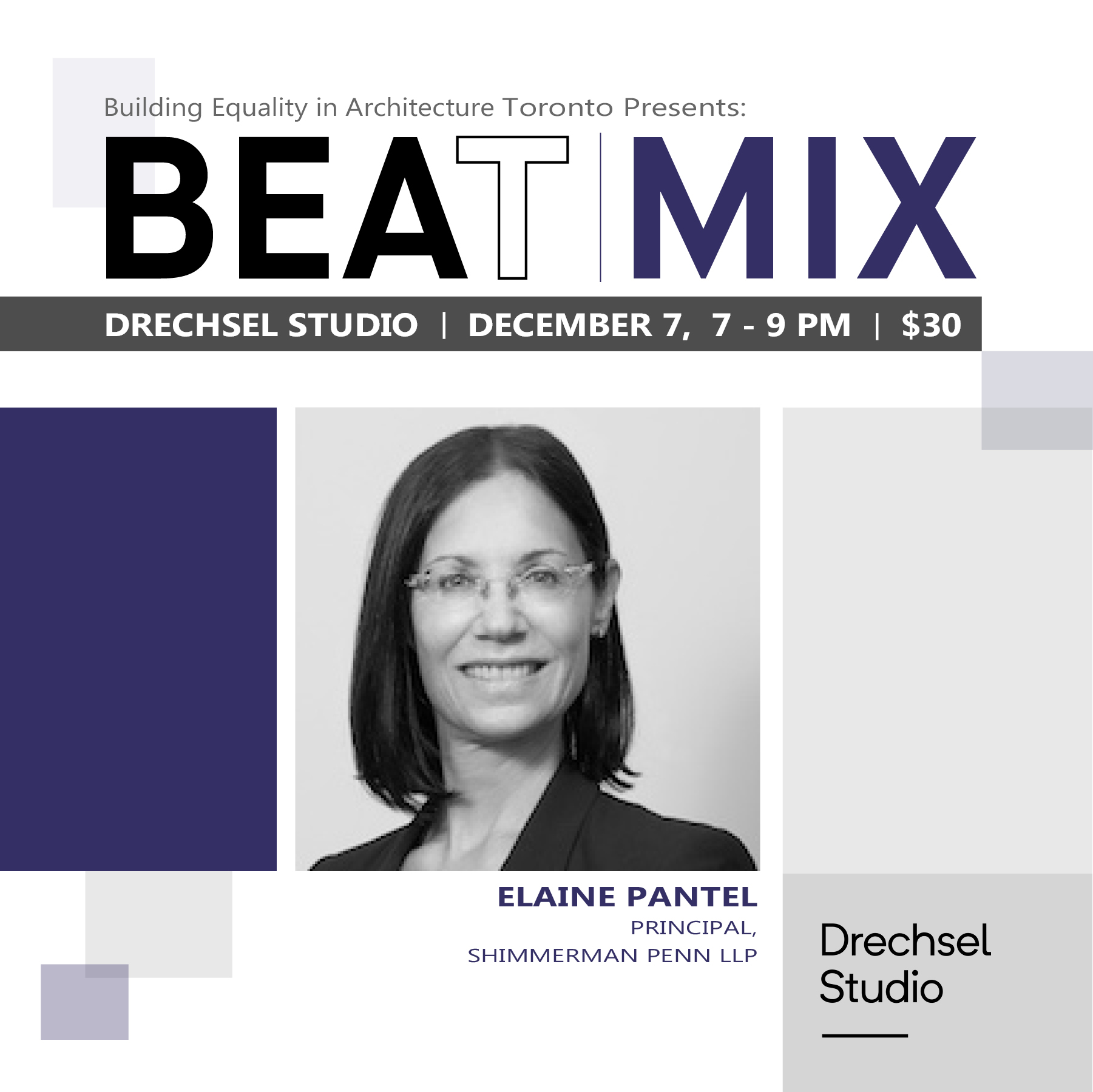 Elaine Pantel
CPA, CGA
Shimmerman Penn LLP
Elaine provides business advisory, assurance and accounting services to a broad range of owner-managed businesses and not-for-profit organizations. She advises clients in areas including succession planning, ownership agreements, business financing, cash flow management, bench-marking and managing business operations and compensation strategies for employees and owners.
Elaine is responsible for the firm's Marketing and Business Development programs and co-leads the firm's industry specialty groups for Architecture, Engineering and Design (AED) and Investment Management Firms. Elaine is the firm's expert for not-for-profit organizations. She has written widely and spoken regularly at the firm's industry seminars and workshops.
Elaine is the Vice-Chair of the North American Board of Directors of PrimeGlobal, and is also a member of the World Board of Directors, which is focused on supporting the regions, governance, strategy, communications, member interaction and business development. Over the years Elaine has represented the firm at many PrimeGlobal conferences. Elaine is also a member of the Verity Women's Club in Toronto.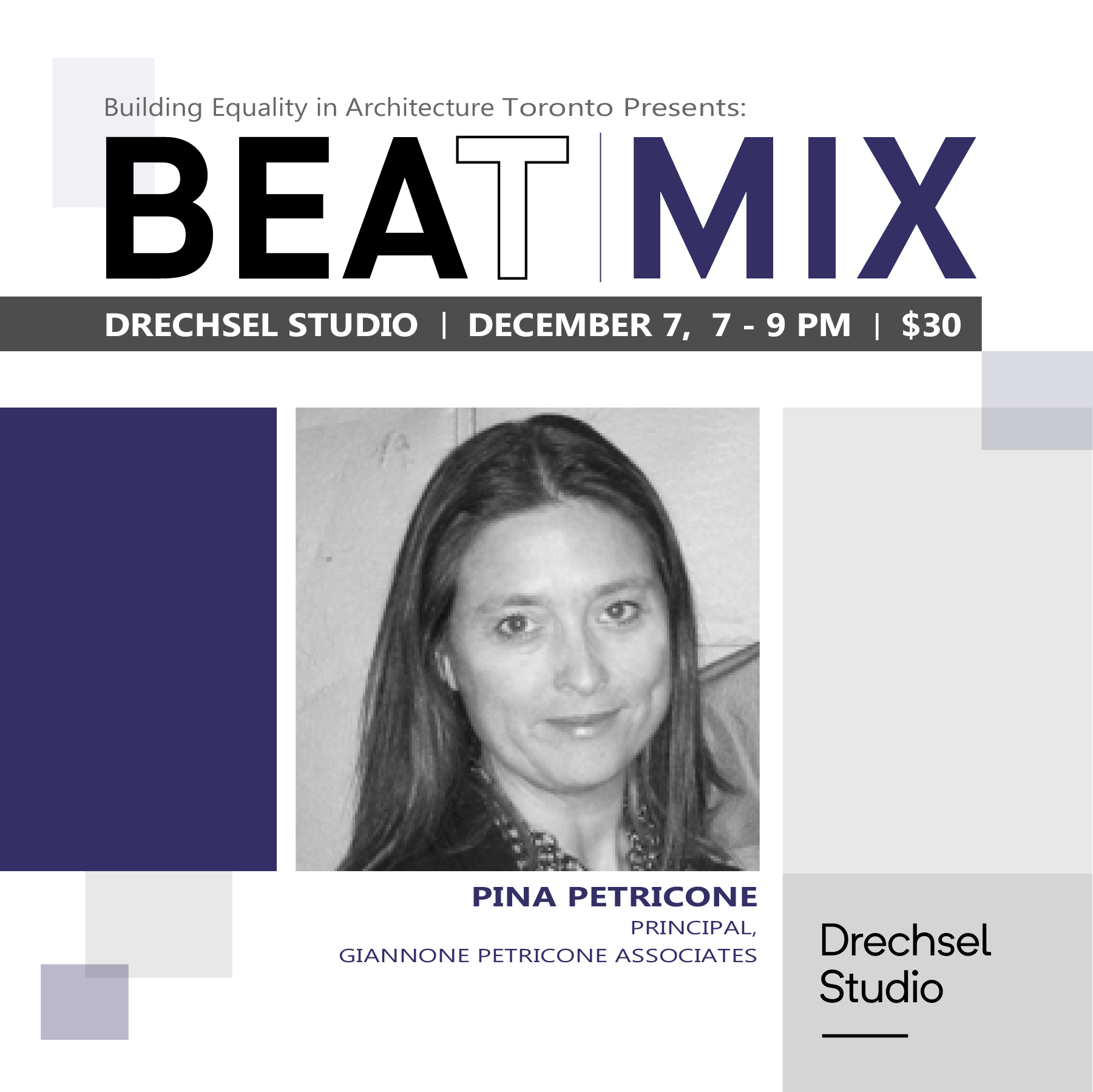 Pina Petricone
B.Arch., M.Arch., OAA FRAIC
Principal
Giannone Petricone Associates
Pina Petricone shares her time as Principal of Giannone Petricone Associates and as a Professor of Architecture at the University of Toronto. This dual role is a defining feature of the practice, enabling Pina to contribute intellectual rigor and research to the firm's projects and processes, as well as to give real projects academic consideration.
Pina's creativity and love of design has led to some of the firm's most remarkable projects including the award-winning Fresh Restaurant, the Centre for Ethics, at the University of Toronto, and Chester Le Daycare and Community Space, a new pilot project for the City of Toronto's 'priority neighbourhoods.' Her current portfolio includes an exciting mixed income development in Phase II of the Regent Park Revitalization Project; two new house projects on the edges of Toronto's unique ravines; a new retail concept for Cumbrae's butchery on Toronto's Queen Street; and, the resuscitation of the Royal Hotel in Ontario's Prince Edward County.
Pina has presented her work and research at several international conferences and symposia, including the IFWorld Conference at the Politecnico di Milano, the Banff sessions on Architecture in Banff, Alberta, the Tectonics: Making Meaning Conference at the Eindhoven Technical University, Netherlands, and recently at the Columbia University Think Tank on the Building Intelligence Project. Her work and research has been published widely in Canada, the U.S., Asia and Europe. In 2012 Pina celebrated the publication of her first book, "Concrete Ideas: Material to Shape a City".
Pina received her professional degree in architecture from the University of Toronto in 1991 and a Masters in Architecture from Princeton University in 1995.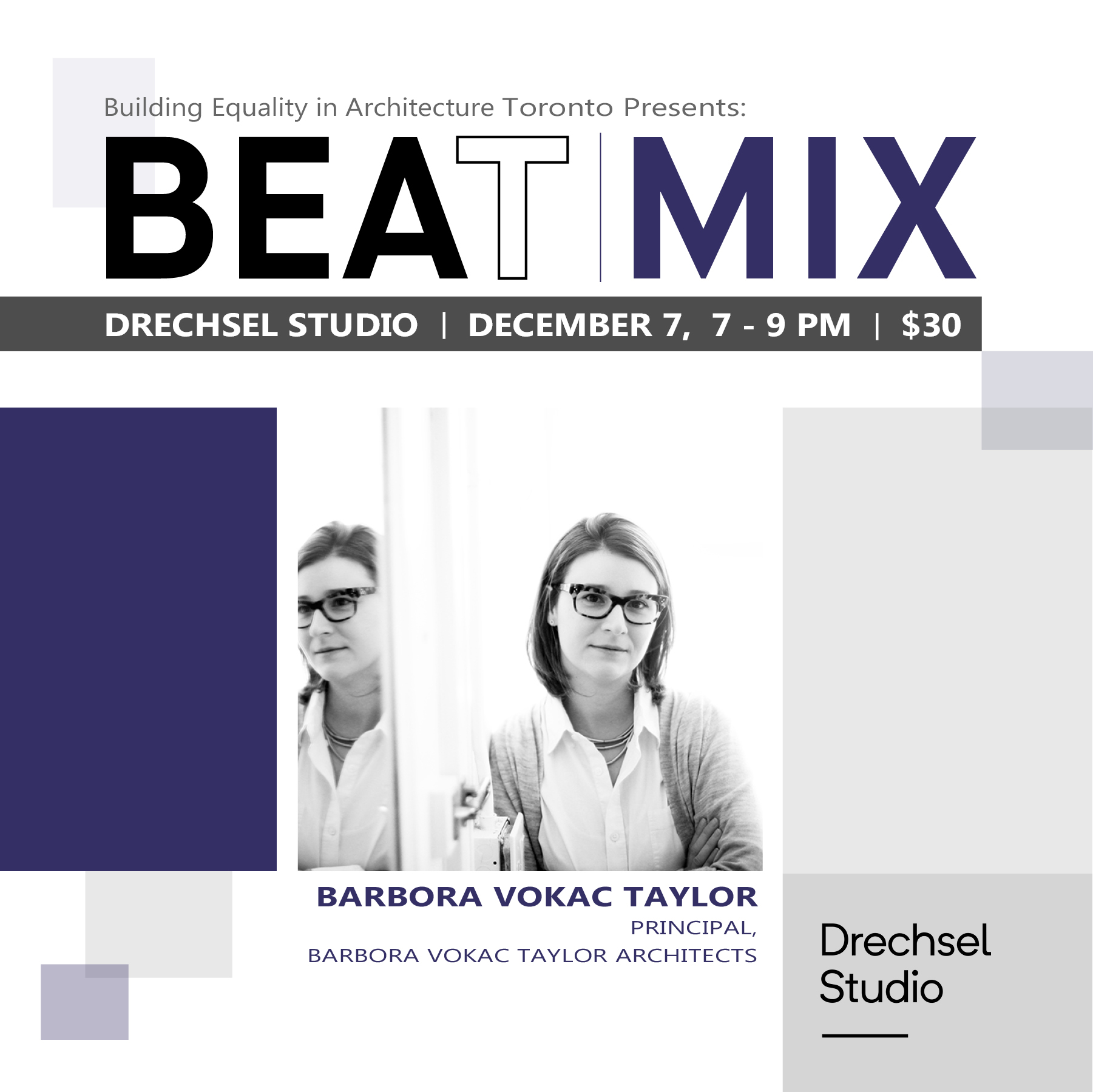 Barbora VoKac Taylor
OAA

M.Arch OAA MRAIC LEED AP
Principal
Barbora VoKac Taylor Architects
Prior to founding her practice, Barbora Vokac Taylor Architect, Barbora worked with acclaimed architects in Toronto, London UK and Montreal, developing professional expertise on award-winning institutional, commercial and residential projects.
Barbora holds a Bachelor of Science in Architecture as well as a Master of Architecture, both from McGill University where upon graduation she was awarded the Ray Affleck Prize in Design for excellence in the Thesis design project. Barbora also received the American Institute of Architects Henry Adams Certificate of Merit, for general excellence and was honoured with a place on the Royal Architectural Institute of Canada Honour Roll.
Barbora is a registered architect and principal of Barbora Vokac Taylor Architect - a practice focused on residential, educational and commercial projects – new build, renovations and also interiors. The practice's work is driven by desired user behaviours to develop elegant and successful solutions to involved design briefs.
Barbora Vokac Taylor has been serving on the Toronto Society of Architects executive board since 2015. A former RAIC Syllabus mentor, Barbora has served on the Programme Advisory Committee of the School of Architectural Studies at the George Brown College Centre of Construction & Engineering Technologies, where she has also been a part-time professor since 2013.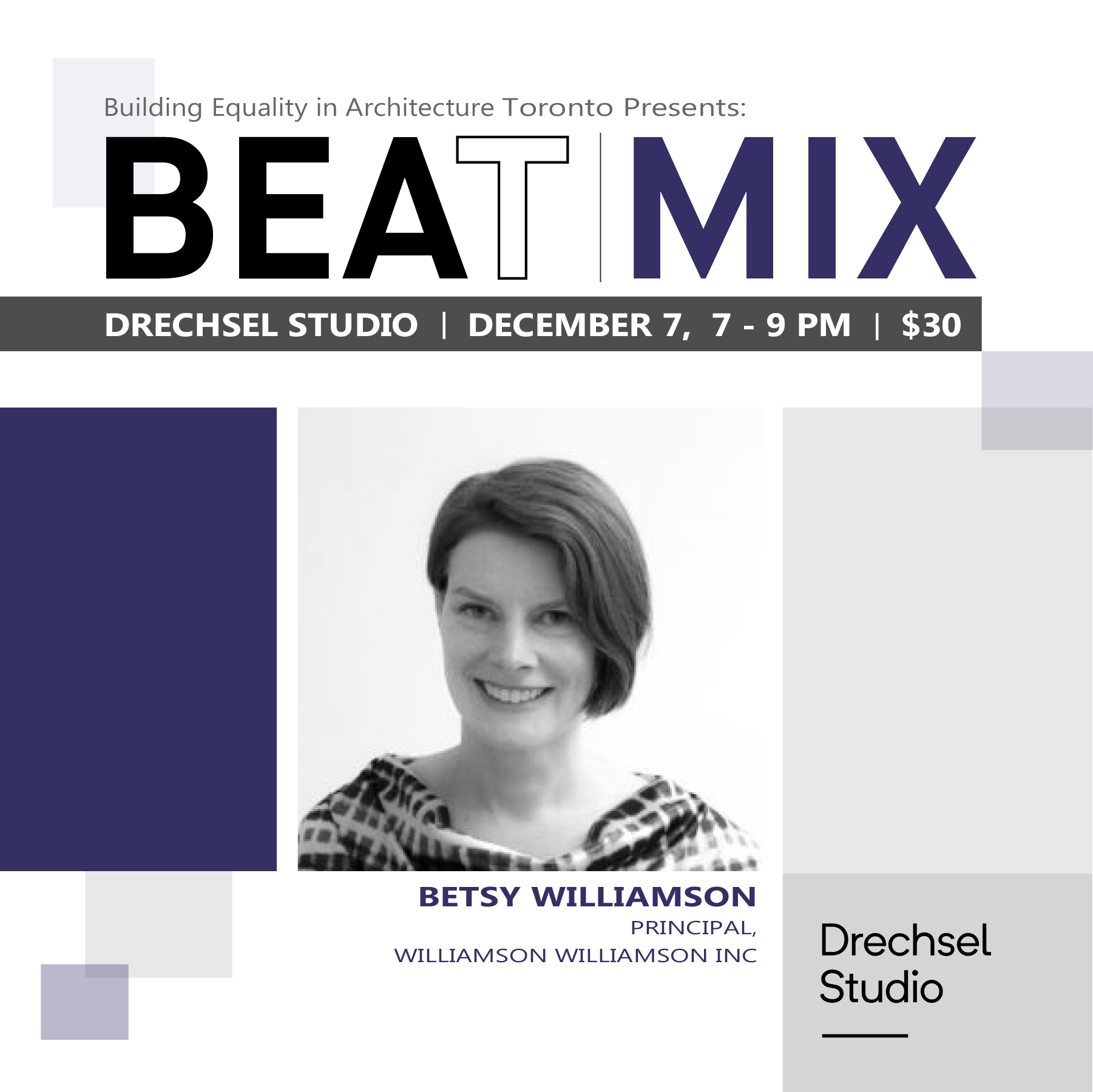 Betsy Williamson
M.Arch., OAA FRAIC
Principal
Williamson Willamson Architects Inc.
Betsy Williamson is a registered architect with the Ontario Association of Architects and a Fellow of the Royal Architectural Institute of Canada (RAIC). Through her years of experience in small award winning design firms, Betsy brings to the office her enthusiastic commitment to architectural practice and high quality design. She has developed expertise in detail clarity and creative solutions balanced by focused project management skills.
Betsy received a Master of Architecture from Harvard University and a Bachelor of Arts with Honors in Architecture from Barnard College. Her office's work has been awarded the prestigious 2014 Emerging Architectural Practice Award by the Royal Architectural Institute of Canada and the 2014 Emerging Voices Award by the Architectural League of New York. Betsy was also named a finalist for the Architects' Journal 2015 Emerging Woman Architect of the Year Award. In its early days WWInc. was awarded the Ronald J. Thom Award for Early Design Achievement from the Canada Council for the Arts and won the Canadian Prix de Rome for their research in the field of innovative wood construction.
Betsy continues to foster her commitment to engaging the city in a greater capacity through volunteer work on a number of boards and committees. As a member of the Waterfront Toronto Design Review Panel, she actively contributes to a culture of quality at an urban scale by signaling that high quality design is a critical consideration for the development of Toronto's waterfront and the city.
Her work with the RAIC's Age Friendly Housing Task Force addresses the responsibility of the architectural profession to create design solutions that assist older individuals to live well and safely in their community of choice. WWInc. has engaged this subject directly over the years, having done a number of multi-generational homes on small lots in Toronto that have allowed families to address this important issue.
Betsy is also a tireless advocate for equality in the profession. With a group of like-minded architects, she founded and professionally advises BEAT, Building Equality in Architecture Toronto. BEAT is dedicated to the promotion of equality by creating events and web content for the advancement of women in the profession and by providing mentorship, networking and leadership opportunities.