Beaujolais Nouveau 2019 - NEW VENUE!

Monday, 25 November 2019 from 6:30 PM to 11:30 PM (EST)
Event Details
Beaujolais Nouveau 2019
Enjoy the "Ambiance à la Française" with music, Beaujolais Nouveau & Raffle Prizes
FREE + 5 guests (complimentary) for yearly members (Become a yearly member: https://aperochic.ca/membership/)
Beaujolais George Duboeuf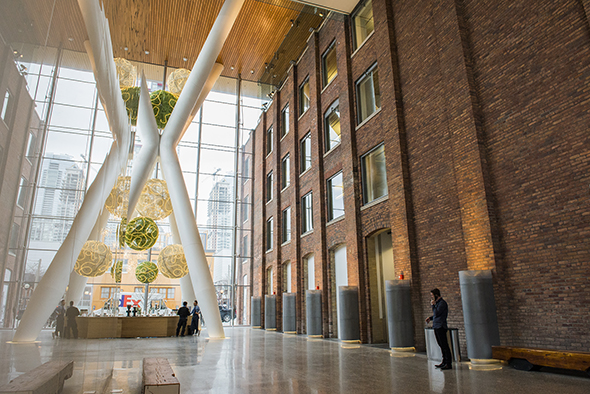 Last Aperochic of the year with a new place to celebrate together the arrival of the Beaujolais Nouveau: Ricarda's | The Atrium, "The most stunning new building in Toronto" according to BlogTO, will welcome us for the first time on November 25, 2019.
Striking the perfect balance of architectural grandeur with the charm and warmth of its historical elements, we know Ricarda's | The Atrium is the perfect space to host this Signature event that we have been offering to Toronto for 8 years.
In France, when Fall comes, when the harvest is done, the celebration and tasting of this new wine reminds everyone that Spring will come again. Mid-November, the word spreads fast around the world: The Beaujolais Nouveau est arrivé! Every year since more than forty years, it's the same scream of joy.
This year we really want to make it big. Be our ambassadors and invite your friends. Get organized and talk about it. It will be a fun night and we hope the taste of this little new wine and the atmosphere will work their magic.
Please note - Duboeuf will provide the Beaujolais Nouveau and Ricarda will sell cold cut plates and tapas on site. Yearly members will be able to bring 5 free guests each.
Important informations:
Cash Bar - Raffle prizes - Pre-registration only
Dress code: Simply Chic
Refund available up to 14 days prior the event.
A photographer will take pictures during the event. Photos will be published on our social media. Please let the photographer know if you do not with to appear in pictures.
Feel free to engaged with our social media during the event:
 Instagram: @aperochic
Twitter: @aperochicTO
ApéroChic Team
*** DO NOT MISS THE LAST APEROCHIC OF 2019 ***
WE WILL BE BACK IN JANUARY FOR THE TRADITIONAL "GALETTE DES ROIS".
ABOUT THE BEAUJOLAIS: Celebrating the Beaujolais Nouveau is a French tradition that has been since exported all over the world. Beaujolais Nouveau is a red wine made from Gamay Grapes, produced in the Beaujolais region of France.
This popular wine, fermented for just a few weeks before being released for sale on the third Thursday of November sees retailers and restaurants race to get the first bottles around the globe! It's always a very special night!
Save This Event
When & Where

Ricarda's Atrium
134 Peter Street
Toronto, ON M5V 2H2
Canada

Monday, 25 November 2019 from 6:30 PM to 11:30 PM (EST)
Add to my calendar
Organizer
 About:
Apérochic: An after-work experience with a French Twist.
With 10 000 urban professional members and a range between 300 to 1500 attendees per event, Apérochic is the best cocktail party in town, held monthly at Toronto's most interesting downtown venues.
In France, any good evening gathering begins with "l'apéritif,"An opportunity to share a glass of champagne or a cocktail with friends, L'Aperitif is an essential part of French social culture. Apérochic delivers the classic French tradition to a diverse Toronto membership, offering monthly social gatherings to meet and reunite with friends.
 Events:
Each month The ApéroChic Team choose a unique downtown Toronto venue to host unique, creative and entertaining events for the Apérochic membership. Some of the previous events have been held at The Spoke Club, Lavelle, Casa Loma, The Thompson Hotel Rooftop, Cabana Pool, La Société, Brassai, Spice Route, Cube, C Lounge, the Courthouse, among other venues.
Our Apérochic events reflect our Toronto membership: we welcome people from all over the world, who find themselves for one reason or another in Toronto and who are interested in French culture. All of our events are bilingual – and French is not required – but they offer excellent opportunities to practice the language! Simply put, Apérochic events are the place to meet new, interesting people in an always-sparkling atmosphere.
 Community:
Thanks to terrific word-of-mouth, the Apérochic community has grown steadily and organically.
 This is by no means an exclusive francophone group, but rather a membership of urban professionals (from such industries as communications, finance, diplomatic and government, design and fashion) who are interested in a sophisticated, European style of meeting and mingling.
Refund Policy:
Some of our events have cover. Any order can be refund up to 7 days prior to event.


Facebook: www.facebook.com/aperochic.canada
Meetup: www.meetup.com/aperochic .