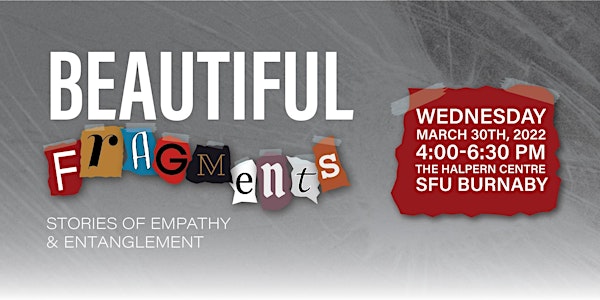 Beautiful Fragments: Stories of Empathy and Entanglement
Location
Halpern Centre
8888 University Dr
Burnaby, BC V5A 0A9
Canada
The beauty of a fragment is that it still supports hope of brilliant completeness. - Tobias Wolff
About this event
How can the way in which we tell stories expose the beauty in fragmentation? The annual WORLD LITERATURE STUDENT CONFERENCE is officially back in person on March 30th, 2022. The theme for this year is BEAUTIFUL FRAGMENTS: STORIES OF EMPATHY & ENTANGLEMENT.
This is an interdisciplinary event, and we invite students of all faculties and year levels to attend to view presentations that encompass literature, translation, cinema, and the image. We encourage different perspectives, including geographic, ideological, post-colonial, linguistic, psychological, or environmental approaches.
More info: https://www.sfu.ca/wll/student-opportunities/world-lit-student-conference/Conference-Overview.html
Attendees will be automatically entered for a chance to win prizes. Food and refreshments will also be provided.