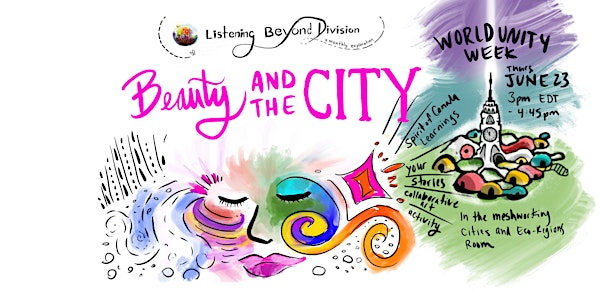 Beauty in the City
Reflecting on Cities, polarity and beauty as a way to open hearts and be beyond polarity.
About this event
The Spirit of Canada Dialogue Project holds a space once a month called 'Listening Beyond Division'. We explore difficult topics in the Canadian context, with open hearts. We are curious about what breaks our hearts and what breaks us open to healing and to expanded possibilities.
:::
This month Listening Beyond Division is going global and local reflecting on Beauty in the City at World Unity Week 2022!
If you have not experienced WUW before (www.worldunityweek.org), it is a massively uplifting and nourishing event for those who believe the world can be a much more beautiful place and we as humanity have an important role to live up to!
Reflecting on Cities, polarity and beauty as a way to open hearts and be beyond polarity, we realized that listening and looking for beauty that is already here and now, is an important skill in Listening Beyond Division. And it is so enjoyable to practice together.
In this month's event, we will reflect on what we have learned so far as the Spirit of Canada Dialogues Project, by inviting you to share stories of when we experience beauty in cities and get creative together in a small group activity. Come connect and enjoy this process!!
Join us in the Meshworking Cities and Eco Regions Room hosted by the Hague Center for Global Governance, Innovation and Emergence throughout the week, where you can also join other events about leaders around the world, facilitating cities to be places of transformation such as Marilyn Hamilton and Peter Merry and Ervin Laszlo. The schedule will be up soon at www.worldunityweek.org . There are amazing free events all week June 18th-25th with an on-going globally engaged community of evolutionary leaders. If you are searching for your people, they are calling you home!
Date: June 23rd 2022
Time: 3:00pm EDT
Place: Meshworking Room in World Unity Week
https://us06web.zoom.us/j/91087559939
Register on Eventbrite to receive email reminders.
- https://www.eventbrite.ca/.../beauty-in-the-city-tickets...
We can't wait to create more beauty with you!
With open hearts,
Spirit of Canada Dialogues Project Core team.