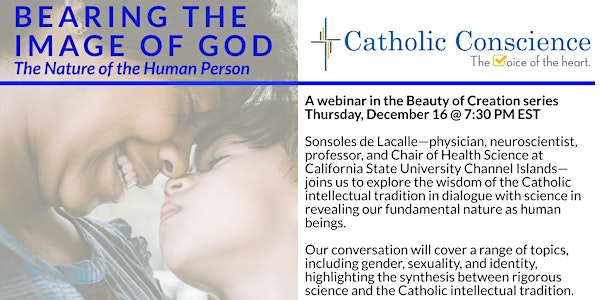 BEAUTY OF CREATION: Bearing the Image of God
Exploring our fundamental nature as human beings through the dialogue of science and the Catholic intellectual tradition.
About this event

Catholic Conscience presents:
A webinar in our Beauty of Creation series
BEARING THE IMAGE OF GOD:
The Nature of the Human Person
Thursday, December 16
7:30 PM EST
RSVP on Eventbrite for Zoom link
Sonsoles de Lacalle—physician, neuroscientist,  professor, and Chair of Health Science at California State University Channel Islands—joins us to explore the wisdom of the Catholic intellectual tradition in dialogue with science in revealing our fundamental nature as human beings.
Our conversation will cover a range of topics, including gender, sexuality, and identity, highlighting the synthesis between rigorous science and the Catholic intellectual tradition.
MEET OUR GUEST
Sonsoles de Lacalle obtained her M.D./Ph.D. from the University of Navarra (Spain) in Neuroscience. In 1990 she moved to the US with a Fulbright Fellowship to train in research at the University of Chicago. Her academic experience includes teaching and research in a medical setting (University of Chicago, Harvard Medical School, and Ohio University's College of Medicine) and in predominantly undergraduate institutions (CSU Los Angeles, Charles Drew University and currently CSU Channel Islands).
Her research has focused on structural plasticity and brain responses to selective cell loss, and the extent to which the aged nervous system reacts to signals that can promote synaptogenesis and neural regeneration. Dr. de Lacalle has mentored undergraduate, graduate and medical school students, directed training programs and served as Program Director in NIH grants. She has published in peer-reviewed journals and has presented many invited lectures at international symposia and universities.
In addition to her scientific career, she has done postgraduate work in Philosophy and Education. As a junior faculty member at California State University Los Angeles, she was immersed in the academic preparation of underrepresented students, mostly of Hispanic descent, which led her to dig deeper into Catholic social thought, resulting in a book, published in 2010, titled The Phenomenon of Migration and the Magisterium of the Church: Notes for Further Development of Catholic Social Thought, with A. Ellis and P. Santos. She has contributed numerous seminars and presentations at the intersect of faith and reason, mainly within neuroscience, as well as on bioethical issues. She is particularly passionate about the metaphysical notion of creation and how it contributes to the understanding of the human being. In 2018 she was invited to lecture on "Neurobiology of emotions and the evidence for human interconnectedness" at the Graduate Theological Union, in Berkeley (California), and later offered a revised and shortened version of this talk during the 2019 Society of Catholic Scientists.