Because of you, we are almost there! Join us for an Evening of Storytellin...
Description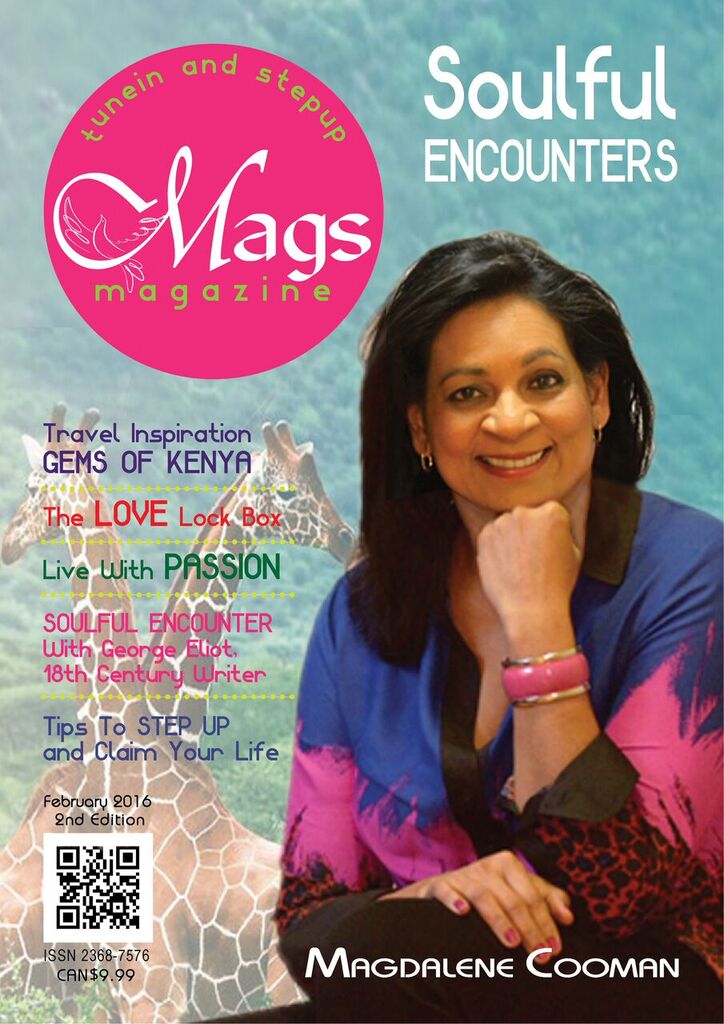 I am so delighted to see the positive responses towards the Celebration Event for the 2nd Edition of Mags Magazine on May 25th, 2016! Thank you for getting your ticket or purchasing your copy of Mags Magazine! Our vision for Mags Magazine is being realized as we ship Magazines across the world and receive such positive feedback from our readers.
We have two more days left for the early bird prices so make sure that you get yours ASAP! Already we have reached 50% of fund-raising goal to support one young blind woman to establish an independent massage business. Special thanks to Castaway Tours in Saint Lucia!
I received this note from a Mags reader this week: "In response to your stern eviction notice, this is to inform you that I am ready to vacate comfort zone yesterday only on condition that you stay close by! I think the reference to eviction notice tells you I have finished reading the magazine. Along the way I have met ordinary people with ordinary challenges they have dealt with and have become stronger. I have always looked down on myself for being ordinary but now I know better. What matters is whether one has allowed himself/ herself to remain under the challenges or to derive strength out of them. Thank you very much for this soulful magazine." M. K
The journey to creating Mags Magazine has been one which has taken me to places that I could not have imagined, and along the way, I have met people whom I would not have met otherwise. All of it happened because I had the courage to step out of my comfort zone. In the process, I met some amazing people who also became part of the amazing Mags Magazine Team: Wilson Jn. Baptiste, Editor in Chief; Mila Gertsenchtein our graphic designer and Nyamulola Kambanji our photographer.
If you have not yet bought your ticket, I would like to encourage you to do so now and join the many others who will gather on the evening of the 25th for an amazing evening of celebration, reaffirmation of our talent and storytelling from Africa to the Caribbean and to Canada!
This is a major achievement for our team and it demonstrates the greatness which can be achieved when we come together and remain committed to our goals.
To double the celebration, we will also be celebrating Mags Birthday with some music and dancing!
To triple the celebration, we will all be supporting one young woman, who is blind, to get her start-up MASSAGE business going! She has completed her training and is now in need of one massage table which cost US$400.00. This young woman, was a former student of Mags, when she taught the blind and visually impaired youth in Saint Lucia. Together, we can all help her to gain financial independence to support her family.
Date: May 25th, 2016
Time: 6p.m. - 9.p.m.
Venue: St. Anthony Banquet Centre, 523 St. Anthony's Street
What will you enjoy?
An environment filled with love and soul conversations.
Great food and refreshments!
Who will you meet?
Some amazing people and a great opportunity to network!

Our sponsors!

Great stories from our storytellers.

Upcoming snippets of our next issue - LEGACY!
Look out for more information on special speakers and entertainment.
"The price of success is hard work, dedication to the job at hand, and the determination that whether we win or lose, we have applied the best of ourselves to the task at hand." Vince Lombardi
I look forward to seeing you there! If you can't make it to the event, do consider supporting our initiative by spreading the link to your friends or donating towards the event.
Sincerely,
Mags
In case you cannot make it to the event, you can order you copy of Mags Magazine right here:
Please send me my copy of MAGS MAGAZINE

---
Special Thanks to our Sponsors!