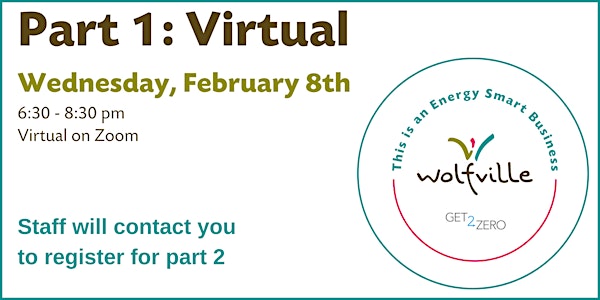 Become an Energy Smart Business (Virtual Workshop) Part 1
Our FREE 2-part workshop reduces oil and electricity bills. In partnership with the Town of Wolfville and the Province of Nova Scotia.
About this event
The Town of Wolfville and Thinkwell Shift are offering a FREE 2-part workshop for small and medium brick-and-mortar businesses in the Town to help identify low and no cost solutions to save businesses up to 25% on energy bills while reducing greenhouse gas emissions! The workshops are valued at $1,250 and are being provided at no cost for a short time only.
The workshops are broken into two parts. You can register for parts 1 or 2 with different cohorts, or register for different days to suit your schedule. Virtual sessions are also being offered and you can attend part 1, 2 or both virtually.
For Wolfville-based businesses, we'll help you get recognition as an Energy Smart Business. Providing a window-cling upon completion and notifying town administrators.
GET 2 ZERO is fully subsidized in partnership with the Nova Scotia Department of Natural Resources and Town of Wolfville.
Learn More at ThinkwellShift.ca