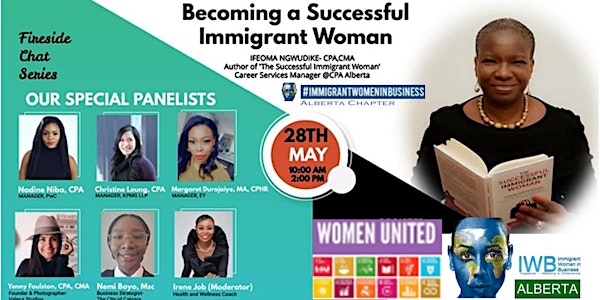 Becoming A Successful Immigrant Woman Fireside Chat Series
Location
Kerby Centre
1133 7 Avenue Southwest
Calgary, AB T2P 1B2
Canada
Discover how to become a successful immigrant woman. Join a panel of powerful immigrant women as they share their stories.
About this event
"You are on a journey in life, and you will inevitably face challenges. As you set out on each new adventure, you will be excited and scared at the same time. What will the future bring? You look ahead with hope for success. But what does success mean to you? Do you know and have what it takes to be successful?"
- Ify A, Ngwudike (The Successful Immigrant Woman ) https://www.yes2amazing.com/ IWB - Immigrant Women In Business Founding Member
What does success mean to you? 6 immigrant women share their stories at this book event. Discover the 8 strategies to build confidence, be empowered and achieve success as a woman!
Details:
JOIN US AT THE BECOMING A SUCCESSFUL IMMIGRANT WOMAN FIRESIDE CHAT (In-person or virtual live options available)
WHAT TO EXPECT:
📕Autographed copies of The Successful Immigrant Woman (in-person attendees only) available for purchase
🥗 Food provided (in-person attendees only)
🚗 Free parking at Kerby center
🚉 The location is on the c-train platform on 10th St SW (Downtown)
⌛Network with women of diverse backgrounds 🤝
💖 Glean golden nuggets of wisdom, encouragement, and love from the power panelists as they share their lived and sometimes raw experiences
A MUST-ATTEND EVENT - REGISTER TODAY!!! #successfulimmigrantwoman #immigration #empoweringwomen #immigrantwomeninbusiness