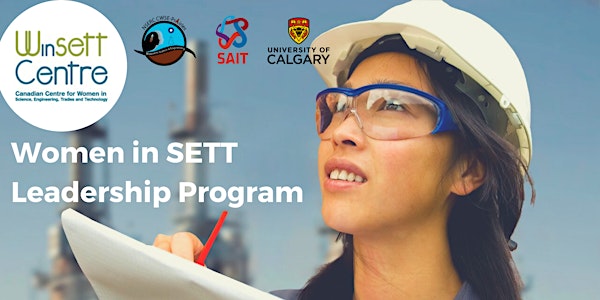 Becoming Leaders: An Introduction to Leadership - Series 2 (Calgary)
By WinSETT Centre Leadership Program
When and where
Date and time
Thu, Oct 26, 2017 9:00 AM - 4:00 PM MDT
Location
Biological Sciences Room 211, University of Calgary Calgary, AB Canada
Refund Policy
Refunds up to 7 days before event
Description
Becoming Leaders: An Introduction to Leadership Skills and Strategies is the first in a six-workshop series offered by the Canadian Centre for Women in Science, Engineering, Trades and Technology (WinSETT Centre).
Built upon the experiences of women across the country, the WinSETT Leadership Program is the only Canadian program focused exclusively on women in SETT, open to both professionals and students alike.
This workshop is also offered on another date. Please see Becoming Leaders: An Introduction to Leadership - Series 1 (Calgary)
Want to fully develop your leadership potential? Take advantage of our five other leadership topics and save 10% per workshop by registering for the full series before September 20.
WHY SHOULD YOU ATTEND?
Start Your Path to Leadership
What are the core competencies of leadership? What strengths and challenges do women in SETT face as they become leaders? Asses your individual leadership competencies and leverage your strengths in the face of challenges. Learn to make career choices with confidence by applying proven tips and strategies specifically for women in SETT.
Explore Unique Issues
Identify gender factors at play for women in SETT and discover first-hand the importance of networking and feedback. Gain vaulable insight from peers in your field through group learning.
Hear From Leading Experts
Our guest speakers and facilitators are professional leaders in a variety of SETT fields.
Excellent Ticket Value
Workshops include hot and cold beverages, snacks and lunch. Attendees will receive the book Becoming Leaders: a Practical Handbook for Women in Science, Engineering, Trades and Technology as well as an invitation to join the free, nation-wide online forum "Women in SETT Leadership Network."
EMPLOYER OF WOMEN IN SETT?
Why not invest in enrolment for your staff?
Provide your employees with the leadership training they need for your organization to thrive

Receive a free special topics presentation delievered in your office for every 5 full-series registrants
Contact winsett@hollettandsons.ca for information on how to reserve spaces.
TESTIMONIALS
"Engaging, educational and empowering."
"The workshop was excellent. Without a doubt it is a 'must do' for young women in the early phase of their career. In fact for all women, regardless of what phase they are at. Thank you."
"[The participants] found it to be a unique and affirming experience... Many were surprised to discover how valuable it was to be in this stimulating and safe environment where women were free to talk about the challenges associated with their professions, and to hear from others as to how they are navigating this challenging and sometimes lonely landscape."
FAQ
Is the workshop only for women in Science, Engineering, Trades and Technology?
Yes. Women who work in male-dominated SETT organizations but are not scientists, engineers, tradespeople, technicians or technologists are also welcome as many of the same challenges are faced.
Will I receive Continuing Education Credits for the workshops?
Yes, participants will receive a certificate equivalent to 7.0 hours of credentialed continuing education for each workshop.
What is the refund policy?
The full fee can be refunded up to 7 days before the beginning of the workshop, less a $50 administrative fee. After the refund period has expired, no refunds will be issued and only substitutions will be accepted.
Is there a minimum and maximum number of participants?
Yes- we must have 10 participants to offer the workshop and no more than 30 will be accepted. If a workshop is cancelled, you will be credited or refunded at your discretion) 100% of your fees paid.
Is my registration transferrable?
Your registration be transferred with prior agreement of the WinSETT Centre. Contact us at winsett@hollettandsons.ca.
Will food be provided?
Yes - all workshops have hot and cold beverages, snacks and lunch included. Please notify us of any dietary restrictions upon registration.
Where can I contact the organizer with any questions?
Please contact Susan Hollett (winsett@hollettandsons.ca), National WinSETT Leadership Program Coordinator for further information.
About the organizer