Becoming Truly Free - Spiritual Retreat Online Live Experience
Event Information
Refund policy
Contact the organizer to request a refund.
Eventbrite's fee is nonrefundable.
An online experience with two 5-hour live sessions, 18 video lessons, and FB support that will help you gain inner peace and freedom.
About this event
This is a spiritual retreat for entrepreneurs who understand that their own healing helps with their business success. Through a combination of inner work, journaling, real-life stories and energy healing meditations, you will be releasing past abuse, hurt or trauma and as a result, become truly free.
See the video to understand why this is important (it might evoke some emotions).
This retreat is following Irina's memoir - a journey from abuse to spirituality, healing, purpose and freedom. It is a raw example of the healing that is needed in order to become whole. Take this chance to explore your story with a person who experienced life at a deep level. A true story of triumph over all sorts of hardship that will open your heart, inspire you and heal you.
Agenda
Access to the video lessons and FB group as soon as you register
An in-person day is offered on Aug 27 for a small group according to Bolton Ontario gathering guidelines. The online portion is prerequisite and is complete in itself. Once you register you can express interest in adding the in-person day.
During the live sessions, Irina will guide participants through exercises, healing meditations, hot seats for everyone to have a transformation. She will directly coach participants to transcend their own situations.
There will be break-out rooms for you to share with fellow participants. You will be fully engaged, with video on, pen and paper to take notes.
Video Lessons
As soon as you register you will have access to 18 modules with videos of Irina reading from her memoir and explaining the concepts. Each module has introspective questions for you to process your emotions. You will get prompts in the Facebook group to share and meet the other participants under Irina's guidance.
Here are the modules as they show in the online learning centre: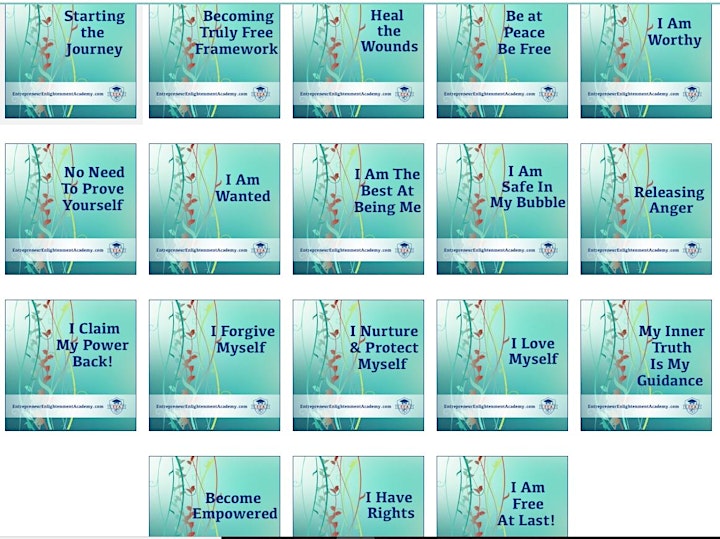 What past Retreat Participants are saying:
"Courage. Victory. Joy. Three words to describe the journey with Irina as the guiding light and masterful facilitator of the Becoming Truly Free Retreat. Irina designed a course and supporting tools for any person seeking to grow their experience on earth. Take the decision with courage and do what most will not do, and join the Retreat. This will open your eyes to what holds you back from what always seems to be just beyond your grasp. Whether it is seeking closure of past wounds made by others or yourself, Irina will meet you there, expertly supporting you until at last, you reach victory. It will be life-changing. It was for me.
It does not matter where you are in building your business, family situation or whether you have children. Do it for you. Do it despite the reasons your ego tells you not to. You are responsible for yourself. Make the decision to uncover what has stood in your way to achieve a real spiritual and emotional breakthrough. Only by working through this, with an expert to shed light on those dark corners will the sun shine through. Sunlight: a joy that fills your heart and body. True joy from within, with a never-ending inner knowing I am OK. " Kobus Dippenaar Director and Founder
"Irina, I am always amazed at how you hold the space for each of us during the retreat and how your answers or comments are never the easy answer or superficial reply. The way you blend together the strategic advice, the life coaching, the healing, the spirituality, the connection with a higher power, is so unique.
This retreat was for me the one where people were the most vulnerable and open. Considering that more than half of the participants were men, I found that amazing! I felt a deep connection and appreciation for each of us, coming together and digging deep, with you lovingly guiding us through and out of the past pain and into empowerment.
I love the quality of the videos and the homework questions. The format of the Retreat: with pre-homework, the sharing on Facebook - discussing on the live calls, was a very effective way of learning and integrating new things." Francesca founder
High-End, High-Touch, High-Vibe Retreat
This Retreat is customized to meet every participant's unique needs. Once you register, you will receive access to video lessons and journaling questions for you to work on. Irina reads every answer and understands your current situation, your struggles and your desired outcomes.
You will find this time highly valuable for yourself and your business, especially now. You will be guided through the process and you will collaborate with other participants. To create a powerful shift you will need to dedicate time and attention and do the work as we go along.
After participating in this Retreat you will find that you:
* Freed yourself from past issues and are no longer held back,
* Become more empowered and confident in who you are,
* Created ways to nourish and protect yourself,
* Gotten clear actions and practical steps for you to move forward,
* Created authentic connections with other purposeful entrepreneurs.
Disclaimer:
This work is not meant to be therapy or replace therapy. Irina is not a certified therapist, she uses strategic intervention coaching and energy healing to support your process. If you are under the care of a therapist or have a history of mental health issues please check with your specialist on the feasibility of participating in something like this that might steer some deep emotions. Please only register if you feel emotionally strong enough.
Contribution towards Irinuca Foundation:
Irinuca Foundation will be providing horse healing to abused children ages 12 to 20. Irina aims to register this foundation as a not-for-profit in November 2021.
10% of your Retreat ticket will be allocated to support the foundation.
JOIN US! Buy your ticket now.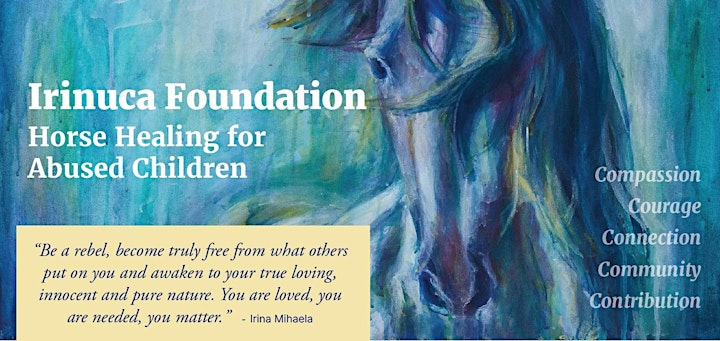 Date and time
Location
Refund policy
Contact the organizer to request a refund.
Eventbrite's fee is nonrefundable.
Organizer of Becoming Truly Free - Spiritual Retreat Online Live Experience
Irina Benedict BSc, PEng.
Irina's business experience spans over two decades from an executive in high-tech corporate where she developed and grew her department's business by 600% up to $7 million, to business consulting and coaching for million-dollar companies.
She helps entrepreneurs find their uniqueness, get clear on their purpose, transform relationships, and utilize their inner wisdom and natural capabilities to expand from educated to enlightened.
While highly strategic and results-oriented, Irina also uses her intuition and energy healing abilities to go deep with her clients and resolve and release anything that keeps them stuck. Her mission is world peace, and she believes peace can be achieved when conflicts are resolved in the highest good of all.