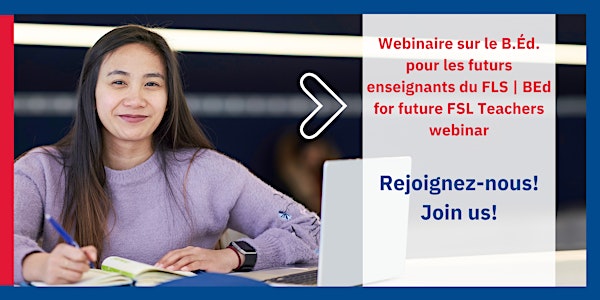 BEd for Future FSL Teachers webinar | B.Éd. pour les futurs enseignants FLS
This virtual session will be led by our Glendon BEd specialist | Cette session virtuelle sera animée par notre spécialiste du B.Éd.
About this event
Bonjour, hello!
Glendon partners with York's Faculty of EDUCATION to offer a Concurrent Bachelor of Education degree program uniquely designed for future French as a Second Language teachers. You'll be able to perfect your language skills while preparing to teach immersion, extended, and core French at the level of your choice. Developing your language advantage at Glendon campus (York University) is easier than you think!
Looking for an individual appointment to speak with a student in the program that interests you? Click here to easily book through the Glendon Virtual Network.
---
Bonjour !
En collaboration avec la Faculté d'éducation de York, Glendon offre un programme simultané de Baccalauréat en Éducation conçu spécialement pour les futurs enseignants de français langue seconde. Vous perfectionnerez vos compétences linguistiques tout en vous préparant à enseigner le français en immersion, le français intensif ou le français cadre, au niveau scolaire de votre choix. Développer votre avantage linguistique au campus Glendon (Université York) est plus facile que vous ne le pensez !
Vous désirez un rendez-vous individuel avec un de nos étudiants dans le programme qui vous intéresse? Cliquez ici pour choisir une date via le Réseau Virtuel de Glendon.