Bee Bold: An Evening with your Bold Child
An evening event for parents and their children aged 7-11
When and where
Location
Hive Wellness Studio 1810 9th Ave N Regina, SK S4R 7T9 Canada
Refund Policy
Contact the organizer to request a refund.
Eventbrite's fee is nonrefundable.
About this event
Strengthen and nurture the bond between you & your child.
This Bee Bold evening is a transformational evening of being present, spending quality time, and learning something new. Let your child be the guide as you both journey through activities of creativity, coregulation, connection and gratitude.
You've probably noticed that you spend a lot of your days researching, explaining, complaining, or worrying about your highly sensitive/neurodivergent child and you long for the right moment to come where you can slow down, take notice and be present with your child.
Your evening will be spent:
Connecting….lots of connecting, connecting with yourself and your child.
Getting to know your child (and they you) in new ways
Nurturing self-love, resilience and confidence in each other
A strong positive relationship between parent and child can have a lasting effect:
It reduces challenging behaviors and increases empathy in children
Increases parental positive influence
Helps children learn to form healthy relationships in the future
You will both experience increased self love and self acceptance
AN EVENING for children who are spirited, wild and/or highly sensitive, feel BIG feelings, and their parents who are seeking ways to normalize, regulate and support this temperament.
Have you been up late at night wondering how to support your highly emotional/sensitive child (and what you might be doing wrong)? We know from personal experience that it is NO walk in the park! We know your child is a precious gift to your family and they can blow your mind with empathy and abilities, while also throwing down some epic moments (making you wonder if what you are experiencing is normal for their age).
Your child might be more prone to stress/anxiety, feel things really deep, get upset easy and does not adapt to change or transitions easily. We want you to know that you are not alone and that there is nothing "wrong" with your child. They are likely a highly sensitive person (HSP) and this is a kind of temperament; in fact it is estimated that 15-20% of people are highly sensitive.
Highly sensitive kids need to be nurtured, validated and connected with a little more empathy for them to thrive and we are here to support them (and you) in that. This day camp is for you if you want your child to have the opportunity to build confidence, engage in positive experiences with peers, and build up their personal toolkit with skills around problem-solving, emotional intelligence, and self-regulation.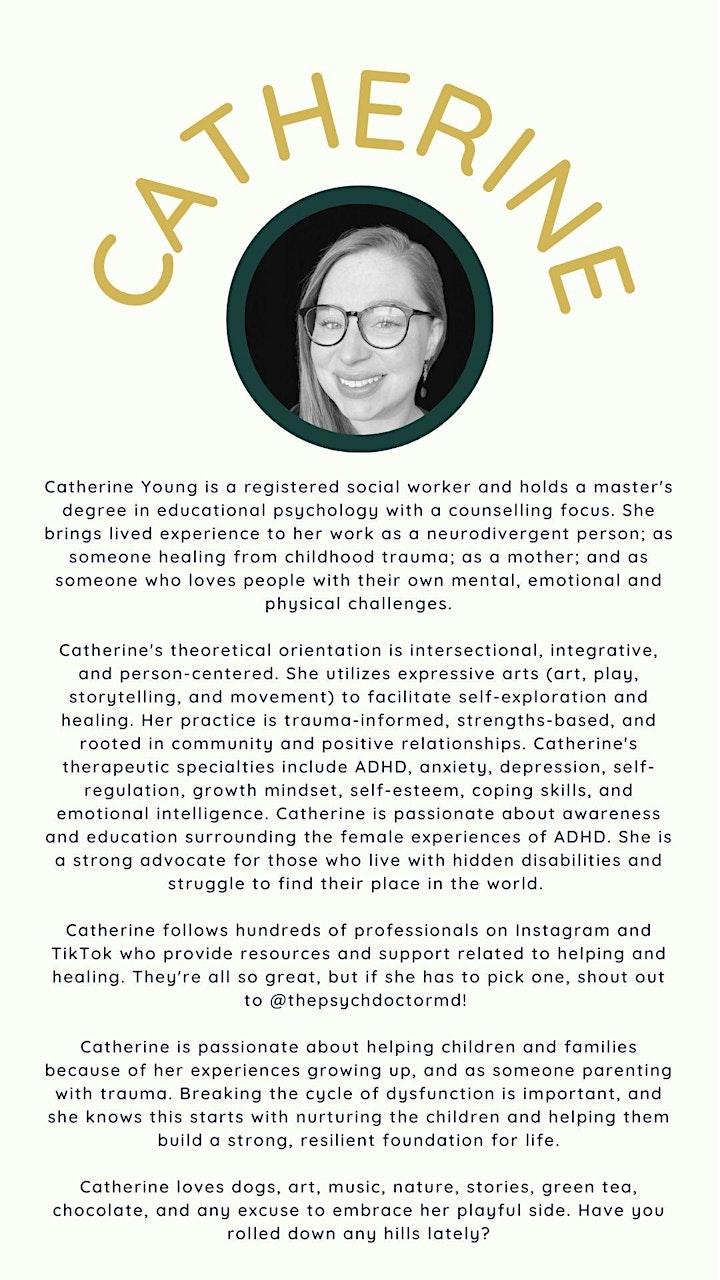 Instructor: Catherine Young, BSW, RSW, M.Ed, Director of Children's Mental Health
Registration is limited to five parent-children dyads.
Claimable on your health benefits under Registered Social Worker with payment plans availible.
POLICIES:
The registration fee is refundable, less a $50 cancellation fee, up to seven days before the start date.
Cancellations made within seven days of the start date WILL NOT BE REFUNDED.
Groups may be cancelled if sufficient enrolment is not achieved; refunds will be given.
We reserve the right to refuse or revoke service based on discrepancies in the appropriateness of a program for a child (for example: a child is developmentally too young for the group, is dysregulated, aggressive, and/or overly disruptive to the group, etc.)
We reserve the right to refuse or revoke service based on actions of perceived abuse or harassment from the caregiver(s) towards any staff