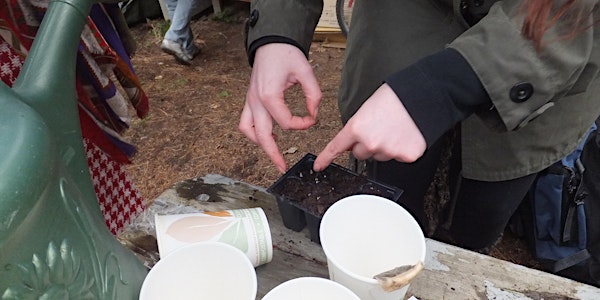 Bee-coming a part of the solution: gardening with native species for the Nectar Trail
By Border Free Bees - Kelowna
When and where
Date and time
Sat, Apr 1, 2017 1:00 PM - 4:00 PM PDT
Location
Okanagan Regional Library Mission Branch 4105 Gordon Drive Kelowna, BC V1W 4Z1 Canada
Description
Tanis Gieselman, MSc. (SeedsCo. Community Conservation) will overview some good native species to garden with for bees, talk about native seed collecting, storing and growing, then do a little backyard garden plan consultation session and some seed bomb making.
Tanis Gieselman moved to the Okanagan in 1989, where she grew up falling in love with the West Kelowna wilderness. She particularly enjoys botanizing, snowshoeing, cycling, hiking, and camping. After completing a BSc. in Ecology at Okanagan University College in 2005, she became especially aware of conservation issues in the Okanagan, and began studying seed-saving technologies as a means for conserving native biodiversity outside of parks and protected areas.
In 2008 she moved to Vancouver to complete an MSc. at UBC. Her research investigated the impact of various types of human development on the edges of remaining grasslands, and demonstrated that the edges of Okanagan grasslands become degraded on average 30 m from the edge of roads and agricultural fields. She hopes to her research will compel others account for these impacts when planning for protected areas, and plant more native species to reduce the impact of development. After her MSc., Tanis stayed in Vancouver for five years to be a science educator at UBC's Beaty Biodiversity Musuem, while continuing to develop her seed-saving strategy in Kelowna. She returned to Kelowna in 2015 to work with the Okanagan Collaborative Conservation Program (OCCP) as the Projects Coordinator.
About the organizer
Border Free Bees is a long-term public art initiative headed by Dr. Cameron Cartiere, Associate Professor in the Faculty of Culture + Community at Emily Carr University of Art + Design and Nancy Holmes, Associate Professor in the Faculty of Creative and Critical Studies at The University of British Columbia, Okanagan, in collaboration with numerous strategic partners.