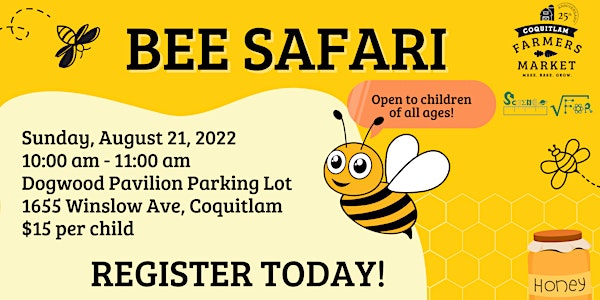 Bee Safari [Coquitlam Farmers Market]
Kids will be guided in spotting & identifying pollinators while gaining tips on how to make their garden welcoming places for pollinators.
When and where
Location
Dogwood Pavilion Parking Lot 1655 Winslow Coqutilam, BC V3J 6B1 Canada
About this event
Coquitlam Farmers Market is excited to collaborate with Science For, a diverse team of science experts, to host the Bee Safari event.
Join us on Sunday, August 21, 2022 where you will be guided in spotting and identifying pollinators, such as birds and bees, while gaining tips on how to make your yard and garden welcoming places for local pollinators.
Open to children of all ages! (Children must be accompanied by an adult.)
About Science For
We understand that science can sometimes be seen as intimidating and confusing. So, we have developed a variety of workshops that build on the skills and experiences that people already have, allowing participants to develop proficiency and confidence.
Our workshops engage people in hands-on, interactive learning experiences supported by our expert facilitators. Participants are encouraged to ask questions, explore new ideas and activities, and yes even to make mistakes along the way. Together we learn that science is advanced through exactly this type of process.