Beer Craft: Dyke March Toronto Party & Fundraiser

Friday, 13 June 2014 at 7:00 PM

-

Saturday, 14 June 2014 at 2:00 AM (EDT)
Event Details
Kick off Dyke Pride with our annual party and fundraiser! This year we're presenting a craft circle. With beer.

Giveaways: Dyke March t-shirts (limited! so come early!), Cherry Bomb Dyke Day After-Party tickets & more!

Performing: Rosina Kazi, Micha Cárdenas, Secretary City & more!
DJs: Sokes & Linguist

Crafting! Buttons! T-shirts! Performers! Dancing! All in one night.

$10-20 (or PWYC - no one turned away!)
Craft materials by donation.

7pm Doors
8pm Show
10pm Dance

The Gladstone Hotel, 1214 Queen St. West
ASL interpretation no longer available.
Wheelchair accessible venue.

Facebook event: https://www.facebook.com/events/1384461461843183/?context=create&source=49

For more information on Craft Action, our community banner making project and weekly craft circles (and the project that inspired this crafty evening), check out craftactionto.tumblr.com or www.facebook.com/groups/CraftActionTO

For more infor about the Dyke March and Rally, check out www.dykemarchtoronto.com or https://www.facebook.com/events/1439934742922798/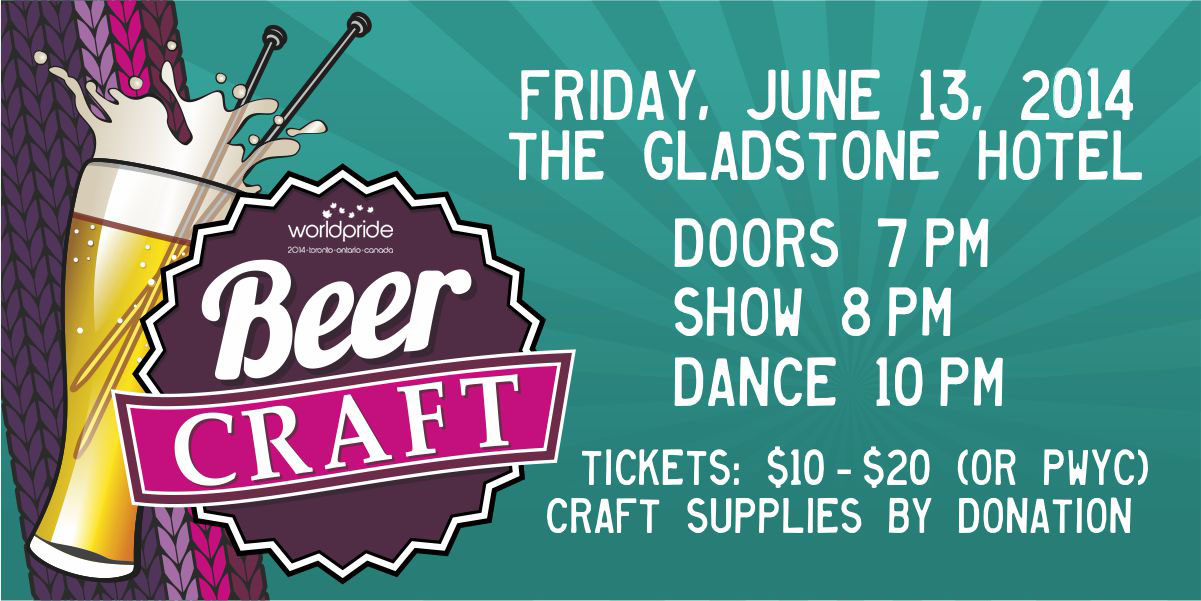 When & Where

Gladstone Hotel

Toronto, ON M6J 1J6
Canada

Friday, 13 June 2014 at 7:00 PM

-

Saturday, 14 June 2014 at 2:00 AM (EDT)
Add to my calendar
Organizer
The Toronto Dyke March organizes the Dyke March and all affiliated events leading up to and during Toronto Pride. The committee is politically-engaged and community-oriented. We strive to operate within a feminist, queer, and anti-oppressive framework that is both collaborative and celebratory. We work toward creating spaces that allow the experiences, pleasures and identities of ALL queer women and dyke-identified folks to not only exist but also thrive.

CONTACT US!

Email: dykemarch@pridetoronto.com
Facebook: DykeMarch Toronto
Twitter: @dykemarchto
Blog: dykemarchtoronto.wordpress.com
Instagram: DykeMarchTO


2015 Mission Statement
The 2015 Dyke March is committed to celebrating the diversity of dykes and to demonstrating our beliefs, desires, and public presence. We strive towards claiming space for queer women and dyke-identified people across the spectrum through actively engaging our unique communities, finding strength in our differences and belonging in our similarities. Our politics are queer, anti-normative, feminist, trans*-inclusive, anti-racist, and anti-oppressive. We embrace the history of Dyke March as a radical, political demonstration of critical mass and respond to the ongoing need to create our own space to be political and visible. Dyke visibility is important because we are not fully represented in the Pride movement or in mainstream society.
We aim to be accountable to our dyke communities by upholding values of transparency, respect, and collaboration. We aim to engage allies through sharing knowledge and by fostering their active support. We aim to be responsive to the needs of dyke communities, including their critiques of Pride celebrations, in order to create a space for our diverse communities to unite and achieve the social justice and equality that each of us deserves. We are here to be out and proud, to take a stand and to celebrate #DYKEVERSITY. We hope the Dyke March leaves you with energy to take action, a sense of community, and appreciation for your own unique dyke glory.
Values
The Dyke March values collective organizing to give dykes who are historically oppressed a platform. These include, but are not limited to, trans* people, Indigenous people, people of colour and people with disabilities. We see this as necessary to create social change. 
Dyke is used as a term inclusive of all women-loving-women regardless of labels, including lesbian, bisexual, queer-identified, pansexual fluid, omnisexual, intersex and trans* women, and gender-independent folks. It is meant to be shocking and confrontational.
 Trans* is an umbrella term that refers to all of the identities within the gender identity spectrum which includes but is not limited to those community members who identify as transgender, transsexual, transvestite, genderqueer, gender fluid, gender independent, non-binary, third gender, two-spirit, and bigender.
Beer Craft: Dyke March Toronto Party & Fundraiser