Beer. Diversity. Representation & Inclusivity | #10 in the Talk to Walk series

Friday, 8 February 2019 from 7:00 PM to 9:00 PM (EST)
Event Details
THIS MONTH'S SPEAKER: Ren Navarro from Beer. Diversity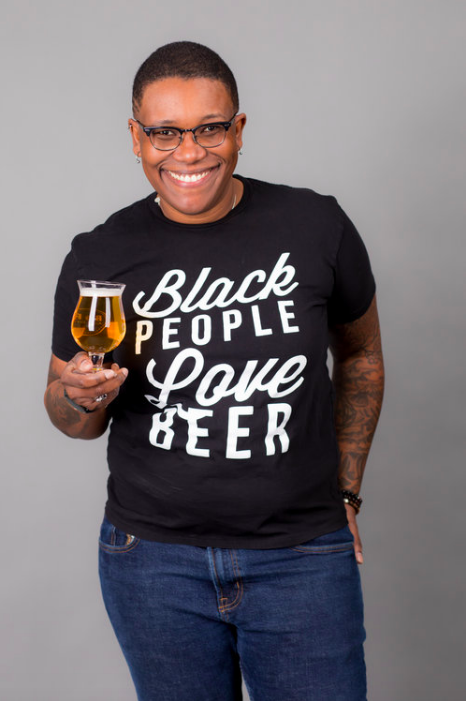 For our January "From Talk to Walk" session, we are very pleased to welcome Ren Navarro!
The craft beer scene is overwhelmingly young, white, and male. How can we make it more inclusive of everyone? Lack of representation isn't an issue only confined to the beer industry, of course, and in examining this example our discussion will spark useful thoughts for other businesses & organizations as well as rethinking "who makes & drinks craft beer?"
An outspoken critic of the old notion that beer is a drink primarily for white dudes, Ren Navarro is on the frontlines to initiate change both in and out of the industry. She is a co-founder of the famous Society of Beer Drinking Ladies, a Toronto-based monthly beer event that provides a safe and relaxing atmosphere for female-identified people. From her perspective as a queer black woman within the industry, she has talked extensively about diversity in craft beer as a regular speaker at the annual Queen of Craft events in Guelph along with constant appearances in various forms of media, from podcasts, television and radio shows to newspapers.

ABOUT OUR SPEAKER: 
You would be hard-pressed to find someone in the Ontario beer industry who doesn't know and love Ren Navarro. For over six years she has been regarded as one of the most respected members in the industry, spending much of her 6+ years in the field as a sales representative for renowned and award-winning breweries like Redline Brewhouse, Woodhouse Brewing Co., Great Lakes Brewery, Descendants Beer & Beverage Co., and Kensington Brewing Co. Working constantly as the face of those breweries within her respective sales regions, Ren is no stranger to public speaking and has appeared frequently at tasting events, dinners, and talks informing and entertaining people through her love of craft beer. With her extensive knowledge in craft beer, her passionate drive & hilarious wit, Ren Navarro is here to educate, enlighten, and make craft beer approachable for a more diverse audience.


ABOUT THE TALK TO WALK SERIES OF DIALOGUES:
Join Marit Collective in continuing the dialogue from "Change The Ratio Waterloo Region: Moving from Talk to Walk" - our sold out International Women's Day event!
Working towards gender equality is something we should incorporate into our daily lives, all year round.
For the next year, every month on the 8th of the month we are hosting a gathering with a different featured speaker, snacks, Q & A and in-depth conversation, focused on intersectional women's issues.
We're very excited to have a chance to feature some of the Change The Ratio Waterloo Region 2018 speakers in more personal venues so that they can expand on their compelling talks. As well we'll be mixing it up to include other inspiring voices, all with the continuing goal to discuss practical ways we can work towards gender equality in our lives and in our communities.
Join us on Tuesday, January 8th for the tenth event in this year-long series. This month we're hosting Ren Navarro, to discuss why the craft beer industry benefits from diversity. We're very excited to create space for this important dialogue, and continue the progress from discussion to action in our communities and in our personal lives as we work towards intersectional gender equality.
We're looking forward to continuing the conversation!
***
INFO ON LOCATION/ACCESSIBILITY/GETTING HERE:
https://www.marit.ca/location-getting-here/
***
Marit Collective focuses on creating spaces for thoughtful discussion that allows us to listen, learn, and connect across perspectives. We expect all attendees to engage respectfully with the topics and with each other but our events cannot be considered "safe spaces". We are committed to inclusion, understanding, and making sure everyone present has a chance to contribute their thoughts (if desired).
*No one turned away due to lack of funds; please contact maritcollective@gmail.com for pay-what-you-can and sponsored ticket options.*
***
Are you a member of the Causerie? Use the following codes to access your discounted or free event. PLEASE NOTE you must bring your member card with you to the event to verify your identity. Member cards are not transferable though you may be able to bring a friend.
Tier 3 members: Use code 'FULL' to access your free events!
Tier 2 members: Use code 'FREE' to access your one-free-per-month event!
Tier 1 members: Use code 'MEMBER' to access your 20% member discount!
***
Not a member? Join as a member within 24 hours of attending this event, and your ticket price will be counted towards the price of your membership - ask us for details (or email maritcollective@gmail.com)!
Have questions about Beer. Diversity. Representation & Inclusivity | #10 in the Talk to Walk series?
Contact Marit Collective
Save This Event
When & Where

The Causerie
154 Victoria Street South
Suite 2
Kitchener, ON N2G 2B5
Canada

Friday, 8 February 2019 from 7:00 PM to 9:00 PM (EST)
Add to my calendar
Organizer
Marit Collective is a social organization that encourages a culture of depth and thoughtfulness through exploring personal insight and human connection. We create space for respectful discussion and consciousness-raising within our own groups and community, working at the personal level to foster more empathy and awareness of each other. We believe that individual shifts in understanding can lead to larger societal evolution in an increasingly polarized world.
Connect with us at marit.ca and on social media @MaritCollective.