Description
TOYS TOILETRIES & TOQUES PRESENT
A BEER, WINE & BURGER NIGHT At The CVI Lounge
Date Wednesday, November 15th
Time: 5:00 - 8:00pm
COME ONE COME ALL INVITE YOUR FRIENDS!
Tis the season to give back! Toys Toiletries and Toques is having an evening of fun at the CVI Lounge. Funds collected will go towards Gift Cards, Movie & Event Passes and Cash Donations. The non-food items will be distributed with food items to those in need this holiday season. We want everyone in the Cowichan Valley to have a wonderful season!
Ticket Price: $25.00
proceeds to be split between the CVI Lounge and Toys Toiletries & Toques.
Ticket includes: (Taxes & Gratuity for below)
1 Burger (choice of beef, chicken or veggie burger) and choice of fries or house salad.
1 Beverage: Pint of draft beer, a 6 oz. glass of Wine or pop.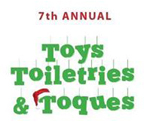 AND