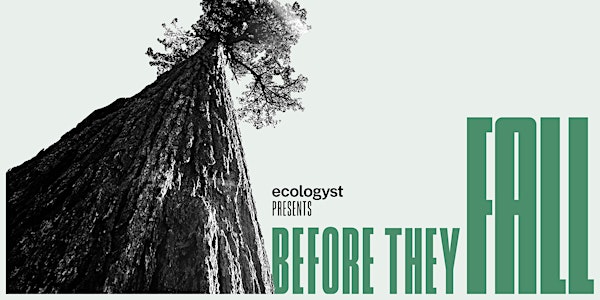 BEFORE THEY FALL film screening and discussion
Watch this poignant film and join us for a discussion on the urgent issues surrounding old growth logging and environmental stewardship
Date and time
Thu, Apr 6, 2023 7:00 PM - 9:00 PM PDT
Location
Harry Hickman Building - Room 105, University of Victoria 3800 Ring Rd Victoria, BC V8P 5C2 Canada
About this event
We respectfully acknowledge that this event is taking place on the unceded territory of the lək̓ʷəŋən People, known today as the Esquimalt and Songhees Nations.
When you register to attend the in-person event, your confirmation email will include all the details to attend the screening of the film, followed by the panel discussion.
When you register to attend the virtual livestream, an email with the link to watch the live event (film and discussion) will be sent out beforehand to the email you registered with.
Thursday evening April 6th, 2023
7pm-9pm
Join us for a screening of BEFORE THEY FALL followed by an important panel discussion on the current issues; plus a student exhibition.
SCREENING
BEFORE THEY FALL synopsis: First Nations, conservation groups, and scientists have been fighting to protect the remaining old-growth forests in British Columbia for decades, but the conflict escalates when a logging company tries to access the last unprotected ancient watershed on southern Vancouver Island. Land defenders block the road to and hundreds of thousands join them. A telling illustration of decades of indigenous disenfranchisement, Before They Fall tells the story of the blockade at Ada'itsx (Fairy Creek) and points to the Indigenous voices calling out for defense of the land.
BEFORE THEY FALL features: TJ Watt, Dr. Suzanne Simard, Rande Cook, Rainbow Eyes, and Land Defenders at Fairy Creek
Film credits: Director: Cam MacArthur; Producer: Momme Halbe; Executive Producer: Rene Gauthier; Written by: Momme Halbe, Cam MacArthur
-
DISCUSSION
Rainbow Eyes, activist and Deputy Leader of Green Party of Canada
Hearing the call of the forest and following instructions from Elders of the territories, ancestors and spirit I have been a land defender of ancient forests on Vancouver Island, including the old growth forests of 'Ada'itsx (Fairy Creek), since 2020.
Also a Guardian for the Da'naxda'xw/Awaetlala First Nation and graduate of Vancouver Island University (VIU) First Nations Stewardship Technical Training Program, I worked for four years as a Guardian in Knight Inlet.
I have assisted in training future Guardians as a student support coordinator with the Nanwakolas Council Society and as a member of a research team to decolonize and help the VIU's Stewardship Technician Training Program to become more grounded in traditional values. I have ever growing experience with the Canadian legal system defending Indigenous values in activism work. After following Elders of the Fairy Creek community I found myself in the position of Deputy Leader of the Green Party of Canada. This position is now evolving into a position working to help the colonial system understand Natural & Indigenous Laws.
-
Keith Cherry
Keith Cherry (he/him) is a settler academic and grassroots activist living on unceded Lək̓ʷəŋən and W̱SÁNEĆ territories.
Keith's community work focuses on direct action in support of Indigenous sovereignty and climate justice, including Tsleil Waututh-led efforts against the Transmountain pipeline, Musgamagw Dzawada'enuxw-led efforts against open-net fish farms, Wet'suwet'en-led efforts against the Coastal Gas Link pipeline, and the Fairy Creek blockades against old-growth logging.
Keith is a Fairy Creek arrestee, a member of the Fairy Creek legal committee, and a Uvic instructor.
-
Jeremy Herndl
Jeremy Herndl lives in Victoria BC, the unceded land of the Songhees and Esquimalt First Nations. He received his BFA from the Nova Scotia College of Art in Design and MAA in Painting at Emily Carr University.
Wherever he goes to paint, Jeremy explores the histories and stories of spaces and our relationships to them. For Jeremy, art is a form of activism. It is a way to intervene by bearing witness, exploring human relationships to places, engaging in dialogue with the more-than-human world.
Jeremy was artist-in-residence at Eden Grove, near the Fairy Creek blockade. He painted portraits of the ancient trees as a way to capture their individuality as living beings, to acknowledge their agency, and to give us a way to listen deeply by looking, and treading carefully.
https://jeremyherndl.com/section/503217-Eden%20Grove%20AiR.html
In recent years, Jeremy has received funding from the Canada Council, BC Arts Council and a third Elizabeth Greenshields Foundation grant. He has been artist in residence at the Banff Centre, The Brucebo Residency Award in Gotland, Sweden, Tombstone Territorial Park AiR in the Yukon and the Vermont Studio Center (Helen Frankethaler Fellowship).
In the past few years his work has been exhibited at Michael Gibson Gallery (London, On.), the Surrey Art Centre in Surrey BC, Open Space Art Society in Victoria, BC, Two Rivers Gallery in Prince George BC and numerous other group shows. His work is in collections such as the Art Gallery of Greater Victoria, Surrey Art Centre, The University of Victoria, The West Vancouver Museum, the Brucebo Foundation, Sweden, The City of Surrey, The Alberta Foundation for the Arts, The Ministry of Foreign Affairs and Trade and many corporate and private collections.
-
David Quigg
David Quigg is a climate and biodiversity organizer with Sierra Club BC. He is focussed on building and nourishing a network of local leaders across the province who are doing the important work of standing up for ecosystem health and a liveable future for all.
He believes in using the arts to celebrate the more than human world by reaching past the data and into the heart. He has a background in the performing arts, songwriting and 10 years of an elementary school teacher.
He is grateful to be working with Sierra Club BC to help in this all-hands-on-deck moment for the web of life on our planet. Join Sierra Club BC's network of action takers by going to invitetoaction.ca and David will follow up with a phone call.
---
EXHIBITION
After the film screening and panel discussion, the audience is invited to gather in the adjacent room, HHB 110, for refreshments and to browse the exhibit of student projects from the environmental humanities course, HUMA 295. In this course, students explored how different stories are told about the environment and the pressing ecological issues of our day. As part of their final project, students selected an ecological issue to express how it matters to them in some form of visual storytelling.
---
If you wish to support more screenings promoting the use of film for impact, please donate here: https://www.storymoneyimpact.com/donate
Facebook: https://www.facebook.com/storymoneyimpact
Instagram: https://instagram.com/storymoneyimpact
Twitter: https://twitter.com/smifilmsociety
With thanks to our program funders