Event Information
Refund Policy
Contact the organizer to request a refund.
Eventbrite's fee is nonrefundable.
2 Hour Virtual Workshop Breathwork + Embodiment + Journalling + Movement
About this Event
ASK YOURSELF....
Are you at war with your body?
Do you struggle to have compassion and tenderness for your body and system?
Have you been feeling a bit disconnected lately? A bit out of alignment, or ungrounded?
Do you struggle to connect to your emotions in your body and communicate effectively?
Is your self-expression blocked in important areas of your life?
Is your nervous system ready for an emotional reset?
Is your self-expression restrained and contained and you just want to let the dogs loose in your life but there is something holding you back?
THIS WORKSHOP IS FOR YOU:
IF YOU DREAM OF BEING SELF-EXPRESSED LIKE A FLAMINGO!
You want to live in your body and emotionally express yourself like a flamboyant flamingo!
You're deeply feeling but struggle to connect to your bird body and bird emotions and want to learn how to unleash your expression like the vibrant pink flamingo you know you are deep in your core!
You're disconnected and unbalanced in your body and system and are looking to create a clear channel to your intuition, soul and emotional world with your one-legged posture so your life can move into more feathery flow and pleasure!
You struggle to communicate your rich emotional interior in a way where you can be deeply seen and heard in the way your flamingo heart deeply desires!
You wanna light your life on fire and flock your colourful feathers to expressive soul fire but right now everything feels constrained to a dull roar!
YOU MAY BE ASKING YOURSELF... WHY THE FLAMINGO?
A flamingo is a bird that stands on one leg.
Clearly they don't give a fuck in the best way possible.
Clearly they're unapologetic with their vibrancy and willingness to stand out from the crowd.
Vibrant pink. Expressed. Flaming. Flamboyant. Out there. Fully unleashed and unhinged in a sea of colours and neon explosiveness!
The flamingo is a battle call for the fully expressed soul!
It's power sourced through emotional fluidity and richness that comes right from your depths!
It's sensitivity and expression that is fiercely cultivated and protected through the body vessel!
It's time to stand (on one leg) in your wild authentic expression!
Soul power by way of embodiment and emotional connection!
Come flock with us and channel your greatest inner flamingo!
It's time to get your FEELING FLAMINGO on ladies!!
STRUCTURE OF THE EVENING:
30 - minute emotional embodiment workshop
15 - minute movement (ecstatic dance)
15 - minute journalling for the soul
15 - minute breathwork 101
45 - minute breathing experience
This workshop will be done online through Zoom. Once registered you will receive clear instructions for preparing for the evening and setting up your space at home.
WHAT IS BREATHWORK?
Soul work - that's what it is. Have you ever met your soul? Like really met your soul? Like connected on such a deep level it was like your soul was speaking to you all the things you've been waiting and wanting to hear but have been too afraid to face or deal with? Sharing all sorts of beautiful magical messages to nudge you into the direction you're truly supposed to be on.
The type of breathwork you will be doing in this workshop is an active breathing meditation that helps you open your heart, get out of your mind and into your body to really connect with your soul. And if you haven't met your soul yet - well get ready - because you're about to! Your breath is your biggest ally to help you move from the mind and into the body. To go deep. Through the guidance of your breath you are able to move into a place where you can access a deeper level of self, allowing you to tap further into your intuition, to release, create space, and seek answers. And if you haven't figured this out yet (which is totally OK), the answers you are seeking are within YOU! You have everything you need inside. You just need to start connecting into your power, and the breath is going to help do this for you.
Worried the old monkey brain might get in the way….Even the most hectic and active minds are able to surrender and move into peacefulness, using only the power of their breath.
Your breath is in you to guide you - what are you looking for girlfriend?
BENEFITS OF BREATHWORK:
SOUL - Let's get talking. Like really deep, delicious conversations.
CLEAR stuck energy (emotional, physical, mental + spiritual) - we hold so much crap inside - some of which we are aware of, and some of which we aren't - let's break it up so we can move it out! Loosen things up!
RELEASE what you may be holding on to - just let it go girl! It's not serving you, it's bringing you down, so just LET - IT - GO!
CALM your nervous system - you heard me, no more of that fight or flight chaotic feeling, just pure relaxation - rest and digest.
REDUCE stress & anxiety - need we say more.
CREATE space for personal transformation and growth so you can flap your wings like the flamingo you are.
IMPROVE clarity & focus - you don't see flamingos flapping around all out of control do you - bet you didn't even know they actually fly sometimes - but they are focused.
RELEASE toxins & boost immunity - goodness we need that now, are we right?
FEEL calm, relaxed & restored - so you can stand on one leg confidently like the amazing flamingo you are!
WHAT YOU'LL LEARN:
Establish what the core emotions are, how your relationship to them was formed, and how to expand your capacity to be with them in the body.
Learn the impact of anxiety, shame, trauma and depression on your emotional body.
Learn what your inner child is and how to create safety in your body and system through connecting to your inner child.
How certain stories and identities are keeping you stuck in survival and not allowing you to step into your embodied power.
How to unlock your unbridled soul expression and set your soul on fire.
Learn how to use your breath to connect deeply with your soul.
Learn how to use the breath to go inwards to seek answers.
Connect with your breath to learn how to release stuck energy and blockages(emotional, mental, physical and spiritual).
Become an Emotional Flamingo with Us!
ABOUT SHANNON FRAME (from The Collective Alchemy)
Shannon is a Breathwork Facilitator and Money Coach. She is passionate about personal growth, mindset, emotional intelligence and making an impact on those around us - all while having fun and not taking things too seriously). She combines her 10+ years of experience working in the education, leadership and professional/personal development sectors with her breathwork and money coaching training to hold space for those looking to go deeper under the surface to release, let go, create space and seek answers from within. She strongly believes we all have it within us to achieve and build the life we desire as long as we are willing to go within to dissolve layers and see what that vision truly is - taping into our authentic power. She is the founder of The Collective Alchemy which aims at building a community with those that share her same vision for life. She is also the co-founder of the event UNLEASH, which is aimed at helping people declutter both physical and mental clutter to achieve the life they want to live. @thecollectivealchemy
ABOUT JAMIE REA
Jamie Rea is a Transformational Relationship & Life Coach, Certified Craniosacral Therapist, Energy Worker, Award-Winning Screenwriter, Filmmaker, Storyteller, and Comedy Writer, Creator and Comedian. Jamie combines a deeply somatic and energetic approach to his coaching and healing work that helps move clients into deeper levels of integration and release inside the body, helping clients to unlock their power, claim their voice and connect deeply to their greatest soul potential. Jamie regularly lends his comedy talents to his teaching, combining a space of play, humor and lightness with the sacred healing work he does with his clients. He is the Creator and Founder of The Deep & Dirty Collective, which combines Jamie's teachings with a playful, humorous, and dirty twist. @jamie.n.rea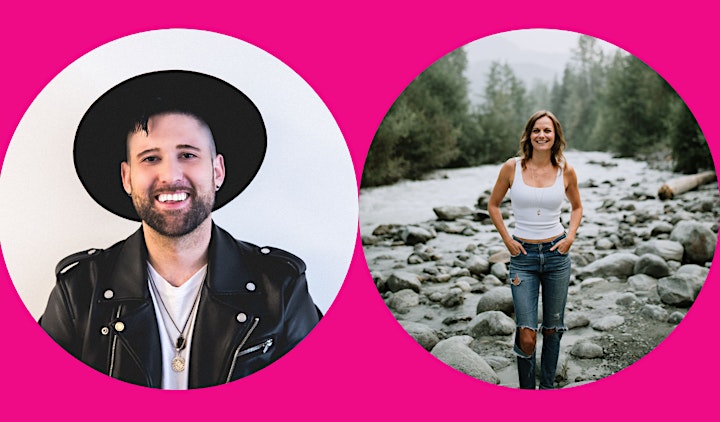 Date and Time
Location
Refund Policy
Contact the organizer to request a refund.
Eventbrite's fee is nonrefundable.