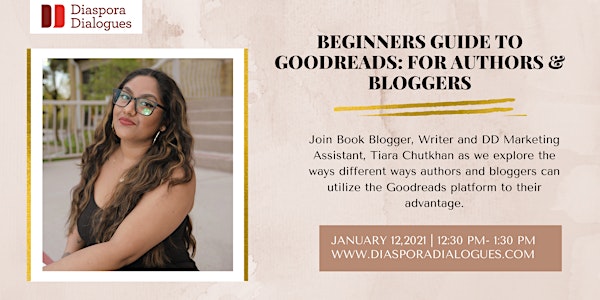 Beginners Guide to Goodreads: For Authors & Bloggers
Join Book Blogger, Writer and DD Marketing Assistant, Tiara Chutkhan to explore the ways authors and bloggers can utilize Goodreads.
Refund Policy
Contact the organizer to request a refund.
About this event
Goodreads can often be a confusing and even scary platform for authors and bloggers. If you've been told time and time again to create an account but have no idea where to start, this guide will get you up and running and ultimately enjoying the platform. Join Book Blogger, Writer and DD Marketing Assistant, Tiara Chutkhan as we explore the different ways authors and bloggers can utilize the Goodreads platform to their advantage.
Tiara Chutkhan is a writer, editor and researcher born and raised in Toronto. Her love of literature led her to start blogging and sharing her reads, particularly those by Caribbean authors. Tiara's Indo-Caribbean heritage is extremely important to her and she strives to create representation for her community. Her writing is geared toward exploring the Indo-Caribbean diaspora, its history and culture.
Tiara is the Editor-in-Chief at The Brown Girl Diary and Marketing Assistant at Diaspora Dialogues. She is a regular contributor for The Brown Girl Diary and Caribbean Collection Magazine. Tiara is also working towards a certificate in Creative Writing from University of Toronto.
Tiara is currently working on putting together an anthology of Indo-Caribbean fiction and developing a short documentary on Indo-Caribbean representation in Toronto.
*Video Chat link and recording details will be provided with signup.
Presented By
Diaspora Dialogues (DD) supports emerging writers to turn their craft into a career through mentorship, professional development and opportunities to publish and present their work. Our mentoring programs are the most successful in the country for alumni getting published. More than 750 writers/artists have participated as mentors or mentees, emerging playwrights or dramaturges, commissioned artists or panelists, readers or performers. 450+ new literary works have been created through DD programs, 300 events produced and a live audience well in excess of 150,000 Canadians has attended those events. DD also publishes TOK Magazine, an online platform for fiercely honest, freshly original writing and convenes TOK Symposiums, multi-day events for readers and writers which combine author talks and professional development seminars.
During these strange and challenging times, Diaspora Dialogues continues to support those who create stories we turn to for comfort, solace, and strength — our authors. To do that we need your help.
This event is registered by donation, please consider supporting us at this time. Thanks to a generous member of the community, all donations made up to December 31st, 2020 will be catching, doubling their impact.
Thank you.