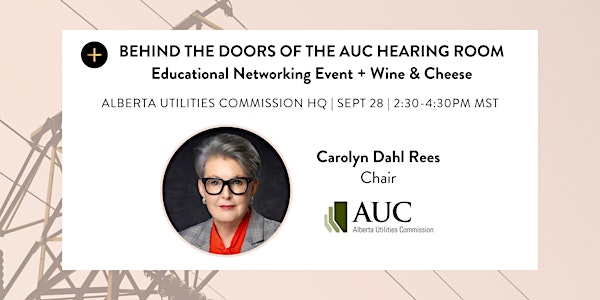 Behind the Doors of the AUC Hearing Room with Carolyn Dahl Rees
Take a Sneak Peak Behind the Doors of the AUC Hearing Room! Join us for an Educational Networking Event with Carolyn Dahl Rees, AUC Chair.
When and where
Location
Alberta Utilities Commission 600 3 Avenue Southwest Calgary, AB T2P 0G5 Canada
About this event
At this upcoming Women+Power event, Carolyn Dahl Rees, Chair of the Alberta Utilities Commission (AUC), will be giving a tour behind the doors of the AUC Hearing Room. Following the tour, there will be a brief Q&A and networking session with wine and cheese. You will be joined by additional commissioners at the AUC and fellow members of Women+Power.
An AUC hearing is a regulatory review process, where participants present ideas and receive feedback. This event offers a first-hand opportunity to learn and gain confidence about the AUC hearing process. It is also an excellent networking opportunity for all in solidarity with Women+Power.
Speaker Biography
Carolyn Dahl Rees was appointed​ chair of the AUC on June 24, 2020, after rejoining the Commission as a member in late March of the same year.
Ms. Dahl Rees was the AUC's first acting chair immediately after it was established in 2008, and served as a member and as vice-chair from 2008 to 2012. She has chaired or served on Commission panels adjudicating some of the AUC's most complex applications, in all areas of the AUC's regulatory mandate.
Ms. Dahl Rees received a bachelor of laws degree from the University of Toronto after completing a bachelor's degree in English at Houston, Texas's Rice University and a master's degree in medieval studies at the University of Toronto.
She rejoined the AUC from TransAlta Corporation, where she had served in several senior legal roles at various times, including special legal counsel, managing director for legal and compliance, vice-president of regulatory and compliance, and general counsel. She was also a Calgary Subdivision and Development Appeal Board member, serving twice as its first vice-chair.
Before being first appointed to the AUC, Ms. Dahl Rees was an acting member and member of the Alberta Energy and Utilities Board, an acting member of the Natural Resources Conservation Board, and the former chair of an independent review panel for the Alberta Beverage Container Management Board.
Ms. Dahl Rees has experien​​ce drafting legislation and regulations, and helped to prepare the Alberta Electric Utilities Act, the first rules for the Power Pool of Alberta, contracts setting up the restructured Alberta electric system, and the structure of Alberta's first transmission administrator. In the late '90s, she played a role in the development of the legislative amendments and power purchase arrangements used to deregulate Alberta's utility generating units.