Sales Have Ended
Registrations are closed
Registration has closed for Belong 2018. Please contact Jacqueline Ayer at jayer@christian-horizons.org.
Sales Have Ended
Registrations are closed
Registration has closed for Belong 2018. Please contact Jacqueline Ayer at jayer@christian-horizons.org.
Description
The hope of Belong 2018: Strangers No More is to foster belonging in the National Capital Region by equipping Ottawa-area churches to welcome, in Christ's name, neighbours who have been marginalized.
Earlybird ticket price of $15 until March 20. Regular price of $25 after March 20.
---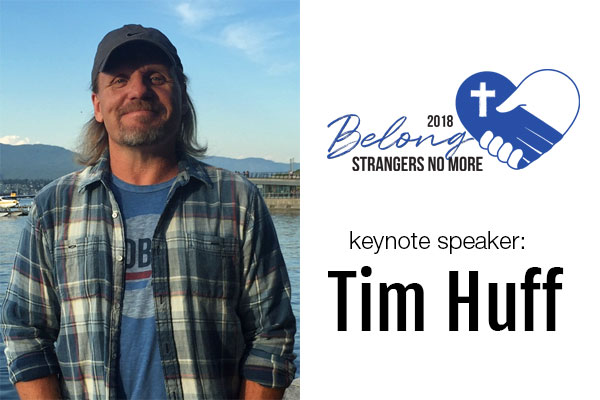 Born and raised in Toronto, Canada, Tim Huff has stitched together a radical life of service among children, youth, and adults facing profound physical, intellectual, emotional, social and spiritual challenges. His journey of fulltime service, learning and advocacy for poor, oppressed, misunderstood and marginalized people has taken him across Canada, the United States and around the world, as both an avid learner and highly sought after speaker and teacher regarding pro-active community building and compassionate responses to domestic poverty, homelessness, marginalization and poverty of spirit.
Tim's resume of direct service and leadership includes roles with the Ontario Camp of the Deaf and Frontlines Youth Centre. He founded or co-founded the Light patrol street outreach, the Hope Exchange StreetLevel Network and serves on various non-profit boards. Tim currently serves as the "Creative and Development Lead" of Youth Unlimited's Compassion Series.
Tim is the author of the award-winning best-sellers Bent Hope; A Street Journal, Dancing with Dynamite; Celebrating Against the Odds, and The Yuletide Factor; Cause for Perpetual Comfort and Joy. He is also the author/illustrator of the award-winning best-selling children's books The Cardboard Shack Beneath the Bridge; Helping Children Understand Homelessness and It's Hard Not to Stare: Helping Children Understand Disabilities, The Honour Drum; Sharing First Nations Truth with Children (co-written with acclaimed First Nations teacher/musician, Cheryl Bear).
Tim, married to Diane, is the father of two beloved young adult children – Sarah Jane and Jake.
For more information on the interactive Compassion Series program, and/or for more information on Tim's books, visit www.compassionseries.com
---
WORKSHOPS:
Singled Out No More - A panel of presenters on the topic of singleness to equip the church to welcome single people from various marginalized communities.
Ottawa Innercity Ministries will share how they connect with street-engaged youth through Innercity Arts and will draw out universal principles from their experiences.
Jericho Road will share three models of meetings that foster belonging among people affected by addictions and mental illness. These examples will inspire you to create similarly welcoming meetings in your church. (post this after Feb. 24 so as not to be conflated with Coldest Night of the Year)
New Connections will speak about prison ministries and the challenges faced as people reintegrate back into society. Society can be unforgiving but churches should be places that exude grace and a desire for restoration.
Autism, Asperger's and Developmental Disabilities will be a panel discussion that will help us view the ability rather than the disability

Physical Disabilities touch almost all of us through life long disabilities, because of sickness or aging. This panel discussion

will include visual impairment and mobility challenges.
---
Thanks to a generous donation...ticket price has dropped!

For more information, please contact Jacqueline Ayer at jayer@christian-horizons.org.
Notes:
Registration is 8:30am-9:00am, with the conference starting at 9am

Complimentary parking available on-site

Bag lunch and snacks provided

Exhibitor hall with local ministries present