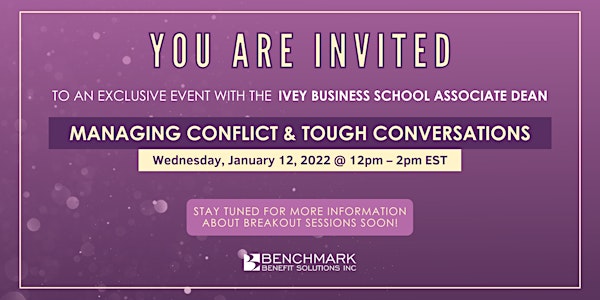 Benchmark's 2022 Workplace Summit - Managing Conflict & Tough Conversations
Join Benchmark and Lyn Purdy, Associate Dean of Programs at Ivey Business School.
About this event
Join Benchmark and Lyn Purdy, Associate Dean of Programs at Ivey Business School as we support our community with navigating difficult conversations in the workplace through the Ivey case method approach to learning.
About the speaker:
Lyn Purdy
Associate Dean - Programs; Associate Professor, Ivey Business School
Expertise: Organizational Change, Organizational Behaviour, Operations Management, Technological Change
With an undergraduate degree in Chemical Engineering, and an M.A.Sc. and Ph.D. in Management Sciences from the University of Waterloo, Lyn Purdy's expertise spans both science and psychology. Prior to joining Ivey, Lyn spent eight years as a faculty member in Western's Social Sciences faculty where she taught courses in Organizational Behaviour and the Management of Technology in Organizations.
Currently the Associate Dean of Programs at Ivey and former director of Ivey's EMBA program, Lyn teaches courses on Organizational Change, Career Management, and Managing People for Exceptional Performance.
A deeply-seasoned executive education facilitator, Lyn has experience delivering skills development workshops and coaching feedback sessions. In addition, Lyn has conducted action learning workshops to diagnose the alignment of human resource practices with strategic intentions of the firm. She teaches on a variety of The Ivey Academy's open enrolment and customized executive education programs.
Lyn has worked with executives and managers from various industries and services in conjunction with The Ivey Academy's custom executive programs including ATCO, Business Development Bank of Canada (BDC), City of London, Maple Leaf Foods, Nature Conservancy of Canada, Newalta, Ontario Ministry of Attorney General, Ontario Ministry of Community and Social Services, RBC, Sagicor, SITAONAIR, Siemens, Syngenta Canada Inc., and The Globe and Mail.
Featuring breakout sessions hosted by:
Supported by:
Presented by:
Benchmark is an employee benefit and pension consulting firm, providing the ultimate in health care solutions, supporting the mental and physical well-being of Canadians.
*By registering for this event, you agree to join the Benchmark monthly community newsletter.