Benefits of Recreation Therapy - 2020 BIAYR Education Series (Online)
Educational talk about exploring leisure activities for the winter and COVID-19
About this Event
Brain Injury Association of York Region is pleased to present:
Benefits of Recreation Therapy
Hosted by Laura Giandomenico, Owner of Viva Therapeutic Recreation Consulting
--
As COVID restrictions continue and winter approaches, our leisure activities are becoming limited and our interactions with family/ friends have also been restricted. Let's change this narrative. Let's explore the importance of connection and how we can keep our bonds active. A quick guide to help you reflect on your passions will begin to address the blahs to maintain your bonds. Let's do this together. Please come prepared to share an idea/ activity that you have enjoyed during COVID.
Please have a pen and paper handy.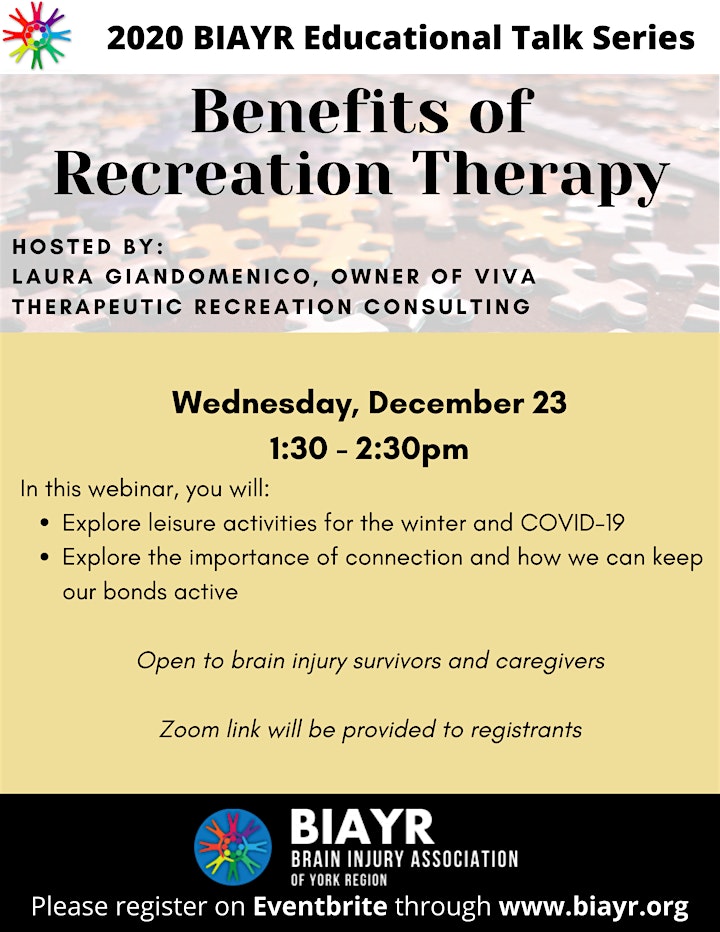 More About Laura Giandomenico:
Laura Giandomenico is the owner of Viva Therapeutic Recreation Consulting. They provide formal therapeutic recreation assessment and develop and implement client-centred treatment plans for individuals who have sustained traumatic injuries.