Bernard Forjwuor - Black Political Thought Speaker Series
Black Political Thought Speaker Series - Departments of Political Studies and Philosophy
About this event
"Decolonizing the Discourse of Colonialism"
Bernard Forjwuor
Thursday, June 17, 2021 | 10:00 am - 12:00 pm
ABSTRACT | What happens when the question of decolonization, which must be constituted as a negation of colonialism, is framed simultaneously against/alongside and within Eurocentric conception of colonialism? How might we engage the question of decolonization without unwittingly reinscribing the Eurocentrism wherein it was originally formulated and to which it must consistently return for affirmation/legitimation? This presentation focuses attention on a critical rereading of the Ghana Independence Act of 1957 to demonstrate how the concept of decolonization rehabilitates the colonial in different lexicon while simultaneously reaffirming the conditions under which the people are still held as colonial subjects. I will demonstrate how the colonial forcefully folds itself into the dictates of political independence, thereby circumventing the insubordinate will (that must be) inscribed only in the sovereign authority of the people.
BIOGRAPHY | Dr. Bernard Forjwuor is a visiting assistant teaching professor of Africana studies at the University of Notre Dame. Prior to that he was a visiting assistant professor of politics at Whitman College. His research and teaching focus on black political thought, postcolonial political theory, decolonial theory, critical democratic theory, and critical race theory. Currently, Forjwuor is completing a book manuscript entitled, Critique of Political Decolonization, which interrogates ways the colonial, by folding acts of self-governance/self-determination into the mechanisms of its undertakings, pre-determines liberal democratic outcomes in postcolonial Africa/Ghana.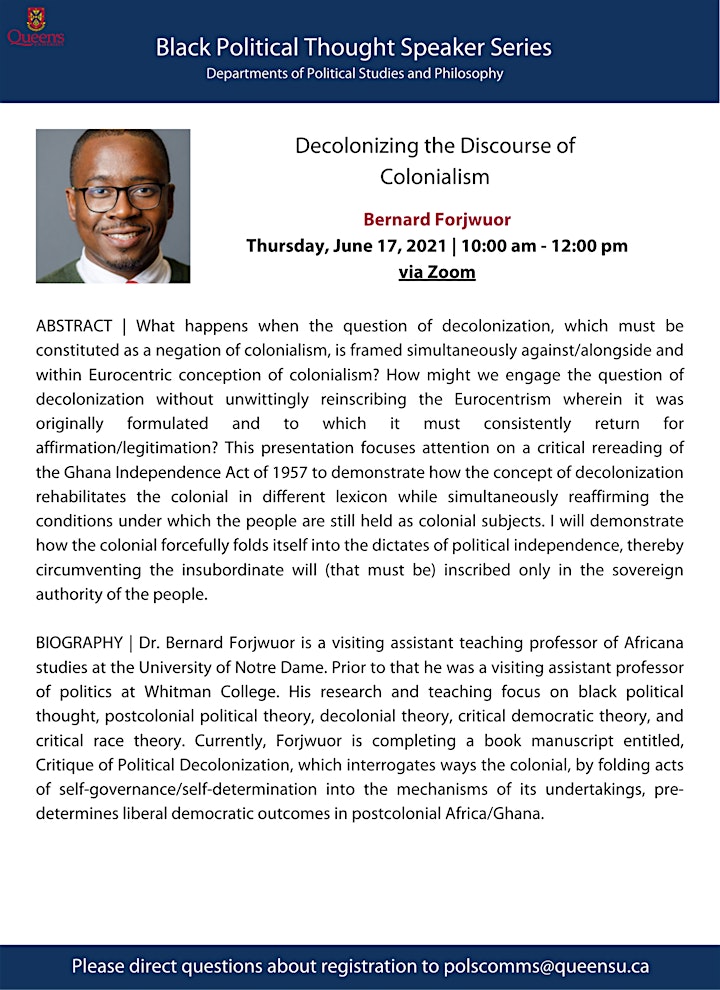 Organizer of Bernard Forjwuor - Black Political Thought Speaker Series