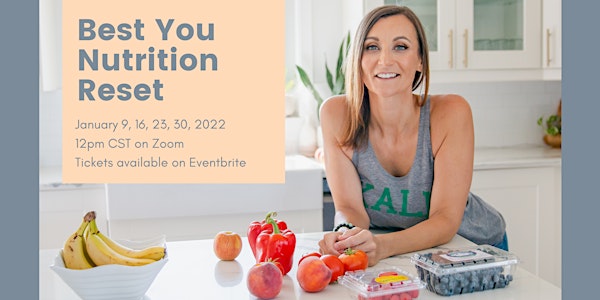 Best You Nutrition Reset
The four week Best Your Nutrition Reset will cover the four pillars of a healthy YOU - digestion, weight loss, hormone balancing & immunity.
About this event
The four week Best Your Nutrition Reset will teach you how to modify your eating and lifestyle habits to supercharge your health. While teaching you how to have a healthy relationship with food, additional benefits you can expect include weight loss, increased energy, better sleep, feeling healthy again and much more. The time is NOW to reset, renourish and reclaim your health!
Details:
Dates: Sundays in January - January 9, 16, 23 and 30, 2022.
Time: 12pm CST
Where: Zoom!
Cost: $159 for ALL FOUR SESSIONS!
Topics:
1. Digestive Health
2. Weight Loss
3. Hormone Balancing
4. Immunity Health
*Also included:
• 25 minute one-on-one coaching call with Andrea
• Weekly Emails including Session Notes, Weekly Tasks, Recipes, Recommended Readings and more
• The BYN Food & Mood Journal, an effective tool to help track your journey to greater health
Full Details:
Session 1 - Digestive Health
The two keys to a long, healthy life are a clean digestive system and a strong immune system. Our digestive system is in charge of providing all of the nutrients that we eat to our cells, organs, muscles and more. It needs to be an absolute priority when talking about your health. This session will teach you how the digestive system works, how it affects your stress levels and mental health, and leave you with tactical ways to repair your gut lining so that bloating, gas, digestive upset and all the rest of it is a thing of the past.
Session 2 - Weight Loss
News flash! The idea that all you need to do is eat less and workout more DOES NOT WORK for weight loss! This old-age way of thinking has been myth busted. This session will teach you what really DOES work, how our bodies' weight gain and loss system works in conjunction with our insulin levels, how stress affects our weight, and how to turn your body into a fat burner instead of a sugar burner. This session is truly a game changer!
Session 3 – Hormone Balancing
Hormone imbalance symptoms can include unexplained weight gain, acne breakouts, fatigue, changes in sex drive, depression, joint pain, and irritability. Ensuring women are understanding what role nutrition plays in the balancing of their hormones is key. But when was the last time a healthcare professional talked to you about your hormones? The time is now to understand what role your hormones play in your physical and mental wellness and how food can help balance it all.
Session 4 - Immunity Health
Our immune system is our body's natural defense system against foreign invaders such as colds, flus, viruses and disease. A strong immune system is key to both short term and long term health. Is yours in check? This session will teach you about the best (and worst!) food and lifestyle choices you can make to strengthen your immunity. Don't we all want to live a long, happy and healthy life? This session can help you do it.