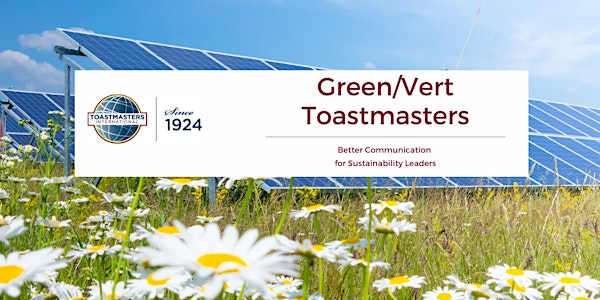 Better Communication for Sustainability Leaders, 1st Saturday of the month.
Green/Vert Toastmasters 1st Saturday/1er samedi
About this event
Green/Vert Toastmasters - 1st Saturday of the month
Join us to practice skills in speaking, presenting, listening, and leadership. Our club provides a great environment for green-minded people, sustainability professionals, and anyone interested in improving their communication skills.
As a club, we value: Diversity, Participatory Democracy, Nonviolence, Sustainability, Ecological Wisdom, and Social Justice.
We are also proud to uphold the Toastmasters International values of INTEGRITY, RESPECT, SERVICE, and EXCELLENCE.
Join us to build skills in public speaking, active listening, constructive feedback, and leadership!