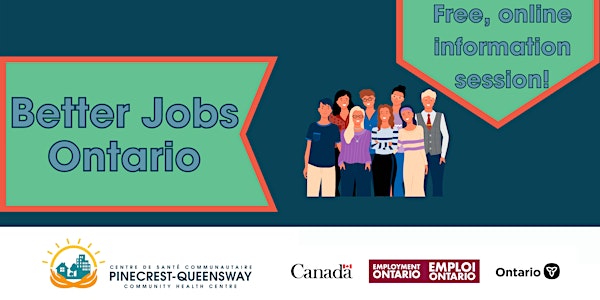 Better Jobs Ontario - Online Information Session
What is Better Jobs Ontario? The Better Jobs Ontario program (formerly Second Career) helps Ontarians train for in-demand jobs.
About this event
With the Better Jobs Ontario grant, you can upgrade your knowledge and skills to match what hiring employers are looking for.
You can receive financial support of up to $28,000
Who qualifies for Better Jobs Ontario?
You are eligible if you are looking to train for high-demand occupations and either:
● have been laid-off and have not been working or are working but underemployed
● have not been laid-off but have been jobless for at least six months and are a member of a low-income household
A fast-track stream is available for those who have been laid-off due to COVID-19.
Register now for our next session of Better Jobs Ontario with one of the following methods!
Eventbrite page
Phone: 613.288.3880
Email: employment.info@pqchc.com
We hope to see you all there!