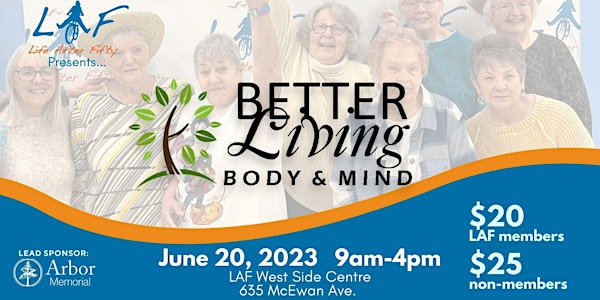 Better Living: Body & Mind
A full day of workshops, hand-picked by YOU! Designed for those age 50+ who are looking to learn / experience something new!
Date and time
Tue, Jun 20, 2023 9:00 AM - 4:00 PM EDT
Location
Life After Fifty (LAF) 635 McEwan Ave Windsor, ON N9B Canada
Agenda
9:00 AM - 9:30 AM
Welcome/ Registration
9:45 AM - 10:45 AM
Workshop Session #1
11:00 AM - 12:00 PM
Workshop Session #2
12:00 PM - 1:15 PM
Lunch/ Speaker
1:15 PM - 2:15 PM
Workshop Session #3
2:30 PM - 3:30 PM
Workshop Session #4
3:30 PM - 4:00 PM
Closing/ Thank You
About this event
Better Living Day is a full day of fun & informative workshops for those age 50+, providing opportunities to be well, be fit and be social!
All regular LAF programs are cancelled for the day and workshops are hosted in every room of the LAF West Side Centre (635 McEwan Ave.) throughout the day!
$20/ Life After Fifty Members, $25/ Non-members Registration fee covers all (4) workshops, materials/ supplies and lunch.
CHOOSE YOUR WORKSHOPS: Rank your top workshop choices for each session (2 morning and 2 afternoon workshops) and we will do our best to accommodate your requests. Participants receive an individual itinerary detailing which workshops they are registered for during each session.
LUNCH & GUEST SPEAKER INCLUDED: At noon, everyone will enjoy lunch and some social time to share what you have learned in your workshops so far that day. Following lunch, everyone will join in an interactive discussion about living well, living with purpose and intentionally creating legacy every day of our lives.
ENCORE WORKSHOP INCLUDED: All Better Living Day participants are invited to attend an ENCORE workshop - included in your registration fee. Our Seniors' Month Lead Sponsor, Arbor Memorial, invites you to a workshop on the Benefits of Pre-Planning on June 27th 11:30am - 1:00pm at their Victoria Greenlawn location, 1525 Hwy #3, Oldcastle, ON. *FREE lunch will be served that day.
Better Living Day (BLD) is an annual signature event at Life After Fifty (LAF) in celebration of Seniors' Month (June).
About the organizer
At Life After Fifty, we believe that it is always the right time to invest in yourself! 
Improve your health & wellness, learn something new, make new friends... 
You can do it all through the programs offered at Life After Fifty!
Our classes, workshops & activities are offered at
two convenient locations in Windsor:
 
- our West Side Centre, located at McEwan Ave. & Wyandotte St. W
(behind the Shoppers Drug Mart at Campbell & Wyandotte, near the University) 

- and our East Side Centre, located within the WFCU Centre
(Community Centre Entrance)
 
Join as a member and enjoy all of the programs offered at both locations, 
or join us day-by-day and participate in the programs offered
by purchasing a day pass at either location!
 
TRY BEFORE YOU BUY!
FREE One-Week-Passes are available!
Visit us today and experience Life After Fifty!
To learn more please visit www.lifeafterfifty.ca  

 
Classes, Workshops & Activities Include: 

Health & Fitness Programs -  Tai Chi, Zumba, Yoga, Pilates, 

Hobbies - Woodshop, Lapidary (jewlery making), Quilting, Sewing

Social Activities - Euchre, Pepper, Day Trips, Choir, Movie Nights, Shuffleboard

Classes/ Workshops Offered - Income Tax Clinic, Computer Classes,  

AND MUCH MORE!
(Class offerings are updated/ changed 3x each year - in January, May & September)