Event Information
Location
Canad Inns Destination Centre Club Regent Casino Hotel
1415 Regent Avenue West
Winnipeg, MB R2C 3B2
Canada
Description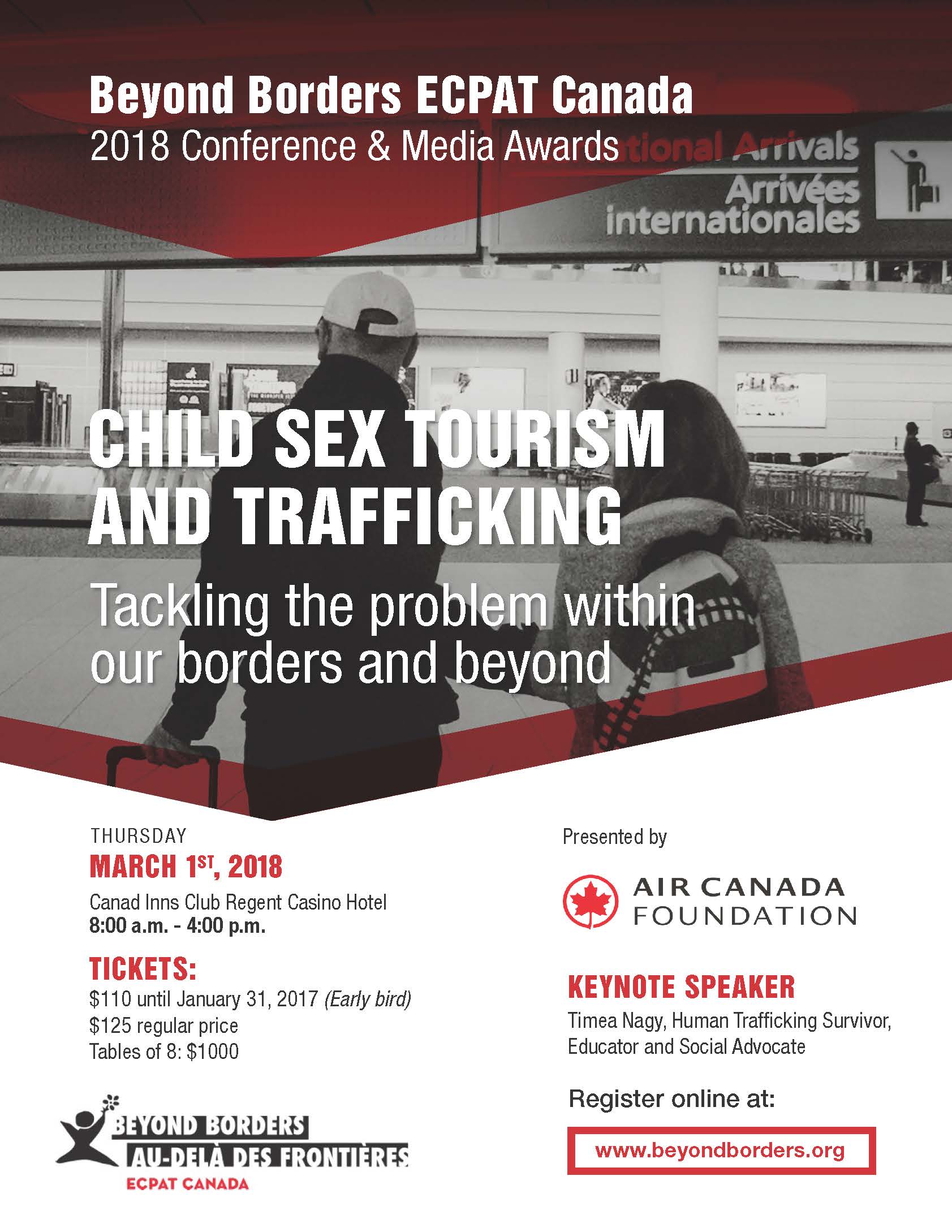 Child sex tourism and trafficking, child sexual exploitation and child sexual abuse imagery occurs in every community, region and country. In Canada, 1 in 4 children will be the victim of one of these crimes. A worldwide solution starts with each of us.
Join Beyond Borders ECPAT Canada on Thursday March 1, 2018, for our 15th annual Media Awards and Conference, presented by the Air Canada Foundation.
"Child Sex Tourism & Trafficking – tackling the problem within our borders and beyond" – is a day-long seminar and discussion featuring speakers who've experienced sexual exploitation first hand or who work closely with victims or perpetrators, and journalists who have worked and written extensively on this topic. The seminar is part of Beyond Border's mandate to support corporate social responsibility.
MORNING PROGRAM
The morning program consists of two sessions which will focus on understanding sex tourism and trafficking – how to recognize when it is occurring and where to report suspicious behavior or suspicious financial transactions. These sessions are targeted at industries that are not necessarily familiar with these topics – the travel and tourism industry and the financial services sector.
Human Trafficking - Following the Money
Featured Speaker - Timea Nagy
Human trafficking survivor, author, speaker and social advocate, Timea Nagy, immigrated to Canada in 1998. Her nightmare unfolded in Toronto in that same year after arriving from Budapest, Hungary in the hopes of finding meaningful employment. The daughter of a Hungarian police woman, Timea was held hostage (FOR THREE TERRIFYING MONTHS) at the hands of traffickers, forced to work in the sex industry. Thankfully, she escaped and started life anew. Ten years later, Ms. Nagy founded 'Walk with Me', a non-profit organization to assist victims of human trafficking and law enforcement agencies. Between 2009 and 2015, her organization helped over 300 victims and over 500 human trafficking-related investigations throughout Canada. In fact, Ms. Nagy played a key role in Canada's largest human trafficking investigation led by the Canadian Federal Police (RCMP Niagara Falls Detachment) known as project OPAPA. Ms. Nagy provided training to numerous agencies in Canada, the U.S. and Europe – reaching over 10,000 law enforcement officers within sex crime units, the Federal Bureau of Investigations.
Ms. Nagy is the first Survivor of Human Trafficking to train banks and financial institutions on HT detection through transactions. Ms. Nagy has presented and trained over 1500 American and Canadian Financial institutions during the 2015-2016 Framlx Tour. Ms. Nagy also played a crucial rule regarding a Canadian National Financial Human Trafficking Task force called Project Protect.
Ms. Nagy's journey was chronicled at the Canadian Museum for Human Rights in the Turning Point Exhibition in 2014, and her many acknowledgments for outstanding service include: Prime Minister's Volunteer Award, Queen Elizabeth Diamond Jubilee Medal, and the International Freedom Award by Free the Slaves. Ms. Nagy was also the first Canadian advocate to be featured on the CNN Freedom Project show just recently.
The WATCH Programme: ACCORHOTELS' Operational Response to the Challenge of SECTT
Featured Speakers: Andrea Torrance, Marjorie Pittet, ACCOR HOTELS
Sexual Exploitation of Children in Travel and Tourism (SECTT) is a crucial issue for an international hotel group such as AccorHotels. With over 170 million customers staying in its 3,800 hotels in over 90 countries every year, AccorHotels is determined to combat all forms of sexual abuse of children that could occur on its premises. This is the purpose of the Group's programme called WATCH - We Act Together for Children.
68% of Accor's hotel guests agree that protecting minors from sexual exploitation is extremely important in hotels. AccorHotels was the first hospitality group in 2001 to partner with ECPAT to end sexual exploitation of children. In 2002, a training program was set up, based on the Code of Conduct for the Protection of Children from Sexual Exploitation in Travel and Tourism. It was further refined in 2014 and named WATCH, an acronym for We Act Together For Children.

WATCH provides hotels with awareness-raising movies, training modules, dos-and-don'ts sheets and various other tools to:
· keep employees alert at all times,
· help them to respond to dubious situations,
· raise guest awareness.

In this session, Andrea Torrance and Marjorie Pittet of ACCOR Hotels will provide details about the WATCH training program and ptotocol.



LUNCHEON
AFTERNOON PROGRAM


BEYOND BORDERS ECPAT CANADA MEDIA AWARDS - 2017
The Media Awards were launched in 2003 to recognize Canadian journalists for exemplary investigative work covering issues related to the sexual exploitation of children. In the past, some of Canada's most accomplished journalists have been recipients, including Victor Malarek (CTV), Linden McIntyre (CBC), and Diana Swain (CBC), Emmanuelle Latraverse (RC), Raymonde Provencher and Michel Jean (TVA).
Awards for the 2017 submission period will be presented in the categories of Electronic Media (English), Print Media (English), Integrated Media (English) and Electronic Media (French) at the luncheon.
ROSALIND PROBER AWARD for ADVOCACY
The Rosalind Prober Award for Advocacy is given during the event to a citizen or group who have had a positive impact on the issue of child sexual exploitation by undertaking advocacy initiatives. The award was created to encourage and support advocacy, which is often a lonely, difficult and under recognized pursuit. The important work the recipient is being recognized for will be presented in an afternoon session.
MEDIA AWARDS WINNERS PANEL / Q&A
The closing session of the Media Awards and Conference will feature a moderated panel of journalists who will speak to their experience investigating and writing on these issues. Audience members will have opportunity to ask questions and get a 'behind the scenes' style understanding of what goes into bringing these stories to the public eye.
TICKET PRICES
Early Bird Conference & Media Awards Luncheon - $110 (until January 31, 2018)
Conference & Media Awards Luncheon - $125 (after January 31, 2018)
Conference & Media Awards Luncheon, Table of 8 - $1000 (early bird pricing does not apply)
WHO WE ARE
Beyond Borders ECPAT Canada is a national, bilingual advocacy organization, advancing the rights of children everywhere to be free from sexual abuse and exploitation. We are a registered charity without political or religious affiliation.
We are part of a global network of children's advocates. Beyond Borders is the Canadian representative of ECPAT International, a global network of more than 90 organizations in 88 countries. We are also the Canadian representative for the Code of Conduct for the Protection of Children from Sexual Exploitation in Travel and Tourism (SECTT).
WHAT WE DO
Beyond Borders changes lives through unwavering advocacy for victims of child sexual exploitation. We have a dedicated, pro bono team of exceptional lawyers and volunteers who advocate and take legal action for both Canadian child victims and children in brothels, sex trafficked or used by predators in child abuse imagery abroad. We change laws and champion programs to protect victims, provide training to educate industries and act as Canada's global voice on the issue while supporting effective prevention and intervention initiatives.
HOW YOU CAN HELP
Please see below for our sponsorship opportunities. We have created our sponsorship structure to guide our sponsors through the activation process. We would be happy to discuss specific activation or sponsorship opportunities that are not defined below. For more information or to confirm your support, please contact:
Michelle Kowalchuk
Media Awards Chair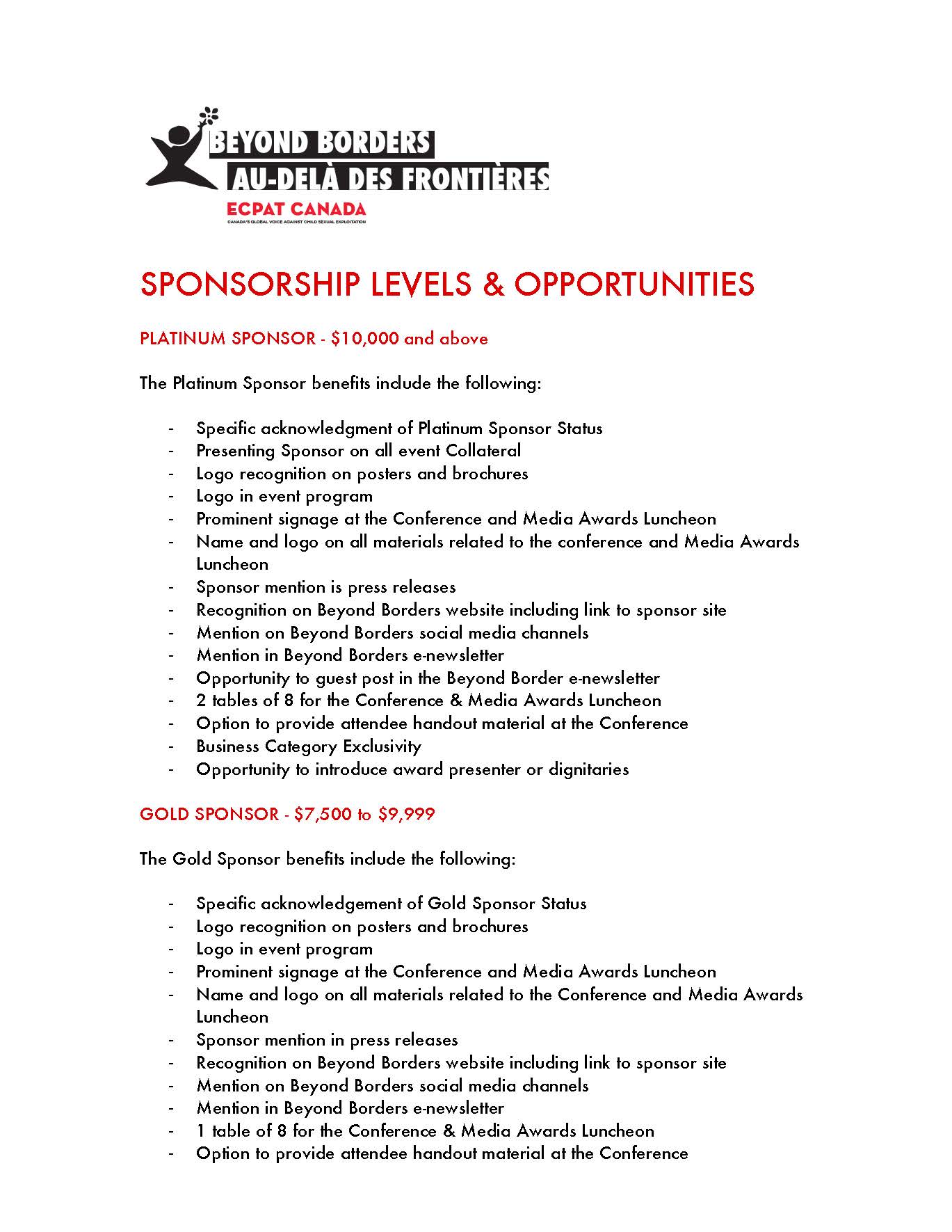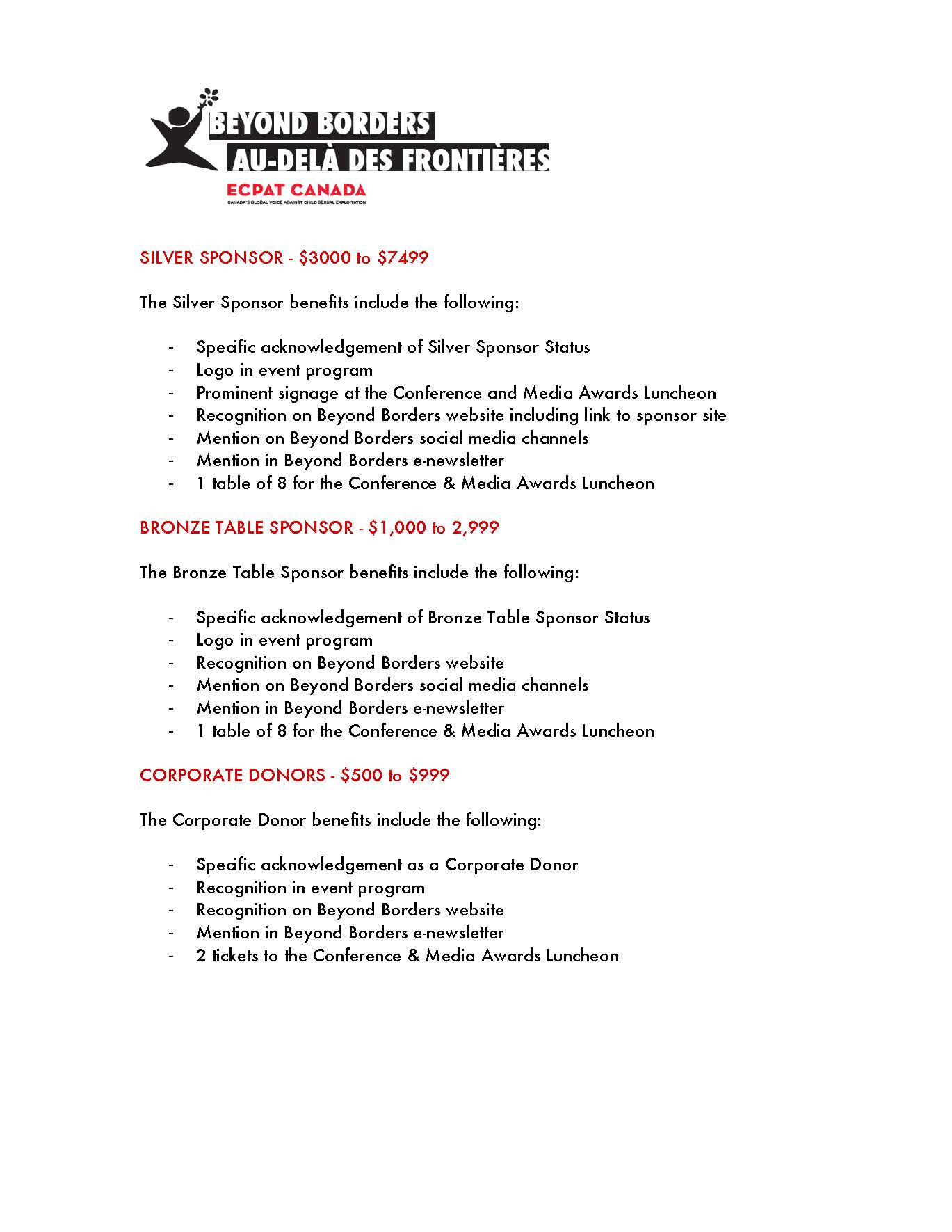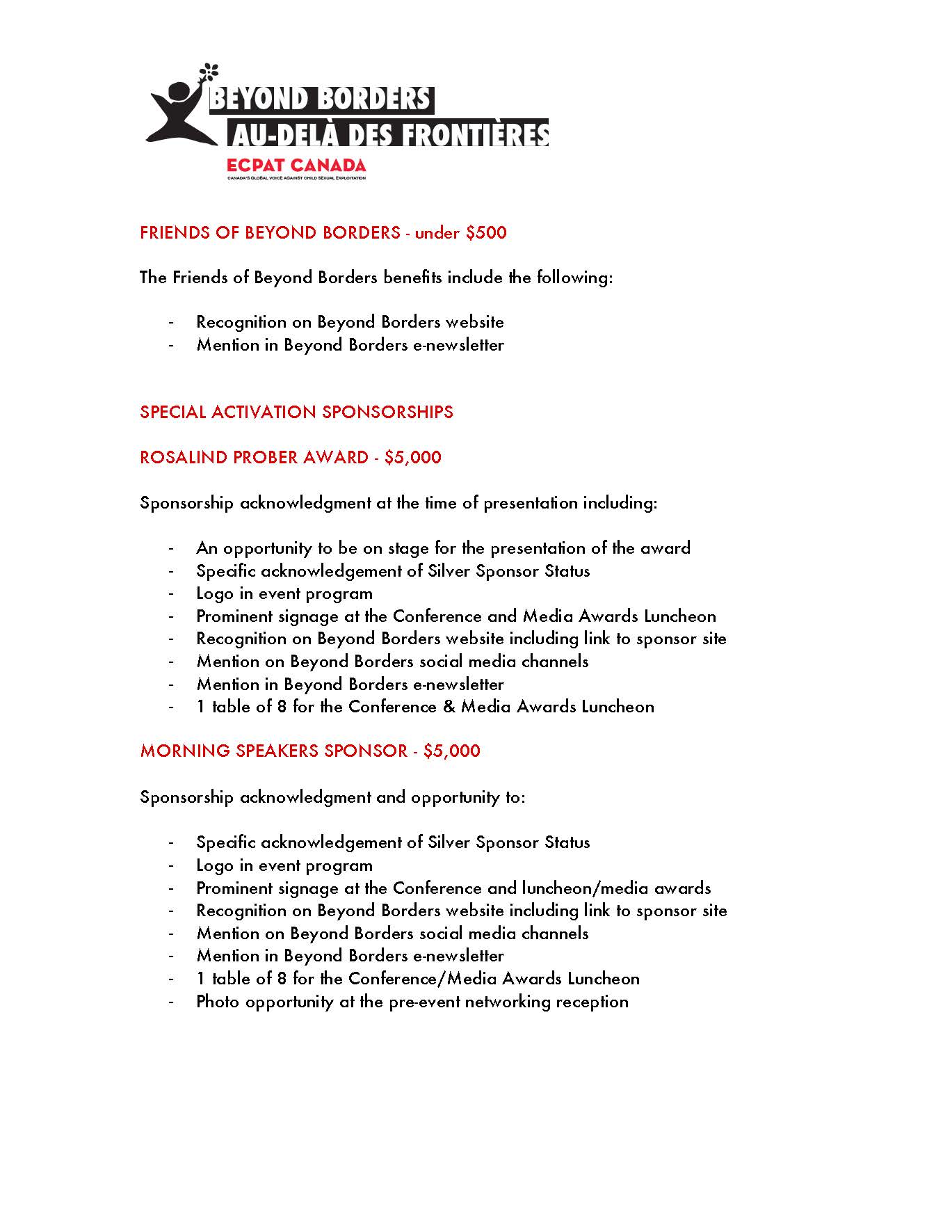 Date and time
Location
Canad Inns Destination Centre Club Regent Casino Hotel
1415 Regent Avenue West
Winnipeg, MB R2C 3B2
Canada
Refund policy